Fists of Legend (2013)
Posted on December 7, 2013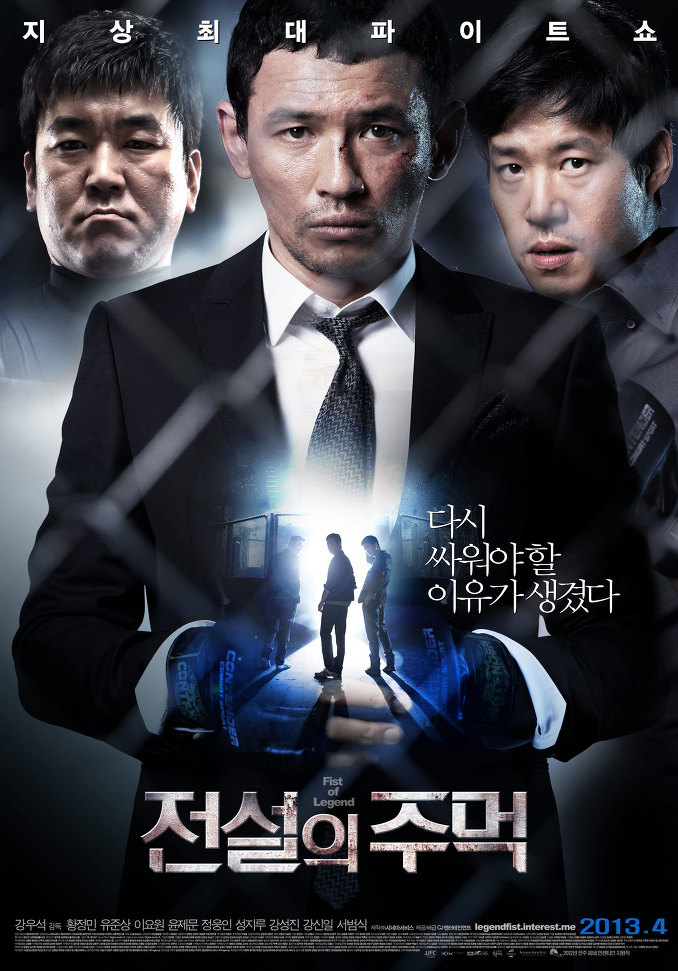 Director: Kang Woo Suk
Casts: Hwang Jung Min, Yu Jun Sang, Yoon Je Moon, Jung Woong In, Park Jung Min, Gu Won, Park Doo Sik, Lee Jung Hyuk, Lee Yo Won, Sung Ji Ru, Ji Woo, Kang Shin Il, and Kang Sung Jin
Genre: Action and Drama
Running Time: 153 minutes
Lim Duk Kyu (Hwang Jung Min) runs a noodle restaurant while taking care of his teenage daughter Soo Bin (Ji Woo). One day, Kyu Min (Lee Yo Won), the producer for a TV reality fighting program called "Legendary Fighter" asked Lim Duk Kyu to become a contestant for the show. However, he rejects her offer because he is not interested in fighting a gain. A few days later, during his wife's memorial service and his mother-in-law's apartment, he finds that his daughter got herself in a fight with her classmate who is not hospitalized. He goes to the hospital and apologize to the girl. He says that he promises to pay the hospital fees. Thus, he has no choice but to participate in "Fighting Legend" so that he can earn some prize money. During the fight, he meets his next opponent and notices that it's his old high school friend Jae Seok (Yoon Jae Moon). On the other hand, Lee Sang Hoon (Yu Jun Sang) works as a manager for a corporate company which is owned by his close friend, Jin Ho (Jung Woong In). Later, he receives a call from Kyu Min who asks him to participate in the show.
Lots of action scenes are well-done with the use of camera focus and shifting scenes as the fighters go battle against each other in the battle ring. From the 360 degree turn close up shots to far shots that could bring the audiences to enjoy the battle among the fighters. It was enjoyable to see the punching and kicking that left the fighters with bruises and sweat. Yet, the entrance for each fighter can be a little bit annoying. For example, Lim Duk Kyu's entrance song is "Eye of The Tiger" which is retro but by having a few repetitions of that song played whenever Duk Kyu enters into the ring, it is a little bit cheesy and annoying. It must have been tiring for the casts to have continuous fights until Director Kang could get the right shots that give great entertainment to the audiences. It draw the audiences to imagine themselves at the live fighting performances in the studio.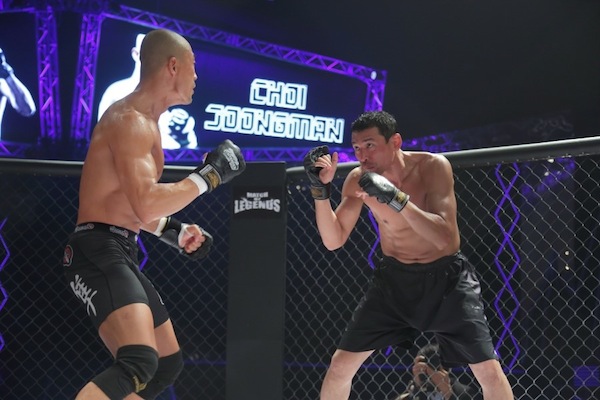 Duk Kyu fighting with his opponent in the battle ring
Besides the action fists fighting battle, Duk Kyu has another role to hold onto which is being a father to his only daughter. While he tries his upmost best in earning the prize money through fights, he did it for a reason. He wants to fulfil his daughter's happiness and doesn't want her to feel left alone as he keeps telling her that he is always there for her. Although his daughter tells her father off, he doesn't mind and still keeps caring about his daughter. The scene which I enjoyed is when his daughter showed up at his restaurant followed by crying in tears because she was bullied by other high school students. Duk Kyu decides to show his fatherly role by not only talking with the bullies but also spending quality time with her daughter later on. Duk Kyu character's, as a father, is funny but caring.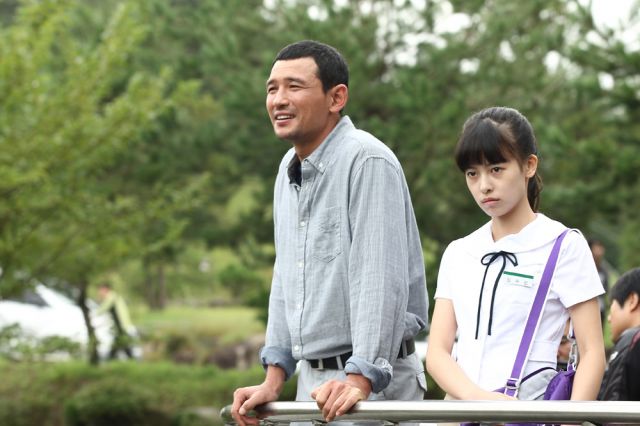 Duk Kyu tries to be a good father to his daughter
Duk Kyu was also in the situation as Fists of Legend shows the meaning of friendship. Duk Kyu, Sang Hoon, and Jae Sook recall their high school days where they used to have brotherly conversations and get involved in fights with other bullies. At the same time, Sang Hoon and Jae Sook supported Duk Kyu in his boxing days even though he failed to enter in major competitions. At present, when they meet each other, although there were a few bitter moments, but in the end they all prefer not to fight. The ending is quite significant as Duk Kyu decides not to fight with Sang Hoon. At first, audiences presume that the fight was going to happen but, instead, both of them choose friendship over fighting. So, the flow of scenes, in terms of friendship, are meaningful while inputting conflicts in between followed by giving off a good ending.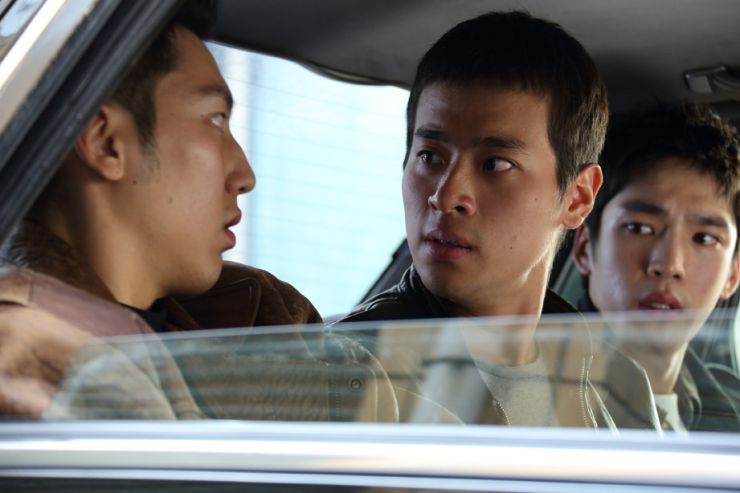 Young Jae Sook, Duk Kyu, and Sang Soon
Fists of Legend mainly focus on Duk Kyu as he holds three major roles: fighter, father, and friend. There is a development of each Duk Kyu's role as he deals with various people around him. As the story unfolds, the bonding between Duk Kyu and his daughter and friends become stronger. As for the fights, it was enjoyable to watch as the camera rolls on the battle among the fighters. This draws the audiences' attention because of action and entertainment that they can enjoy. This film has the balance between action and drama elements except I think "Eye of the Tiger" and a few battle scenes were not my cup of tea. For those who love to watch fists fighting action, you might be interested in watching Fist of Legend.
Rating: 7/10
Tags : Action,drama,Hwang Jung Min,Kang Woo Suk,Yoon Jae Moon,Yu Jun Sang