Puuung's Sweet Romantic Couple
Posted on June 19, 2016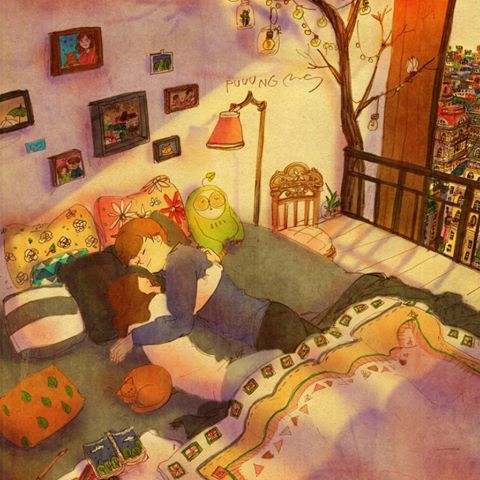 Sleeping all day like this cuddling (Image Credit: Puung Facebook)
Artist "Puuung" is a renowned Seoul-based illustration artist who creates artworks with the popular sweet and romantic couple. Her illustrations are based on the everyday heartwarming interactions especially the little things, from drinking a cup of hot chocolate together to sitting by the couch while watching TV.
Love is: Puuung's StoryPic (Source: Grafolio YouTube)
She mentions that ""Love" is something that everybody can relate to. And "Love" comes in ways that we can easily overlook in our daily lives. So, I try to find the meaning of love in our daily lives and make it into artworks."". She updates her latest works every Tuesday, and Friday on Grafolio and Facebook. Also, she posts Story Pic every Wednesday. Recently, the book, featuring her works, is published followed by postcards that are loved by art lovers. At times, she has her Facebook live sessions where fans can watch how she create her illustrations in detail.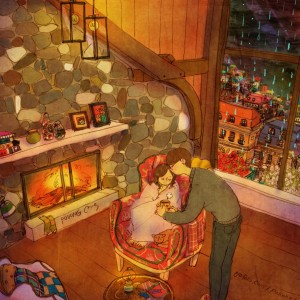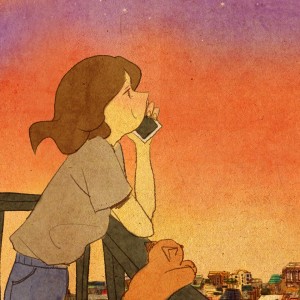 Hon, you must be all tired running all the way here in this rain.
Warm yourself up with this hot drink. |
When you call me, I'm happy. (Image Credit: Puuung Facebook)
Her illustrative works with the touch of emotional loves make my heart feel delightfully comfortable along with smiles. It is enjoyable to follow the couple's romantic story everyday. Some of her works are sweet while some made me cried a bit such as the warm hugs as the couple cried quietly. The captions compliment well with the illustrations. She uses lots of warm colours along with subtle dark colours (night and rainy days) in the couple's house, cafes, beach, cities and other places they travel. There were also a few visuals where you can have fun with like finding the guy in the crowded beach. That garnered lots of comments on the visual.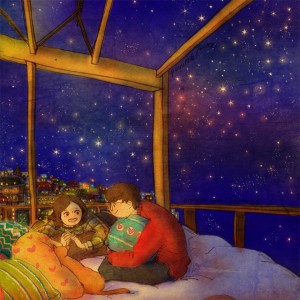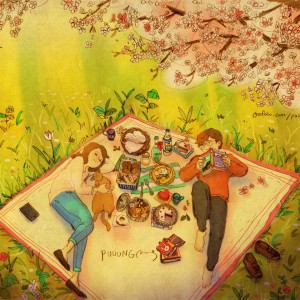 Having a sweet chatter under the splendid star lights | The weather is so beautiful
We lay down under the cherry blossoms.
You look so lovely. (Image Credit: Puuung Facebook)
Currently, you can drop by at the LOTTE GALLERY Cheongnyang-ri Branch to view her works. You can also share your relationship experiences to the artist via Facebook and she will recreate these experiences into heartwarming illustrations.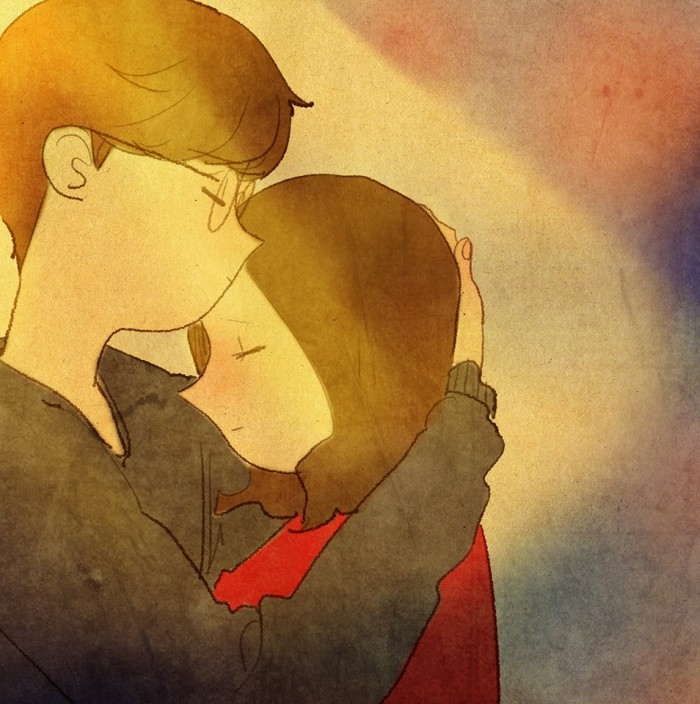 Everything's fine. It's okay to cry, my dear. (Image Credit: Puuung's Facebook)
Follow her mesmerising illustrations by visiting her Grafolio site, Facebook and Instagram. Don't forget to watch her Facebook live videos where she will show her process in creating her works.
Tags : Art,Illustration,Puuung