Traditional Teahouses in Bukchon and Insadong, Seoul
Posted on June 28, 2015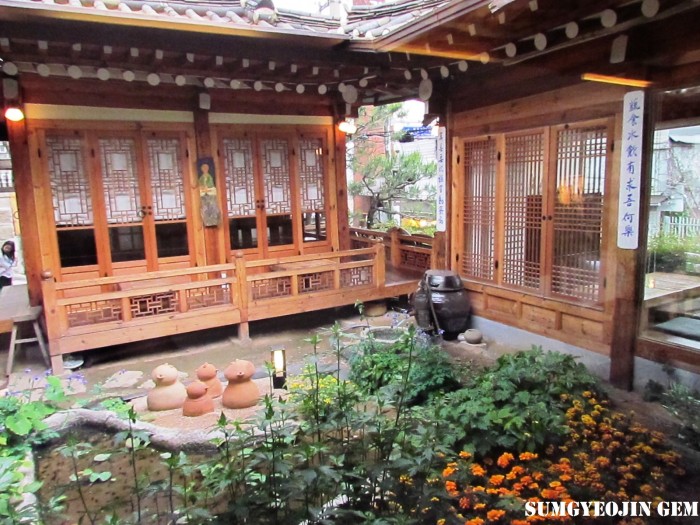 Garden outside Cha Masineun Tteul
After walking a lot in parts of Bukchon and Insadong, I decided to rest my feet while relaxing at a few traditional teahouses. So far, these are the recommended areas to experience traditional tea culture. Each traditional teahouse has their own unique interior and exterior. Once you walk into one of these places you will feel welcomed. Most of them serve similar refreshments and treats while others have their own unique ones in the menu, depending on seasons. Here are a few places that I recommend that you should visit.
Cha Masineun Tteul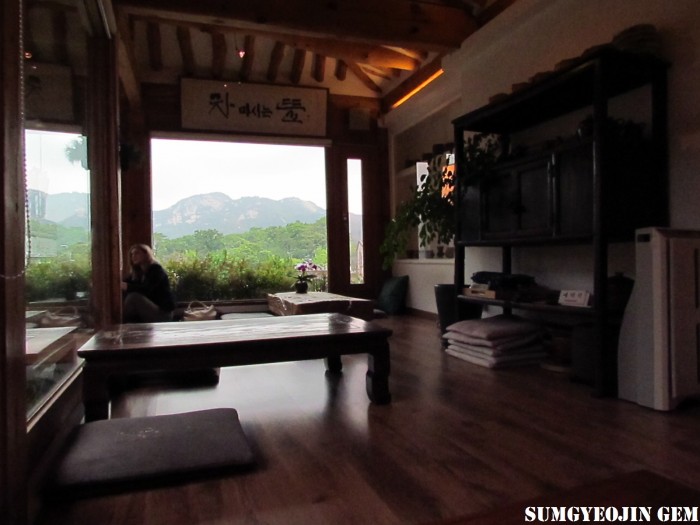 Cha Masineun Tteul with picturesque mountain view
Address: Samcheong-dong 35-169, Jongno-gu Seoul
How to get there: Anguk Station (Seoul Subway Line 3), Exit 2. Located at the Bukchon Hanok Village
Cha Masinuen Tteul is located along Bukchon-ro 5 na gil where you can enjoy watching the picturesque view of mountains outside the window while enjoying the comfort of tea, food and traditional music. While looking at the menu, each tea has its own health benefits that suit the customers' preferences. I had Jujube Tea (8,000 won), Steam Pumpkin Cake (8,000 won) and Sweet Red Bean Soup (8,000 won).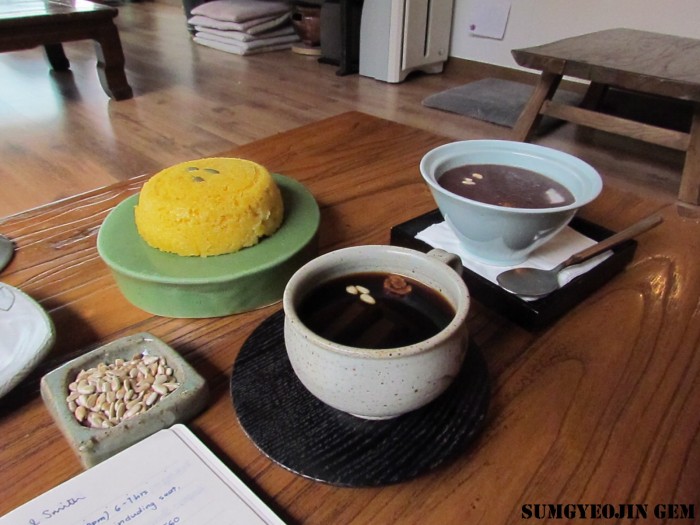 Clockwise: Steam Pumpkin Cake, Sweet Red Bean Soup and Jujube Tea
Jujube Tea has deep taste of herb flavours that is easier for digestion. The Sweet Red Bean Soup served with two small sweet rice cakes compliments my tastebuds as it has a smooth texture of red beans. Its sweetness will make you smile as you eat it happily. One of my favourite treats is the Steam Pumpkin Cake. As you cut through it, you can see its stickiness. It has the mix of sticky and spongy texture. You can taste the pumpkin which is not too strong. Despite its texture, it is light and warm which can compliment with your choice of tea.
Jeontong Chatjip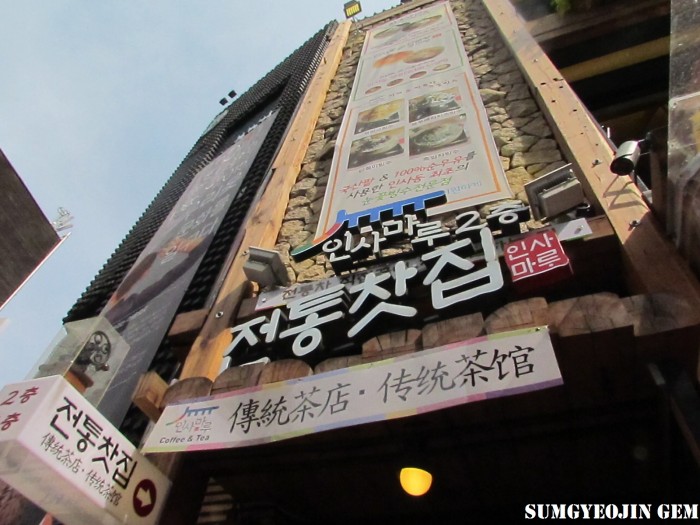 Jeontong Chatjip
Insadong, known as the art and cultural street, has plenty of traditional teahouses. After checking out the mix of traditional and modern arts, you can stop by at any of the traditional tea houses and have teatime. There are many traditional teahouses to choose from. Most of the places serve all kinds of bingsu and traditional teas, including Injeolmi Bingsu (soya bean powder and rice cake bingsu) served in brass bowl and Omija Cha (Five Flavour Tea – made of fruit herbs served with pine nuts). At Jeontong Chatjip, I shared the Injeolmi Bingsu with my friends and have my own Omija Cha. It costs around 10,000 won per person.
Omija Cha and Injeolmi Bingsu
The bean powder of Injeolmi Bingsu is sticky but compliments together with the cooling ice that gives a refreshing taste. Eating together with rice cake, dried jujube and red beans add up the wonderful delight which has a bountiful of joy. A perfect dessert eaten together with friends on a hot summer day. Omija Cha is one of my favourite Korean traditional tea and I drink this often during my visit in Korea. It has a blend of herb and refreshing taste that makes you relax. A recommended drink to have during the summer as it is served with ice cubes.
Insadong Chatjip
Insadong Chatjip
Address: 33-1, Insadong-gil, Jongno-gu, Seoul
How to get there: Anguk Station (Subway Line 3) exit 6
Operating Hours: 10am – 10pm
 The other day, after walking around Insadong, I stopped by at Insadong Chatjip that has a calm and relaxing atmosphere. As you walked into the area, you will be welcome with the beautiful interior with warmth glow of lights and traditional music played in the background.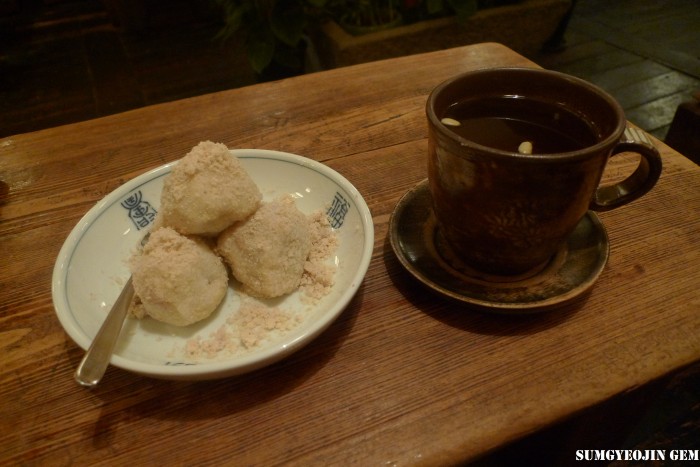 Rice Cake and Plum Tea
I had my Plum Tea (7,000 won) served with Rice Cake (6,000 won). The plum tea has a light sweet taste that can ease the fatigue which is really good for me as I walked a lot during my visit in Korea. The rice cakes are quite chewy with a hint of sweet and nutty filling to it. It is the perfect hideaway from the busy streets of Insadong.
Ji Dae Bang
The day before I left Korea, my friend brought me to Ji Dae Bang in Insadong where he frequently goes to during the evenings. It has been here in Insadong since 1970s. You can leave messages and wishes in the guestbooks which are made of traditional hanji (Korean paper). The guestbooks are stacked in the bookshelves. There are plenty of guestbooks that are catalogued based on years. We enjoy some cooling Omija Cha, light fried rice crackers and small flower-shaped biscuits (around 10,000 won per person). Later, another type of tea is served in small teapot for free. Customers can learn how to make tea appropriately especially how long the tea needs to be soaked in boiling water before serving them.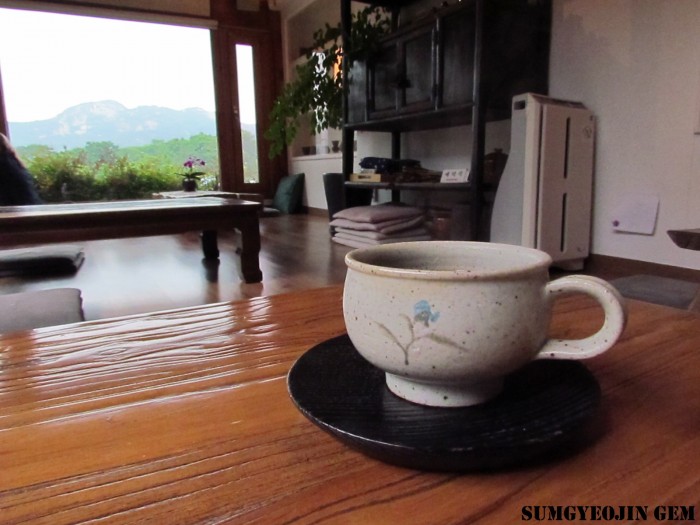 Cha Masineun Tteul
These are the places I recommend you to visit a few times and more to experience traditional tea culture. You will feel relax with view and interiors, refreshments, treats, calm traditional music and enjoy your conversations with your fellow travellers. These are the hideaways of relaxation to relieve your fatigue and tiredness before you continue to explore Seoul. So, why not sit back and relax at the Korean traditional teahouses with refreshments, treats and music with peaceful atmosphere.
Tags : Bukchon,Insadong,Seoul,traditional teahouses