A Violent Prosecutor (2016)
Posted on June 24, 2016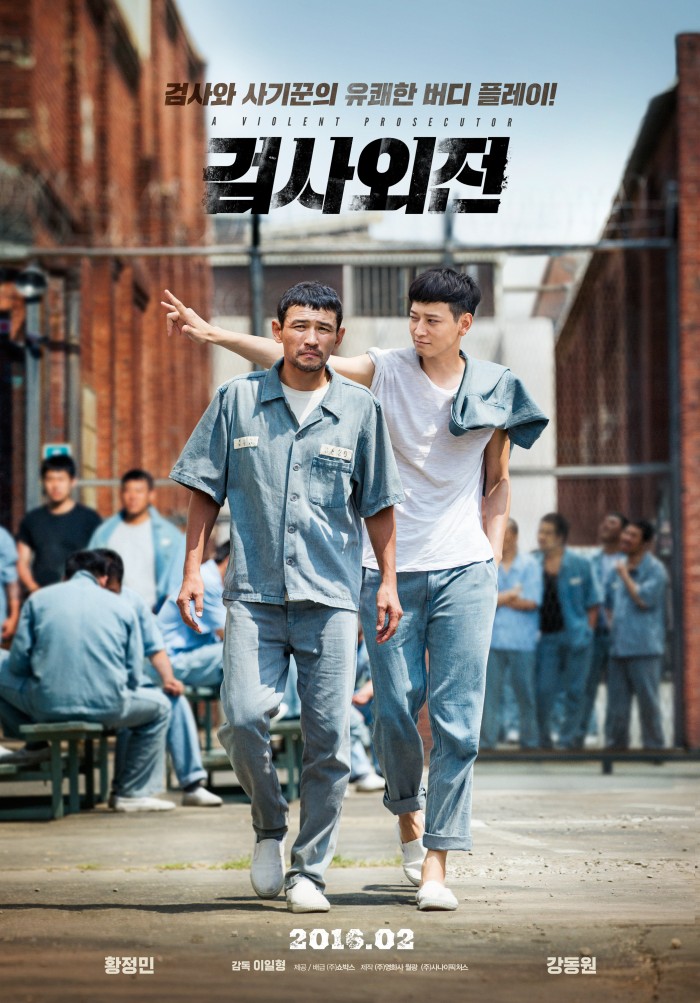 Director: Lee Il-hyeong
Casts: Hwang Jung-min, Gang Dong-won, Lee Sung-min, Park Sung-woong
Genre: Crime/Comedy
Running time: 126 minutes
Prosecutor Byun Jae-wok (Hwang Jung-min) is a prosecutor known for handling tough investigations and often getting answers from suspects by using brutal force. During his investigation on the riot attacks at the resort construction site, he interrogates a suspect who is found dead the next day. Framed for the murder, he is sent to prison for 15 years. Five years later, he meets con-man Chi-won (Gang Dong-won) in prison. With his former prosecuting skills, he grabs the chance to be acquainted with Chi-won and asks him to handle some tasks outside the prison. With both Byun Jae-wok's and Chi-won's special skills, they go against Woo Jong-gil (Lee Sung-min), the culprit behind Byun Jae-wok's previous investigation and the murder of the suspect.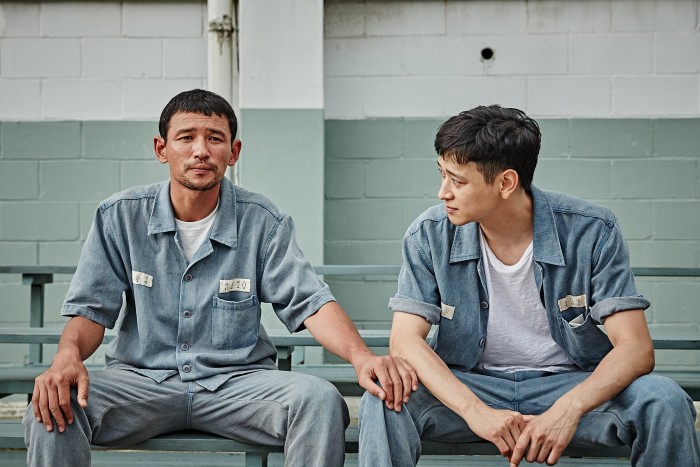 There is a common theme in Korean cinema around the tactical battle among politicians, prosecutors and gangsters, due to their shared greed for money and power. We all know that the hero wins and take the glory at the end of the film. Yet, the cast and interesting style of the film makes it different from what we have seen before such as Gangnam Blues and Inside Men. The flow of the storyline is steady and it builds up nicely, from the introduction of characters at the beginning of the film till Jae-wok taking the court as his stage to proof his innocence and eventually is released from prison. Lee Il-hyeong wants to have Jae-wok and Chi-won to get out of prison with unique and stealth tactics. It is slightly similar to the US drama series, Prison Break.
'Mastermind' Jae-wok and 'undercover' Chi-won stealthily plans out how they collect the evidence outside of prison and passing these secretly in the prison without getting caught by Jong-gil and his cronies. There is a full focus on the Jae-wok's and Chi-won's character development and chemistry among them while there are two distinct characteristics. Jae-wok is serious of getting things down and being a leader and mentor to Chi-won. Hwang Jung-min skilfully portrays Jae-wok's personality and stealthy wordplay and prosecutor skills especially he does it impressively at the courtroom. Gang Dong-won has great potential in portraying Chi-won who has the funny 'Casanova' personality but he knows what he is doing in completing the tasks outside the prison. It is exciting to see how they skilfully go into the target locations to collect the evidence while a little bit of comedy comes into place such as Chi-won dancing crazily at Jong-gil's presidential campaign in Pohang that make me laugh so much.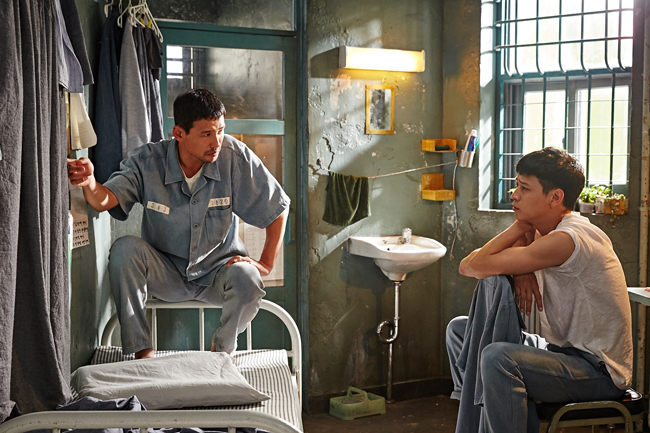 Throughout the film, I can see that Hwang Jung-min and Gang Dong-won have great chemistry. The brotherly affection, such as how Jung-min hits Chi-won's head and cheeky conversation, makes me feel that these two actors work together amazingly well. Putting two of them on set are the perfect duo. It is amazing to see how Hwang Jung-min guides Gang Dong-won on acting experience on set and off set.
A Violent Prosecutor has a simple and common theme but has its uniqueness of how Jae-wok and Chi-won converse with each other and make full use of the locations with stealthy tactics. The cinematography is fairly simple on taking the shots in prison, prosecutors' offices and courtroom. Instead, the cameras focus on the characters within the locations and not making too much fast shifting scenes that can lead the audiences to confusion. Its storyline with an icing on the cake is what makes this film have a bit of uniqueness as 'brotherly' partners in crime fighting for justice and innocence.
Rating: 7/10
A Violent Prosecutor was recently shown at the 15th New York Asian Film Festival.
Tags : 15th New York Asian Film Festival,A Violent Prosecutor,Comedy,Crime,Film,Gang Dong Won,Hwang Jung Min,Lee Il-Hyeong,Lee Sung Min,Park Sung Woong