Architecture 101 (2012)
Posted on August 25, 2013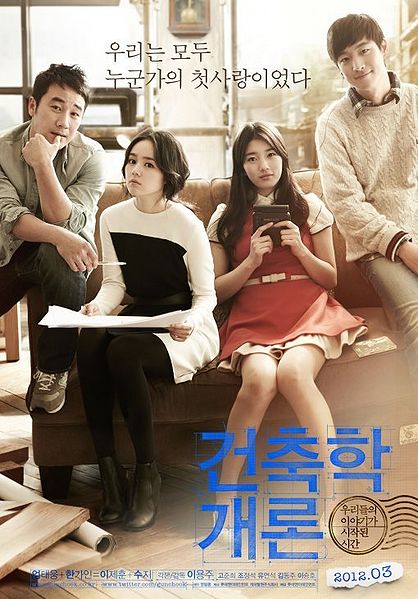 Director: Lee Yong Ju
Casts: Uhm Tae Woong, Han Ga In, Lee Je Hoon, Suzy, Jo Jung Suk, Yoo Yun Suk
Genre: Romance
Running Time: 116 minutes
Seung Min (Uhm Tae Woong), an architect, receives a surprise visit at his office from Seo Yeon (Han Ga In). Seo Yeon is his first love whom he hasn't seen her since his freshman year in college. Seo Yeon requests Seung Min to rebuild her home on Jeju Island. 15 years ago, Seung Min (Lee Je Hoon) is a naive young man who starts his architecture studies in college. He first meets Seo Yeon (Bae Suzy) in his Architecture 101 class. As they work on a class project together, they begin to fall in love. Back to the present day, Seung Min is hesitant to take Seo Yeon's job offer. Seo Yeon still insists that he should help her out. Seung Min now has no choice, but to take on Seo Yeon's home project. This brings back the old memories, while they encounter different situations in life.
This is a nice love story that both Seung Min and Seo Yeon recall the memories while being together. Both time periods (in their 30s and 20s) scenes reveal good flow as although in their 30s, they think back about their college love romance that they had the last time. It did have some memories which are like movies in their mind. It is a good thing to look back into what had happened between them during their 20s. Like audiences, we pictured the memories which we had experience through joy and pain. Along the way, I can understand the both main characters even more based on their side of the stories. Seung Min had the complications with his fiancée and Seo Yeon. Seo Yeon divorced with her husband and wanted to have the old house to rebuilt so that his father, who is in the hospital, can live together happily in this lovely house.
What I also like about this film is the setting which is old, natural, and vintage. It reminds the audiences the old days where they experience and explore their surroundings. For example, Seung Min and Seo Yeon explore their area and use vintage cameras. In addition to that, unlike having iPhones and iPods, they use CD player to listen to their favourite songs. There were even old computers and pagers that students used back in the old days. Retro songs were played like in the scene were Seung Min went to Jae Uk's studio for doing assignments. Thus, these scenes reminded me the time that I used these things when I was young. There are heartbreaking moments when Seung Min's mother worked so hard in earning money to support herself and Seung Min. These do remind me of those days.
I enjoyed looking at the natural settings (eg. the train station, the trees, etc.). I made me feel that I want to be in that film just to be the character who enjoys the student life, romance, and feeling vintage with the surroundings. The one scene that you should keep on a lookout is the house, which Seo Yeon wanted Seung Min to rebuild, that overlooked the Ocean of Jeju Island. How nice would it be to have a modern at the natural surroundings? That is one of my places that I want to visit Jeju Island. I want to be there to enjoy the great sceneries of Jeju Island and feeling the cool breeze.
Another element of this film which I would like to point out is the sweet loving romance between Seung Min and Seo Yeon (in their 20s). It is a nice and simple date that they hang out and have fun such as meeting up at their 'secret' house and exploring new places. As they were doing assignments, they grew closer from being friends to one-sided love romance. So, you will be able to watch some adorable romance between these characters.
Both Je Hoon and Suzy did a good job in portraying the sweet romance. Je Hoon acts as Seung Min who tries to show his love for Seo Yeon. He did well in showing the shy personality of men who have problems of showing their love (eg. asking dating advices from his close friends). He did portray Seung Min to give Seo Yeon happiness by being there for her. He even created an architectural design of Seo Yeon's dream house. I am really impressed with Suzy's acting as this is her first film acting debut. She manages to portray the natural beautiful looking Seo Yeon while having the upbeat personality that makes Seung Min fell in love with her. On the other hand, Tae Woong and Ga In had a good chemistry in deliver the characters' relationship well. For example, at the beginning for this film, they start to have a friendly relationship but it is so obvious that they still have feelings for each other. All the main casts are able to portray the same personalities of the two main characters (Seung Min and Seo Yeon). Even when you look at the poster, they look as if Suzy will look like Ga In when she is older while Je Hoon will be like Tae Woong at his age. They make sure that they portray these characters of developing the relationship more closer and sweeter than ever.
I was really surprised about the ending. I thought that Seung Min would break up with his fiancée and go back to Seo Yeon. Then, they live happily ever with Seo Yeon's father at the dream house in Jeju Island. But, no. Seung Min went off to the US with his fiancée. I presume they will definitely get married. On the other hand, Seo Yeon became a piano teacher and living happily with his father at their dream house at Jeju Island. I was wondering whether they still love each other even though they go on their own separate ways. What do you think the ending should be? Should Seung Min and Seo Yeon be together in the end or not?
To summarize everything, there is actually nothing wrong with this movie. It is a clean and simple yet meaningful film that the director is able to capture the romance of two main characters in both 20s and 30s. The main casts did a good job in portraying the two main characters with no slight difference in personalities. This film brings out reminds the audiences of the old experiences that we enjoyed in our younger days. I definitely recommend you to watch this film to recall the memories that you will never ever forget.
Rating: 8/10