BBQ Meaty Dinner at Asadal, Holborn
Posted on December 3, 2013
After spending the time in walking around London, we were craving for some Korean BBQ including the Samgyupsal (pork belly). So, I recommended to try the Asadal which is around central London. When we went downstairs, the restaurant is filled with people immediately when it opened at 6pm. We decided to have go for a meaty dinner with lots of protein.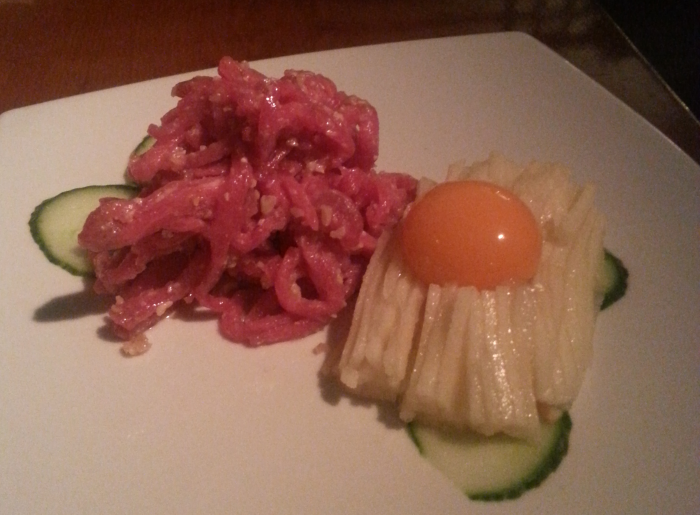 Yukhoe
For appetiser, we had the Yukhoe which is raw beef tartar served together with pear strips and a raw egg. Mixed together and it is served. The beef is a little bit cold as I think the meat is not totally defrosted yet. However, the enjoyment of having dish goes well with the refreshing crisps of pear strips. The raw egg adds in the texture and flavour of meat that made me satisfied. The dish would be better if the beef is not too cold.
From left to right: Ox Tongue – Samgyupsal – Galbi
The main course that we have been waiting for: Korean BBQ. We courageously tried the ox tongue. The ox tongue has the slight of chewiness but it is nice to chew it with the light and simple taste. You can add a bit of saltiness by dipping it to the sauce that has just sesame oil, salt, and pepper. Our cravings for Samgyupsal is complete thanks to the meat and fat that melts in our mouth perfectly. So far, the winner of the BBQ meat is the Galbi. I can taste the sweet sensation of the beef that is dancing around my tastebuds with full of joy. The BBQ is best to served together with rice, lettuce, gochujang sauce, spring onions, and garlic but these are charge extra. Choosing three choices of meat with these sides is fit enough for two person to feel full while having a happy stomach.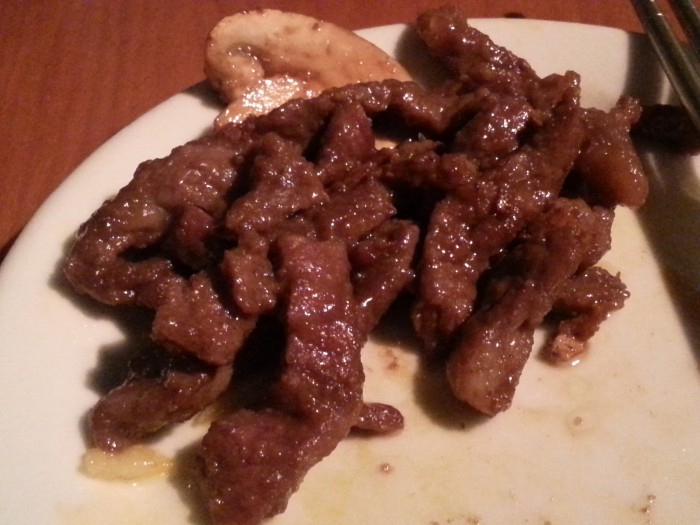 Galbi
I really enjoyed my meaty meal. I will definitely come over to Asadal, Holborn to try other dishes such as the Bibimbap, Soup, and more. The restaurant is just right next to the Holborn tube station. When you exit, just turn right and you'll see the Asadal restaurant sign. You won't miss it. To find out more, check out their website. Follow them on Twitter.
Tags : Asadal,Korean BBQ