Boomerang Family (2013)
Posted on December 7, 2013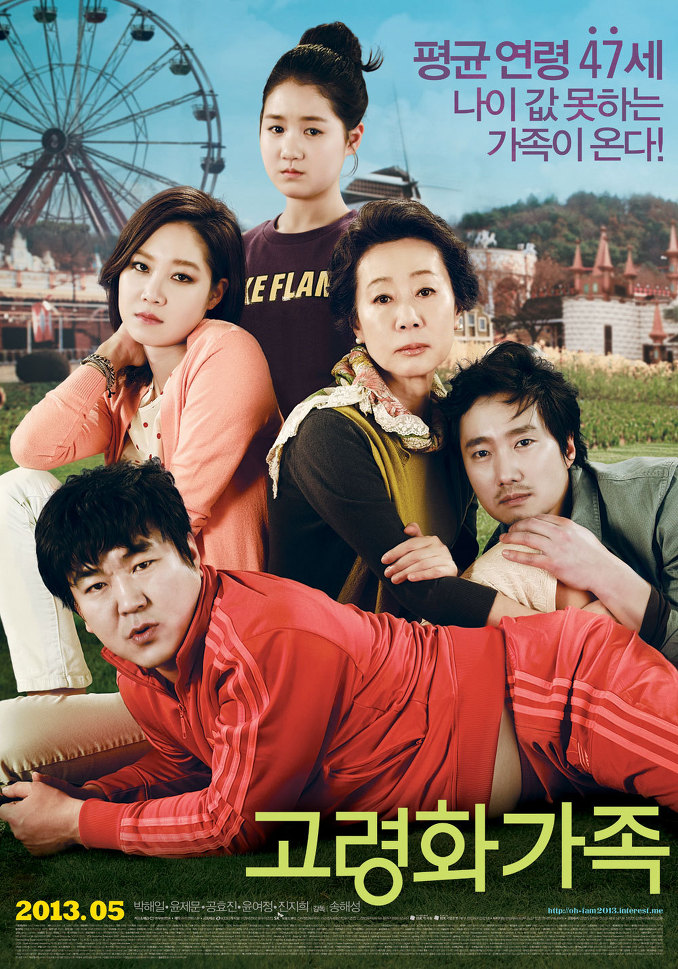 Director: Song Hae Sung
Casts: Park Hae Il, Yoon Je Moon, Gong Hyo Jin, Youn Yuh Jung, Jin Ji Hee, Ye Ji Won, and Kim Young Jae
Genre: Drama and Comedy
Running Time: 112 minutes
In Mo (Park Hae Il) is having a hard time after his wife left him for another guy and his debut film turned out so bad. He is unable to pay his rent for the apartment where he stays. When he attempt to commit suicide, he receives a phone call from his mother (Youn Yuh Jung). She asks him to come over for dinner as she has cooked chicken porridge. In Mo goes to his mother's house and decides to live there. In the house, his older brother, Han Mo (Yoon Jae Moon), who is unemployed and been to prison several times, comes out of his room. He finds out and not happy that In Mo is going to move back home. On the following day, In Mo finds her niece (Jin Ji Hee) and his younger sister (Gong Hyo Jin) that they are also going to stay at home for good. Both In Mo and Han Mo are not happy with the idea that their younger sister moving back home. She tells them that she is going to divorce and she and her daughter have no where to stay. Each sibling has their own problem while the mother looks on even though they don't know her secrets.
In Boomerang Family, I love the family who argues but still care and help each other out. I laughed at certain scenes but also the family moments influences me to recall my memories with my family. In the beginning, the siblings argue among each other while handling their own individual problems such as the failures of being a director, divorce for the second time, and being unemployed. These presents a few scenarios where some people in the society are still encountering these issues. Yet, Director Song draws in the essence about family look out for each other including the brotherly love between In Mo and Han Mo. The mother, acted by Youn Yuh Jung, is my favourite character in Boomerang Family. She tries her upmost best in making each of her children happy especially when taking care of the family by giving them warm food and comfort with motherly love. Yuh Jung comes out naturally in playing the mother with a set of tone which is caring yet strong that brings the other casts, acted as siblings, in setting their attention to her.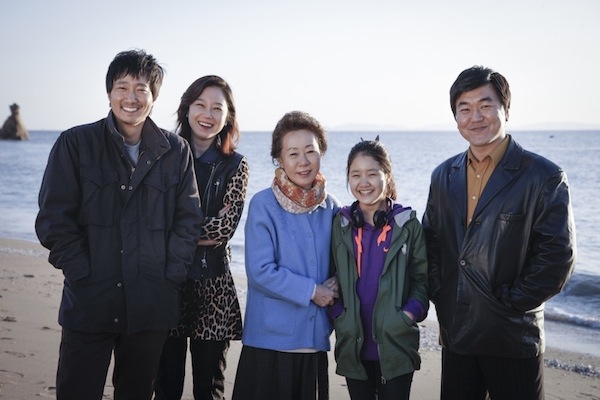 Family photo time at the beach
However, due to the loosely English translation in the film, I couldn't understand some parts of the humour scenes as I didn't laugh while other audiences, mostly Koreans, laugh. While I was watching throughout the whole film, I was finding the hard time to understand why I couldn't laugh at the same level as the other audiences as we are watching at the same time. Some humour didn't made me laugh at all. As humour is not a universal language, I think their humour hasn't made me fully understand why there are certain scenes and conversations were funny. Thus, it was difficult for me to laugh together with the audiences.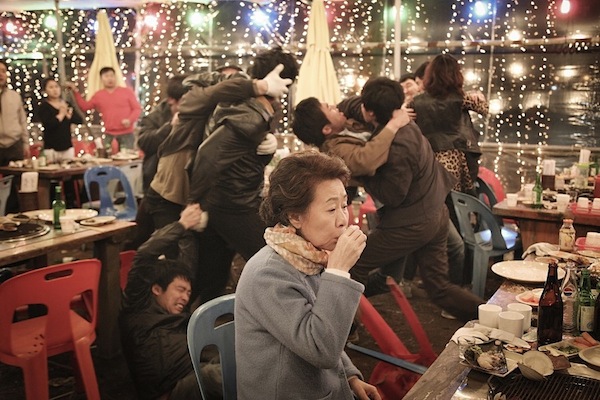 The siblings fight with others at the restaurant while the mother slowly drinking her soju
The Boomerang Family presents a family who brings laughter and tears to the audiences. It made us recall the moments we have arguments and heart-to-heart conversations with our own families. There were also times when we have been sharing love through actions and words with our loved ones. This is kind of a film that bring us back in time where we spend great quality times with them. Yet, comedy hasn't reach to the point where international audiences couldn't laugh because of different humour content. It is enjoyable to watch the Boomerang Family but there are times you might wonder whether will you be able to laugh. Instead, you might mostly notices the heartfelt meaning of bonding among family members with love and care.
Rating: 7/10
Tags : Film,Gong Hyo Jin,Park Hae Il,Song Hae Seong,Yoon Jae Moon,Yoon Yuh Jung