Bukchon Hanok Village: Traditional Houses in the heart of Seoul
Posted on June 4, 2015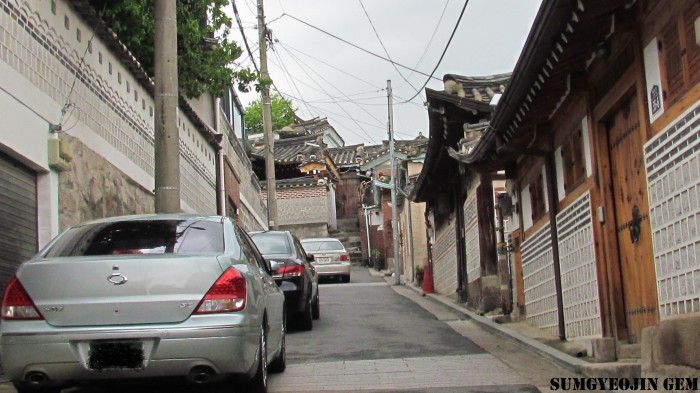 Within the modern buildings and streets in the city of Seoul, traditional hanok houses still exist and lived by residents with its distinctive architecture and history. I decided to start my visit in Seoul by exploring the well-known Bukchon Hanok Village that has the balance between modern and traditional architecture. Despite the cold wind in the early morning, the weather did not stop me from walking around the whole village while appreciating the traditional houses with its distinctive values and lifestyle.
The very first thing that you will definitely start to experience when you reach Seoul is that you need to walk a lot. Seriously, you need to walk a lot with good walking shoes. Whilst you explore the whole village, there are plenty of slopes, especially uphill ones, and stairs you had to go through. Even though you have a map with you, you will get lost as there are many roads that either you missed or walk into the wrong path. However, it is okay to get lost as you might find something interesting along the way. The best time to take wonderful photos of hanoks and streets of the village is to come before 9am as plenty of tourists and high school students will arrive after that. While you are around the neighbourhood, be sure to be respectful to the residents living in Bukchon by not making noises, littering and taking photo at places that you are not allowed to do so (eg. entering into someone's home).
Bukchon Hanok Village is home to hundreds of traditional houses, known as hanok, that date back to the Joseon Dynasty which is surrounded by Gyeongbokgung Palace and Changdeokgung Palce. Bukchon literally means 'northen village' which the neighbourhood is based in to the north of Cheonggyecheon Stream and Jongno. Buk means north in Korean. Not only hanoks are lived by residents, including Korean influential families, but these are also operate as guesthouses, restaurants and tea houses. There are two sections within the hanok village that have eight views that you should check it out in the neighbourhood: No 11 Gahoe-dong and No. 31 Gahoe-dong.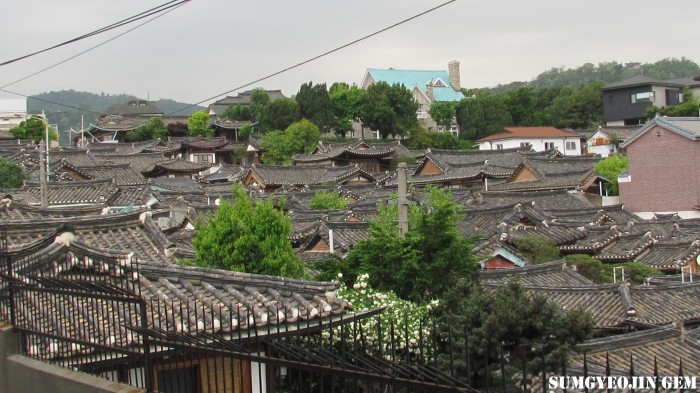 The Hill, No.31 Gahoe-dong
No.11 Gahoe-dong is towards the Changdeokgung Palace where you can see (1) Panoramic view of Changdeokgung Palace, (2) Arts and Crafts Street in Wonseo-dong and (3) Neighbourhood of No.11. You will see the panoramic view of the palace by going up the hill to Changdeokung 1-gil and view the palace over the stone wall. There are plenty of craft workshops that you can check out in the neighbourhood of No. 11. Also, while you are in the neighbourhood, drop by at the Bukchon Traditional Crafts Experience Center (24-5, Bukchon-ro 12 gil) to learn to create Korean traditional crafts. Varied activities are held in different days. The price to take part in these activities is between 5,000-15,000 won.
Downhill and Uphill Alley of Gahoe-dong
Compare to No. 11 Gahoe-dong, No. 31 Gahoe-dong has more views: (1) The Hill, (2) Downhill Alley of Gahoe-dong, (3) Uphill Alley of Gahoe-dong, (4) Neighbourhood of No.31 Gahoe-dong and (5) Stone Stair Alley of Samcheong-dong. Majority of the hanoks' are well-preserved by the active Hanok support campaigns. As you walk towards the end of the alley of Gahoe-dong at the very top, turn around and you will see the view of modern Seoul including the Namsan Tower. It is a magnificent view of Bukchon as you see the mix of traditional hanoks with tilted roofs together with modern skyscapers in Seoul.
Architectural details of hanoks
Even though you get lost in the streets of Bukchon Hanok Village, you will see hanoks' beautiful architectural details on roofs and doors including little animal statues. At the same time, you will start to feel that you are back in the Joseon Dynasty where Korean influential families cared for the royal families' affairs as the village is in between Gyeongbokgung Palace and Changdeokgung Palace. It is a mix of architecture and history that you would see before your very eyes when you are in this village.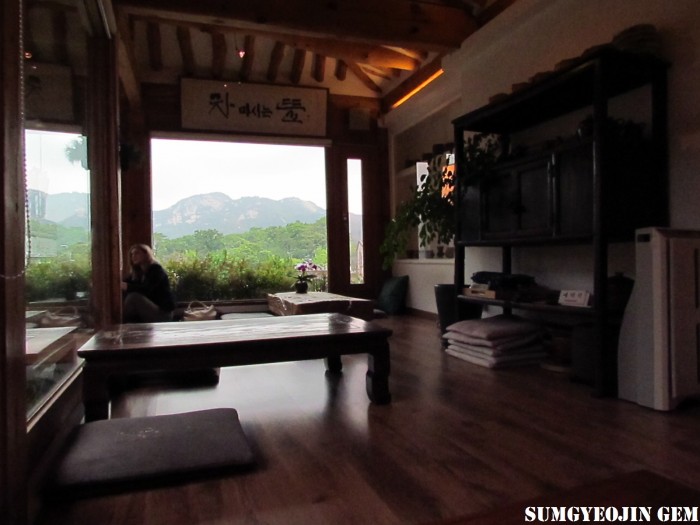 Cha Masineun Tteul
After walking a lot in the village, why not relax at one of the traditional tea houses. I recommend Cha Masineun Tteul (along Bukchon-ro 5 na gil) where there is a wonderful view of mountains, delicious tea and treats and background music that you will feel relax as you savour and enjoy your five senses in a peaceful environment. If you fancy experience living in one of the hanoks, why not stay at the guesthouse for a night or two.
Want to see the traditional architecture in the modern city of Seoul? Come and visit hanoks in the heart of Seoul at Bukchon Hanok Village. It will probably take half the day or whole day to explore the whole village even though you will get lost along the way. Whichever path you take, you will see hanoks with distinctive traditional architecture design and experience traditional hanok culture in lifestyle and crafts.
Directions: The nearest station is Anguk Station (Seoul Subway Line 3), Exit 2. Walk straight for about 300m till you see Jaedong Tourist Information Center. You can get map and information from the staff at the Tourist Information Center.
Tags : Bukchon,Bukchon Hanok Village,Hanok Village,Seoul,Travel