Busan BBQ at Dead Dolls House, London
Posted on May 18, 2014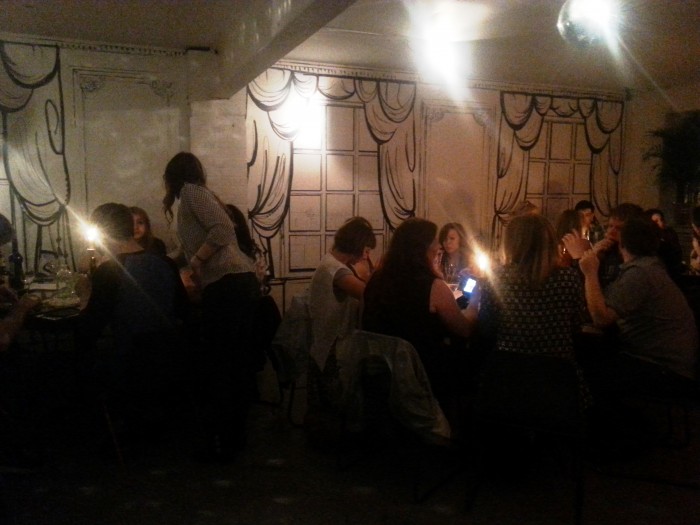 Dead Dolls House, Hoxton Square, Shoreditch, London
Busan BBQ had their second pop-up restaurant at the Dead Dolls House in Shoreditch, London. I didn't want to miss this chance to try their food that is set up in a restaurant. Also, looking at the menu, which they had posted up on their social media, made my mouth watered that I told myself that I need to go. I reached the Dead Dolls House at Hoxton Square and was seated. I didn't seat with a group of people who were in the round table because I was late. So, I was at a table on my own which, for me, it was a good thing to savour the food with satisfaction.
Let's put it this way. I set myself in a boxing ring where I was ready to taste the food that knock me out in every round. Thus, I set this as a metaphor as I ate the whole three course dinner that made me so full that I feel giddily happy inside which make me smile.
Sticky Oven Baked Chicken Wings with Super Spicy Chilli Sauce – Kimchi and Pickles
Round 1 is the Sticky Oven Baked Chicken Wings served with Super Spicy Chilli Sauce. That's where the fight began. I started to eat the chicken wings by hand which is the best way to enjoy it. The chicken wings were sticky on the outside while the meat is tender. The taste was sweet but not too much. Dipped into the chilli sauce that gave a spicy kick to it. Eating the chicken wings together with the sauce gave out a whole full of flavours. It started off as sweet and then the spicyness came in. It made me wrapped my fists and did small punches in the air that signified how the taste were. It is was 'in my face, it tastes so good' punches. Then, my taste buds cool off with the fresh vegetable pickles and kimchi. It had the lovely crunch with a bit of sour taste. That was nice to cleanse the palette and let the appetiser food digested a bit before getting into the main course.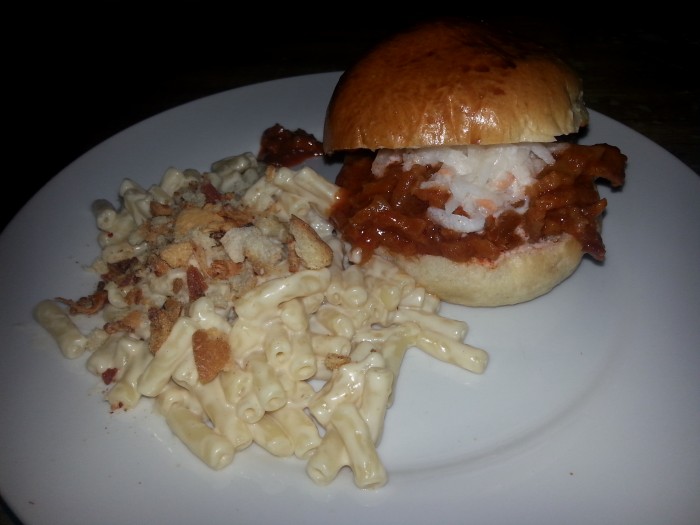 Spicy Pork Belly in Gochujang Sauce in Bluebird Bakery Bun with Mooly Slaw served with Mac and Cheese with Kimchi and Bacon Crumb
Time for Round 2: the main course. It is a well-balanced main course even though this made me feel so full. My expression for this dish? WOW! and OMG! The mix of spicy pork belly with mooly slaw is sweet, spicy, and fresh while I ate together with the crisp of bun. The burger was not soggy and dry. It is the perfect burger that just stirred me up with joy. For the Mac and Cheese, it was not too cheesy. It had a light taste with some crisp kimchi and bacon. The whole dish visually rounded up in fists and gave me another few punches. It had everything: meat, carbohydrate, protein, and vegetables. Bits of everything in a dish that were ready to dance around in my tastebuds.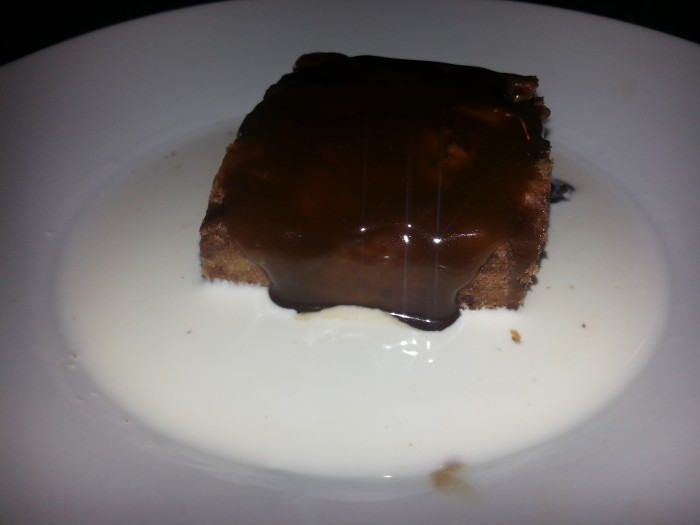 Toffee Apple Cake and Cream
The final round is dessert. I can't say no to desserts as it glittered to ask me to eat them. I grabbed my spoon and dug in. Again, another and final OMG! The smoothness and taste of this dish melted in heaven. I was on cloud nine. The toffee apple cake was perfectly moist and delicious together with the cream. All I could say in one word for this dessert is 'YUM'. It was so good that no words can be described but showing smiles and dancing happily in my own seat.
So, the winner in the boxing battle ring is Busan BBQ. I was knocked out and stuffed after four course meals in three rounds. The meal was perfectly in harmony. With well-rounded taste and balance that made my tummy so full that I decided to walk to the London Liverpool Street station. I hope Busan BBQ will come up even more delicious dishes including, maybe, Korean desserts.
To find out more information about Busan BBQ, follow them on:
Website: http://busanbbq.co.uk/
Facebook: https://www.facebook.com/BusanBBQ
Twitter: https://twitter.com/BusanBBQ
Instagram: @busanbbq
Tags : Busan BBQ,Food,Pop-up Restaurant