Busan BBQ: Hot, Juicy, and Meaty Burgers
Posted on September 3, 2013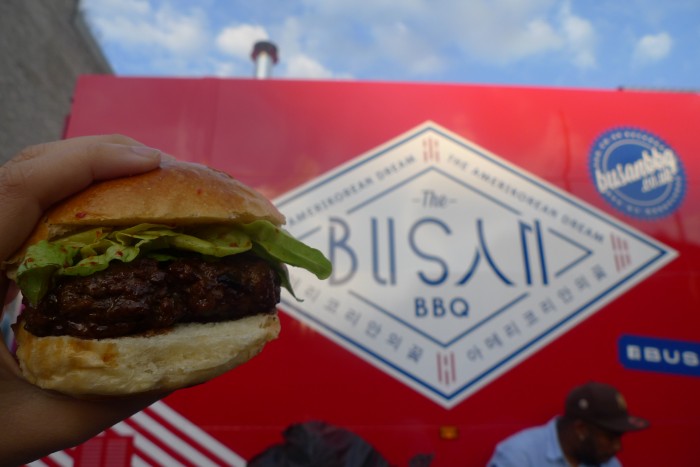 Before the launch, Busan BBQ had continuously doing promotions through the power of social media and word-of-mouth to let us know that the Korean-American burgers are coming to London. The married couple, who loves food and doing food oriented activities, has opened their own business by setting up the Busan BBQ trailer at different street food markets.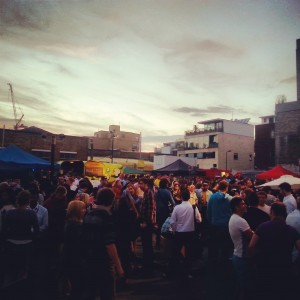 Urban Food Fest, Shoreditch
As a foodie who loves to eat and enjoy, I decided to taste the Korean-American burgers for the first time ever. I brought my friend, who is also a foodie, along with me to try out different kinds of Busan BBQ burgers. We came to the Urban Food Fest, Shoreditch on Saturday night where lots of street foods, drinks, and music were there. We spotted the Busan BBQ red trailer and head toward that direction.
From left to right: Busan BBQ trailer and menu
By the time we got there, all there's left was some bulgogi burgers at that time. This means that the burgers are really good.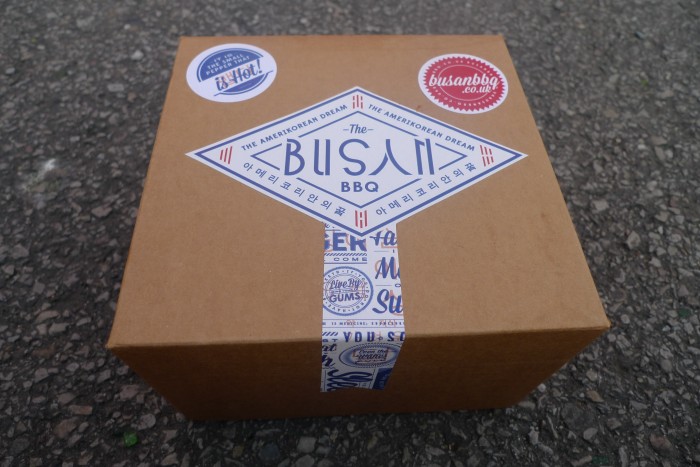 Special delivery from Busan BBQ
My friend and I decided to buy a bulgogi burger to share. We were given a brown "package" with interesting stamps of quotes and puns.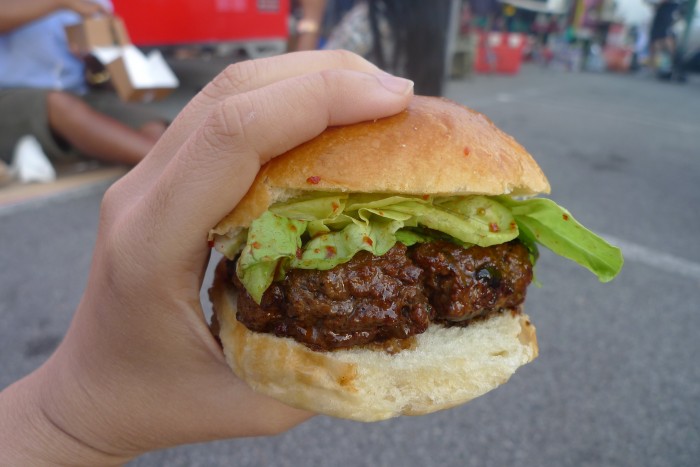 Bulgogi Burger
Once we open the box, the bulgogi burger looks so tempting that we started to eat this up. After having one big bite from the burger, my taste buds start to tingle. The taste just explodes in my mouth because of the traditional bulgogi marinade. The meat is tender and juicy that it melts in my mouth. The burger bun is nice and soft while the lettuce balances well with the meat. I was in tears of joy and jumping up and down like a little girl who has her first bite of the most awesome burger ever.
The night is still young so we decided to stay a little bit longer by having a few drinks. Luckily, Busan BBQ has cooked up some Pork Belly Bun. Because of the Bulgogi Burger, we wanted more but we want to try another type of burger. So, we immediately have it before they were sold out again.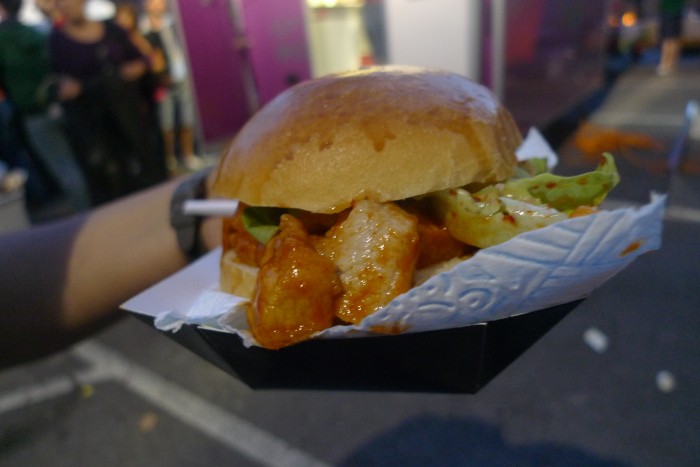 Pork Belly Bun
Seeing the Pork Belly Bun makes my mouth drool and we eat it to satisfy our tastebuds. The Pork Belly Bun makes us even happier. The pork belly is perfectly cooked with the sweet and spicy sauce. At first the taste is spicy in my mouth but after a while the level of spicy starts to go down till it subtle.  Overall, the Pork Belly Bun is spicy, juicy, and meaty.
Busan BBQ has bring in the spicy, juicy, and meaty Korean-American burgers that have the "out-of-the-world" taste and texture that keeps the customers happy. One bite from those burgers and you will have an explosion of taste in your mouth. The taste will still stay on your tastebuds.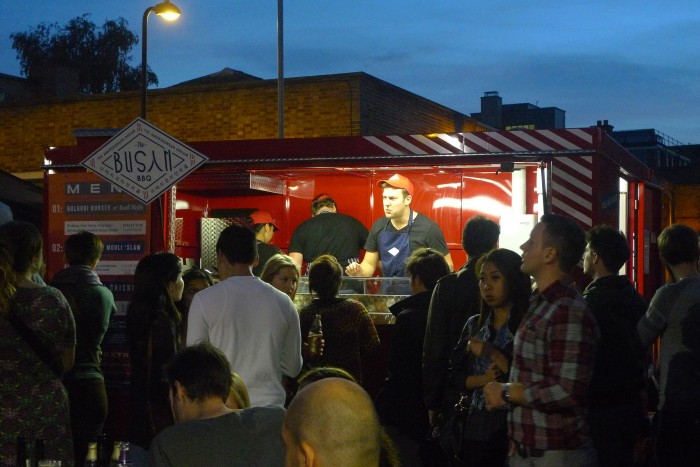 People waiting to get their burgers from Busan BBQ trailer
Besides, the Bulgogi Burger and Pork Belly Bun. There are also other food in the menu. You can have Yang Nyum Chicken (known as Korean fried chicken) with spicy gotchujang or soy sauce marinade. If you want to try various types of meat in a set, you can order the Doshi-Rak (lunch box) that has bulgogi and pork belly sliders with a piece of Korean chicken. If you are up for something challenging, try the Gheh-Mul (Monster) that has bulgogi, spicy pork belly, cheese and lots of kimchi. If you still want to try the Gheh-Mul but have a small stomach, ask your friends to share with you.
If I am craving for burgers and fried chicken, I will go over to the Busan BBQ food trailer and eat. I definitely recommend that you should try the "exploding taste and texture" Korean-American burgers from Busan BBQ. Be sure to come earlier before the burgers and fried chicken are sold out fast.
Follow their official website, Facebook, and Twitter to see where they are heading next.
Tags : Burgers,Busan BBQ,Korean-American burgers