Chihwaseon (2002)
Posted on September 22, 2013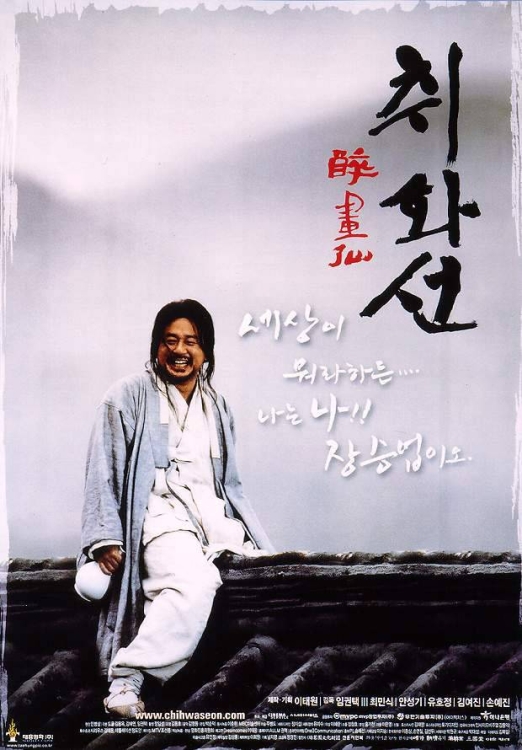 Casts: Choi Min Sik, Ahn Sung Ki, Yu Ho Jeong, Kim Yeo Jin, and Son Ye Jin
Genre: Period Drama
Running Time: 117 minutes
Certi: 15
This is a story about a Korean artist, Jang Seung Ub (Choi Min Sik) as known as Oh Won. His talent was known at a very young age. At first, he imitated other people's art. Then, he decided to develop his talented painting skills and develop a style of his own. Throughout his journey, it can be painful and joyful for him. He sometimes behaved badly when he drank and be with women. This is set between the major events during the 19th century: struggle for reform within Korea while being caught between China and Japan, peasants revolt, and persecution on Catholics.
After I watched trailer, this is definitely a must-see for me to watch this film. The reason is because I actually want to know about the Korean culture aspects: art and music. It's truly an eye-opener film that Director Im showcases the Korean culture through visual images. While I was watching film, I have the overall understanding on the importance and skills in painting. Also, I get to see how the major events really happened in Korea during the 19th century. So, it broadens my knowledge in Korean history and knowing people from that time have gotten through horribly.
On the other hand, I get to know about Oh Won. There were actually no records about Oh Won in previous researches. He has a gift of talent in painting but he voices out not to bow down to the aristocrats and the rules of painting what should he do. With the help of mentors, he is able to develop his talents to create paintings of his own with his own style instead of copying others. Throughout his journey as a painter, he exposed himself within his surroundings and paint how he feels. That is what a painter should have. At the same time, Oh Won struggles with the major events that happened in the Korean society. As Director Im pointed out in the group interview, which was held yesterday, he said that Oh Won's characteristics are similar to his. I do agree with him. Both of them have their way of showing their talent and both of their personal experiences are quite similar.  While Director Im looked into other resources about Oh Won, he also applied this film with his own personal experiences so he feels the connection with the Korean painter. Thus, Director Im aims to portray Oh Won in a realistic way.
Within this film, there's a small scale of the pansoori performance. As we all know, pansoori is not well-known throughout the world. Director Im pointed out that pansoori is a difficult art and culture to appreciate in the right way. Thus, he decided to convey pansoori with visual images even though he doubted whether it would be successful to show pansoori to the international audience. He wants to convey pansoori through beauty and emotion. Through this film, I was able to appreciate pansoori and I know it's difficult to master it perfectly.
This film lets you understand the Korean culture (art and music) and Korean history during the 19th century. Also, you get to know the story about Oh Won, the great artist in painting. It takes you back in time while being a friend or comrade with the well-known artist Oh Won.
Rating: 8/10
Tags : Choi Min Sik,Film,Im Kwon Taek