Nameless Gangster: Rules of Time (2012)
Posted on October 1, 2013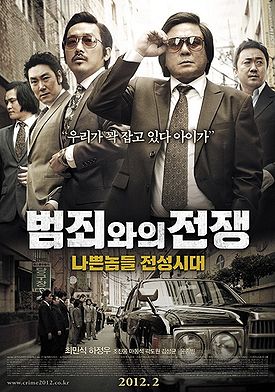 Director: Yun Jong Bin
Casts: Choi Min Sik, Ha Jung Woo, Cho Jin Woong, Ma Dong Seok, Kwak Do Won, Kim Sung Kyun, Kim Hye Eun
Genre: Crime and Drama
Running Time: 133 minutes
Certi: 18
This film shows the clashes between gangsters in Busan while the government declares to capture those gangsters. It is set in the 1980s and 1990s. It focuses about Choi Ik Hyun's (Choi Min Sik) story where he turns from a loser to being part of the gang. Along the way, he is together with Choi Hyung Bae (Ha Jung Woo). Together, they are the duo who takes over the Busan underworld. However, things start to get rough.
Now, this is what I called a good old classic Korean gangster film with Busan accent. You get the gist of how the gangsters in Busan, Korea happened in the 1980s and 1990s. I was impressed with how the casts converse among each other especially with their play of words. It also cover a brief real life scenarios, such as the elimination of gangster crimes during the presidency, and the meaning and usage of the term 'Daebu' that is based on similar Korean surnames with different generations. The gestures and actions keep me focused while watching this film. While some good old retro background music are played in the background, there are some scenes that we laughed or tensed.
The character that I really like in this film is Choi Hyung Bae. Sure, he's the nasty and cool guy but he's the boss who knows what he's doing. Ha Jung Woo has done well in portraying who's boss and how he play with words and gestures that give me goosebumps. As for Choi Min Sik, good job in portraying Ik Hyun from being a loser to a man who boasts to a man who scares of death until to a man of the family who doesn't want to trouble them. Min Sik's facial expressions and action gestures impressed me except the fact that his face is bloated. Towards the ending, wonder what happened to him when Hyung Bae calls him 'Daebu' at the end of this film?
However, even though we get the idea about Choi Ik Hyun's story (from the past to present situation), it seems to drag a little bit long. Sure there are some actions, laughs, and tense, but I wish the production team could do something more than that. The story paces back and forth continuously until I lost track on Ik Hyun's footsteps. The production team could have added in something within the running time of this film. I liked the overall film because of great characters but there are missing elements that might make us hold on to our seats with tense while our eyes are wide open.
Rating: 7/10
Tags : Action,Choi Min Sik,drama,Ha Jung Woo