Choi Min Sik: Great Mind, Talents, and Passion
Posted on October 1, 2013
As part of the Year of the 4 actors, organized by the KCCUK, Choi Min Sik is invited to come to London to attend both the Q&A session and Nameless Gangster film screening.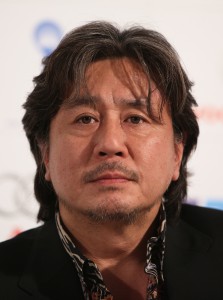 Choi Min Sik
After achieving fame through stage play and television, he appeared in films in 1992. Later on, he was commercially successful in well-known films, such as The Quiet Family, Shiri, Chihwaseon, Happy End, Failan, Old Boy, I Saw The Devil, Nameless Gangster, New World, and many more. Some of the international audiences who have watched Old Boy and I Saw The Devil will definitely know who is the actor who portrayed the scary and psychological character. He has the capability in delving the characters with full of emotions and anger that blew the audiences' mind away. During the Cannes Film Festival in 2006, he went against the Korean decision in reducing the screen quota from 146 to 73 days. Recently, he had finished filming the historical film, Battle of Myeongryang, which depicts the true story of Admiral Yi Sun Shin who brought 12 ships to go against the Japanese army that had over hundred ships. Later on, he will be filmed in Lucy, which is first step into collaborating with the French director, Luc Besson, and international actors like Scarlett Johansen and Morgan Freeman.
Last Thursday, I got the opportunity to participate in the group interview with other press, bloggers, and film critics to speak with Choi Min Sik, one of the great Korean actors. I have truly admired.
The group interview, which is transcribed by Paul Quinn, can be found through Hangul Celluloid.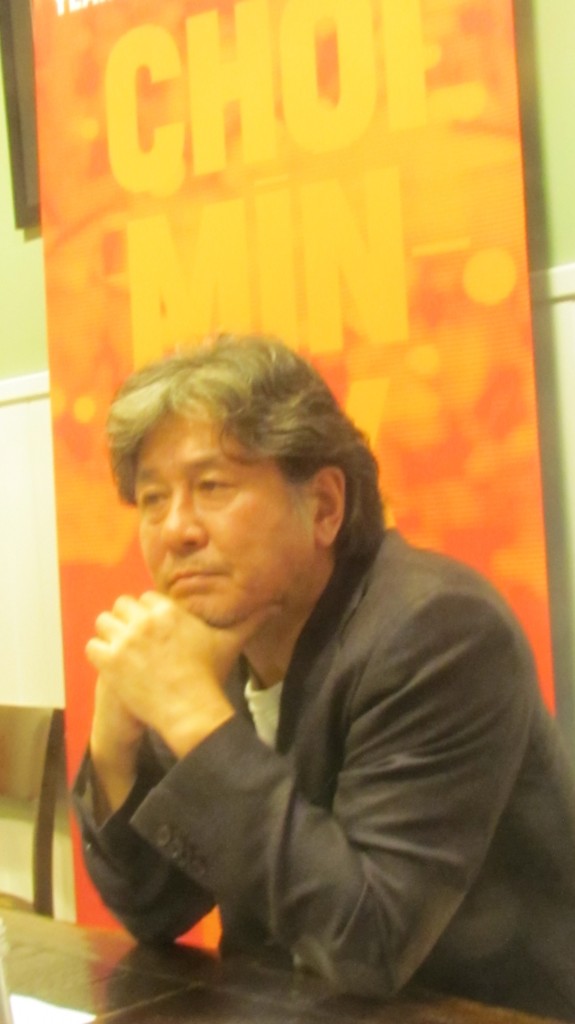 Group Interview with Choi Min Sik
When I met him in person, he was not as scary as the characters that he had portrayed in the films that I had watched. He was a chatty and caring person to listen to. He shared his insights about his acting career and Korean cinema.
When it comes to how he was featured in films, he will focused on three important aspects: (1) the directors' filmmaking styles, (2) the storyline, and (3) the character that he is asked to portrayed. Before making the right decision, he has to see whether the director has the capability of implementing scripts that could captivate his interests and also in the audiences' point of view. He also wants to know the different styles that the directors, such as Park Chan Wook and Im Kwon Taek, in filmmaking. This sparks Choi's interest on how these directors are able to create films that are emotionally mindblowing. As for the storyline and characters, he tried to put himself in the shoes of the character and, at the same time, build up the character. At times, Choi admitted that it is psychologically exhausting to come back to the sense of reality especially when at times he is filmed in several numbers of film shots. Yet, it is a learning process for him, as an actor, to understand both real and fiction characters' scenario in relation to the question of certain topics in society, such as the anger and satisfaction on violence.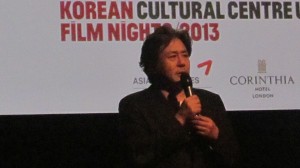 Choi Min Sik at the BAFTA
Besides that, Choi gave a brief insights about the Screen Quota and Free Trade Association (FTA) that applies to both commercial and independent film industries. He gave a few examples of film, such as New World, about how Choi and other actors, convinced various investors to provide funding for this film. Even though South Korean film industries consider making films as money-making businesses, he believes that new directors from commercial and independent film industries should be given the opportunity to show these films to both domestic and international market. It is not about how well-known the directors are. It is about how the South Korean films will be able to captivate the audiences. Besides being an actor, Choi also understood how the current situations are in the Korean film industry and hope for the future South Korean film directors to have the same limelight as other well-known South Korean film directors. I would say that he is a wise man who gives caring words and motivations with sense of reality.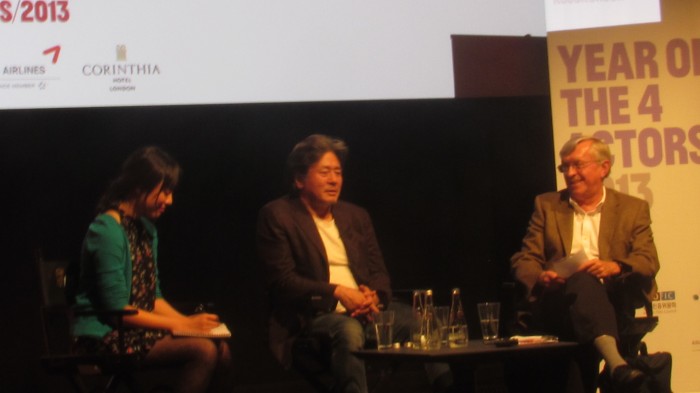 Q&A Session with Choi Min Sik
Later, after the Nameless Gangster film screening, the audiences were given the opportunity to ask Choi Min Sik some 'short and simple' questions. Again, as similar to the group interview, he shared his experiences about acting and Korean cinema including his recent filming of Battle of Myeongryang and Lucy. He also explains some insights about key films, such as Old Boy and I Saw the Devil to support his opinions about portraying characters and storyline. He also hoped to have the opportunity to act in a romantic comedy film. Besides acting as a psychological character, I think it's time for him to show his romantic and humour personality.
It was one of the great nights for all the audiences, including myself, to learn from Choi who has great minds, talents, and passion. I would consider him one of the great actors that I truly admired because of not only he has the capability of being a great actor but he also share his thoughts about Korean cinema. I also impressed that he continues to learn from every angle of filmmaking, such as storyline and characters, that makes him want to jump in and build up his capabilities. Sadly, at the moment, he has no intention to direct a film but hopefully in the near future. I guess that it's all about the timing. Again, Choi is a wise man with motivation and commitment.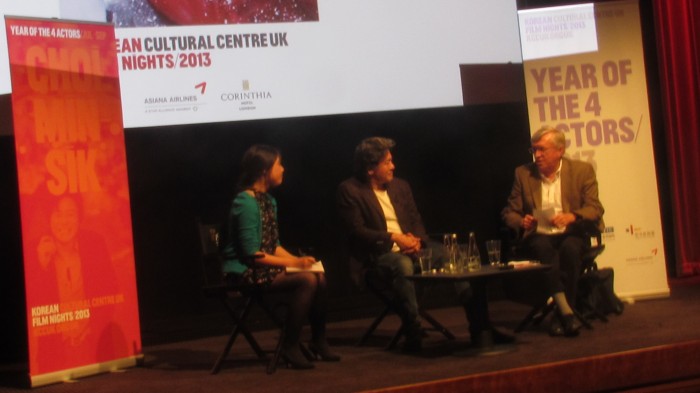 Just to let you know. New World, which Choi Min Sik is starred in, will be shown at the 57th BFI London Film Festival. Although the tickets for 20 October are sold out, you can still buy the tickets for 19th October. You can book the tickets through this link.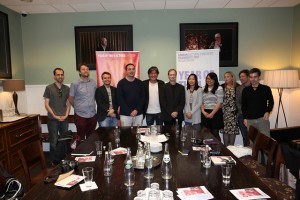 Group Interview with Choi Min Sik (Source: KCCUK)
I would like to thank the KCCUK for organizing the group interview with Choi Min Sik. On behalf of the audiences, I thank them for having the film screening and Q&A session with Choi Min Sik to understand his acting career and Korean cinema.
Tags : Choi Min Sik,Film,Interview