Codename: Jackal (2012)
Posted on October 30, 2013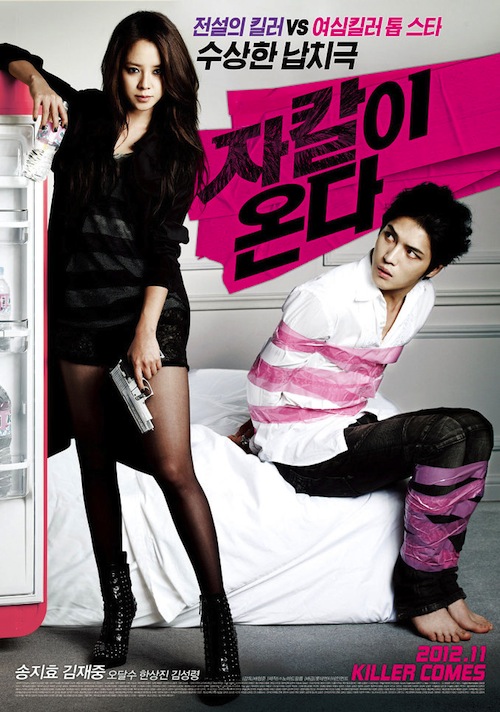 Director: Bae Hyeong Jun
Casts: Song Ji Hyo, Kim Jae Joong, Oh Dal Su, Han Sang Jin, Kim Sung Ryeong, Ju Min Ha, Ra Mi Ra, Seo Dong Won, and Seo Yi An
Genre: Comedy
Running Time: 107 minutes
The female killer (Song Ji Hyo) is hired to kill a Hallyu singer (Kim Jae Joong). She tries to kidnaps him tries to kill him but the police arrived. Meanwhile, the police try to capture the 'Jackal' who has been planning out deaths previously.
The film is…..BORING. I gave so many sighs toward this film. Even though this film has popular idols like Song Ji Hyo and Kim Jae Joong, I got tired with the long and dragging storyline. There are some back stories about the two main characters. There are some love and laughter between the two of them. There are polices who are trying their best to catch the jackal. There is a saseng fan who is after the Hallyu star. There are questions about who is actually the 'Jackal'. However, again, it's still boring. I wasn't even moved and impressed with the whole storyline. The one good comment which I would like to make is that the two main casts have tried to be themselves. Both Song Ji Hyo and Kim Jae Joong have portrayed the character really well. Yet, the storyline has limited them to strengthen the portrayal of characters in this film.
The female killer keeps the Hallyu star from escaping multiple times while the police, stupidly, solve the Jackal case.
Although I was impressed with Song Ji Hyo and Kim Jae Joong as they did well in creating great chemistry together in this film, but the long storyline made me fell asleep. It's not much of a comedy that made me laugh. I was annoyed about the Hallyu star who tries to escape but being tied up by the female killer continuously till there was no end to it. After watching the trailer, I was looking forward to it but this gave me a huge disappointment that I shook my head and sighed heavily.
Rating: 5/10
Tags : Comedy,Film,Kim Jae Joong,Song Ji Hyo