Cunning Single Lady (2014)
Posted on July 26, 2014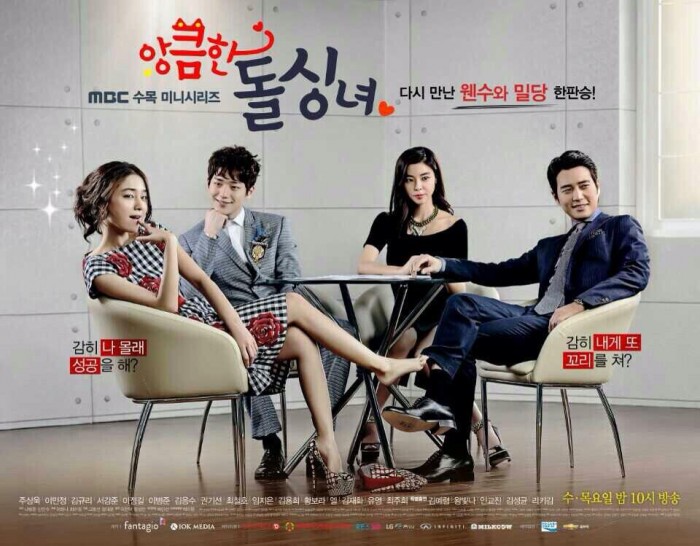 Ae Ra (Lee Min Jung) meets Jung Woo (Joo Sang Wook) who studies engineering. They fell in love at first sight and get married. However, troubles arise in their marriage life until they decided to file a divorce. Ae Ra has been going through hard times for many years. In later years, she finds out that Jung Woo has become a wealthy IT entrepreneur. Thus, she decides to seduce him so that they can be together again.
There were a lot of cliches. A lot of things that you would expect what would happened next. At the beginning, I was getting a bit annoyed with Ae Ra with her arrogance and stupidity like, in other characters' perception, feel really sorry for her. Yet, I let this go as some portions in storyline and character development slowly get better in some episodes. Though both Ae Ra's and Jung Woo's stories are conveyed in both past and present, I get a clear picture of what happened to them.
Ae Ra and Jung Woo meet again after they ended their marriage life
The positive side is that this drama relates to divorce and marriage life that some audiences might have gone through. It is similar to "Emergency Couple" where the lovebirds meet with love at first sight, get married, divorce, meet again, and then the love journey among this lovely couple begins. No matter how much Ae Ra and Jung Woo argues there are some glimmers of hope in getting back together as they fall in love and see some parts of personality that they didn't know about in the past. In some latter part of the drama, there were some scenarios about hoping to starting a family with kids become astray as Ae Ra did lost her first child without Jung Woo knowing. These elements within the love and marriage life present that there is a need of conversing, loving, and understanding each other. 
Then, there are boundaries between working culture and personal life within different settings. Ae Ra and Jung Woo tries to keep their "relationship" a secret or else it will be spread out through out the whole company followed by gossips among their colleagues. It conveys the struggles that both of them have to get through. The scenarios are not going in a rush but in a steady pace where I get an overall idea of how characters perceptions and actions are taken in different scenarios and settings. Every element is in a nutshell how both Ae Ra and Jung Woo slowly understand and be happy for each other.
Sister and brother messing with the Ae Ra and Jung Woo couple: Kook Yeo Jin (Kim Gyu Ri) and Kook Seung Hyun (Seo Kang Joon)
Let's not forget how the brother and sister, Kook Seung Hyun (Seo Kang Joon) and Kook Yeo Jin (Kim Gyu Ri), influence the Ae Ra and Jung Woo's love journey. It impacted great balance of character development on all four characters. They have their own agenda of why Yeo Jin has feelings for Jung Woo while Seung Hyun cares for Ae Ra. There are times that I want to them to leave Ae Ra and Jung Woo alone but I feel sorry for them because of their past struggles. Yeo Jin has a harsh past where her husband died and lost her leg in a car accident which made her mentally disturbed. This lead her wanting to keep Jung Woo by her side. As for Seung Hyun, he didn't have much or even know what love means to him until he found Ae Ra as his angel which he doesn't want to let go off. With their side stories, these supporting characters impact the main couple going through the ups and downs, at both in and out of workplace. 
Although it is not really an enjoyable romantic comedy to watch, there were many elements, as stated before, that audiences could relate them to in everyday life. It is true that the first few episodes could get on your nerves. Yet, as you continue to watch this drama, there were some parts that you think "yes, it is alright" while other parts which are so annoying that you would skip them. The casts, especially the rising young actor, Seo Kang Joon, had done their parts that leaves mixed perceptions about both characters and acting. It is not the best romantic comedy to watch but the morals of the story fit well with common issues that occured in marriage and divorced couples. 
Rating: 6/10
Tags : drama,Joo Sang Wook,Kim Gyu Ri,Lee Min Jung,Romantic Comedy,Seo Kang Joon