Currency Exchange Show #1: Okasian + B-Free in London
Posted on August 31, 2015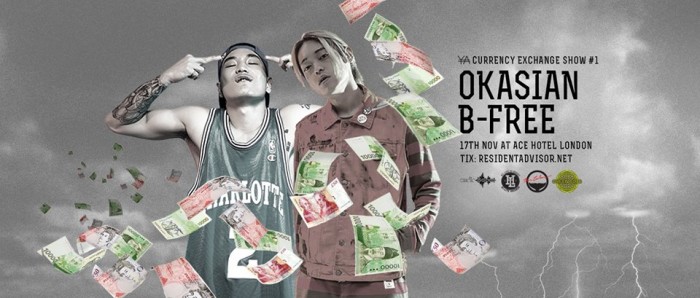 Source: YA
YA will be bringing Korean hip hop artists in Europe for the first time. They will start of with 'Current Exchange Show #1' by bringing Okasian and B-Free from Hi-Lite Records in their first exclusive debut performance in London.
Keith Ape ft. JayAllDay, Loota, Okasian & Kohh – It G Ma (Source: Hi-Lite Records YouTube)
Okasian puts on his raw laid back flows with intense trap beats while B-Free brings out his honest thoughts and feelings through his lyrics. Both Okasian and B-Free will be joined by local London artist Zone 17 with more London artists to be announced. Okasian and B-Free's labelmate, DJ Djanga, will be mixing rare Korean trap and hip hop beats at the after party.
B-Free – Hot Summer (Source: Hi-Lite Records YouTube)
The Korean hip hop showcase will be held at the Miranda Bar in Ace Hotel, Shoreditch on 17 November. It starts at 8pm and ends at 3am including the after party. It is the unforgettable night to enjoy Korean hip hop music while artists will engage with the audiences within the venue that has great atmosphere.
YA aims to bring 'music will speak for itself' in both mood and atmosphere to London. In addition to that, they will be bringing intimate showcases and large-scale tours across Europe. It is a good start in bringing Korean hip hop music to the European audiences.
Get started in attending one of their showcases, Currency Exchange Show #1, in London to show your love and support for Korean hip hop music.
You can find more information at their Facebook event page. At the moment, the tickets for main show is £20 while the main show with the after party is £49.50. Tickets can be purchased through here.
Tags : B-Free,Hi-Lite Records,Korean Hip Hop,Okasian