"Dad, Where Are You Going?" Season 2
Posted on April 20, 2014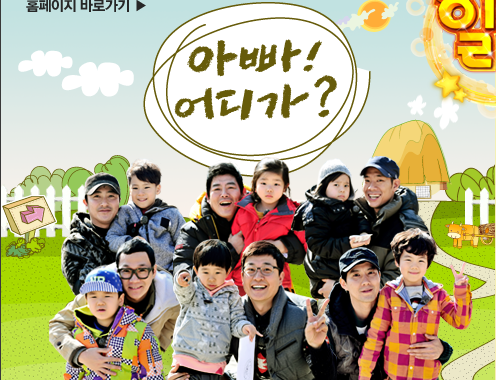 Due to the popularity of Dad, Where are You Going, the production team decided to come out with season 2. Although 'Lee Jong Hyuk & Lee Jun Su' and 'Song Jong Kook & Ji Ah' are not in this series, three more dads and their kids join in the programme. The production team continues to show entertaining content with interesting places where dads and children can enjoy while the dads realize their role as fathers.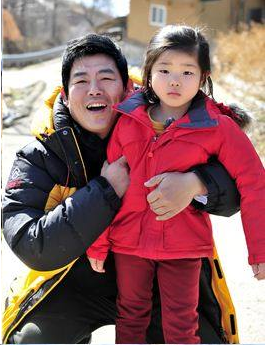 Sung Dong Il and Sung Bin
The oldest father in the casts, Sung Dong Il, brings along his second child, Sung Bin to the trip. Her personality is different from her older brother, Sung Joon. She is high-spirit and out-spoken especially when she is willing to try anything such as eating very spicy food. Although she is not totally lady-like, she is not scared to do what other people think is not good. She is curious about certain things during the trip. At times, she is cute when she smiles and always care about her father such as she massages his father when he's tired. I adore Sung Dong Il's children and they are the lovely father-and-daughter duo that has strong heart and personality. It is really wonderful to see how Sung Dong Il slowly get to know and hang out with her daughter more often.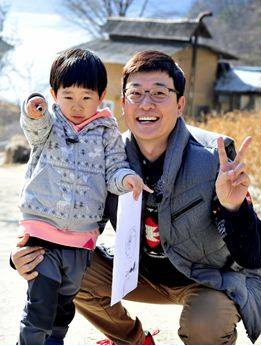 Kim Sung Joon and Kim Min Yool
The talkative MC, Kim Sung Joon, returns with his cute second son, Kim Min Yool. Min Yool has been appearing in the trips where his father and his brother, Kim Min Gook, had gone to in the previous season. I couldn't get enough of Min Yool's personality and I am glad that he's one of the cast for Season 2. Even though he cries a lot, but he has a cheerful and cute personality that lightens up the whole casts. He always go full speed ahead when taking part in competitions or handling tasks. At young age, he is yet to know what is right and wrong, such as respecting the other kids (by age) in the group, but I am sure he will slowly learn during the trips. Sung Joon give cute gestures to Min Yool but also he does his upmost best to tell him nicely as what he taught Min Gook in previous trips.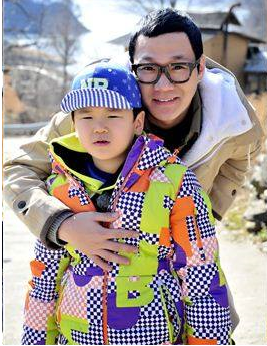 Yoon Min Soo and Yoon Hoo
The father-and-son duo, Yoon Min Soo and Yoon Hoo are back again to show more child-like, but also strict, love in this series. This time, Yoon Hoo is the oldest child in the group so he has to take care of the younger ones. At first, he feels pressured for being the oldest brother but he soon took on the role throughout the trips. With his cute, polite, and caring personality, he always care about the younger brothers and sisters. While having the strong and outgoing attitude, he still loves to eat and, at times, silly when encountering funny moments. The love between Min Soo and Hoo continues to grow as we watch them smile and laugh with youthful energy.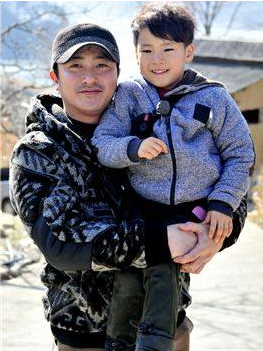 Ahn Jung Hwan and Ahn Ri Hwan
Ahn Jung Hwan, a former soccer player, scored the goal for South Korea team against Italy during the FIFA World Cup 2002. He was also selected to be part of the South Korea team for World Cup 2006 and 2010. He has played for football clubs in Japan, France, Germany, and China. Recently, he is retired from the soccer scene and focuses on being the father of two children, including his youngest son, Ri Hwan. This season, he brings his son to the trip. Ri Hwan may have a cheerful personality but he is weak, in terms of being a man. Ri Hwan is afraid on certain things he sees and asked to take part in. Jung Hwan realizes that he shouldn't let Ri Hwan have a soft personality but he is not very sure how he should toughen him up without making him cry. I am sure, slowly, Ri Hwan will strengthen his courage, with the help of his father who is also doing his best for him. Meanwhile, Jung Hwan is an excellent cook as he can make awesome dishes that made the other fathers impressed with his skills.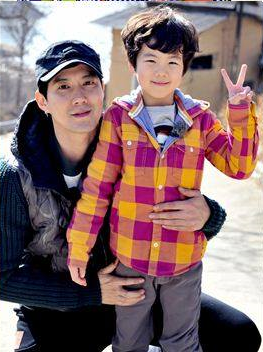 Ryu Jin and Im Chang Young
Ryu Jin acted as a supporting actor in Prime Minister and I. He took part in this series, together with his son, Im Chan Young, because he wants to spend time with his son while building up his role as a father. You may have seen him in TV drama series where he portrayed serious roles but he has a fatherly side in his personal life when it comes to family. Chan Young always have a bright and cheerful personality especially whenever he smiles. He is able to adapt to any environment including the times when they are in the countryside. Even if the house where they stay did not meet with Ryu Jin's expectation, Chan Young is happy with it. What's more important that he is happy that he is able to spend some time with his father. Ryu Jin still has doubts about being the father but as long as Chan Young is happy then he does not have to worry so much.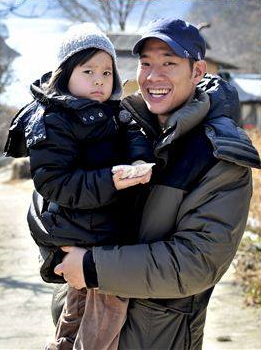 Kim Jin Pyo and Kim Gyu Won
Kim Jin Pyo is the former member of groups Pain and Novasonic. While being active as hip-hop musician, he is also the host for Top Gear Korea. He takes part in his season with his only daughter, Gyu Won, because he wants to be more close to her. Among the children, Gyu Won is the youngest and quietest girl. She is shy but when she hangs out with his father, she talks a lot. She is cute whenever she talks and stays close to her father. During the trips, she started to open up to the other kids by talking and playing with them. The more trips that they go to, the closer the bond between them. Even though the cameras doesn't focus a lot on the both of them, I can see they have certain elements that caught my attention such as the growing love and bond between father and daughter.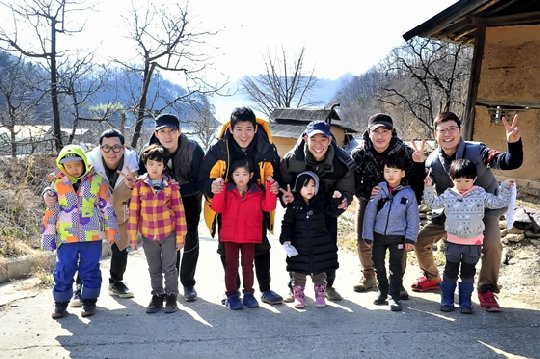 I was impressed that the production team can come up with more entertaining content and different places where the fathers and children can spend their weekend trips together. They learn about the three tastes of Andong, get involved in healthy sport activities, experience the countryside, and many more which I am really looking forward to watching them. At the same time, the viewers can see the growing love and bonds between them while there are love and strict actions taken by them. The children are more hyperactive but there is a few little bits of action which need to be told by their fathers. The new fathers are learning to play the better roles. While the old fathers cast are guiding the newbies, they themselves also learn and realize their own capabilities as fathers. Every Sunday, I always anticipate where and what they are going to do next while there are plenty of laughters and tears that is shown through father-and-children quality moments.
Tags : Dad Where Are You Going,Reality Show,TV