"Daytime Sleepwalking" in a Different World
Posted on August 21, 2013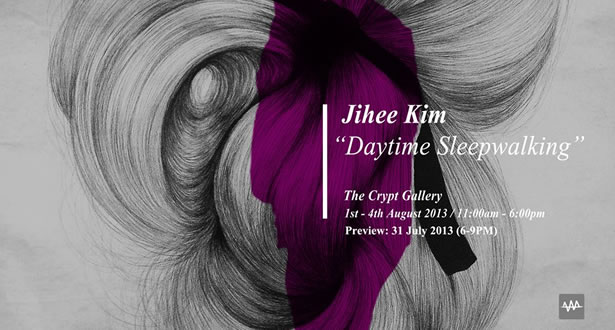 Kim Ji Hee, born in Seoul, South Korea in 1983, currently lives and works in London, UK. She received a BFA and an MFA in Dept of Painting at Dong Guk University, Seoul, Korea. She is currently studying a MFA at Goldsmiths College, London, UK. She has previously showcases her works (Off the Shelf, Works on Paper, and Art Warehouse) in London (Stockwell Studios and GX Gallery) and South Korea (The National Museum of Contemporary Art, Seoul Museum of Art, and JE SUIS Gallery).
Kim Ji Hee showcases her artwork about her own self-reflection on beauty and her inspiration on female identity. These were presented in a more sophisticated and vibrant way. The exhibition took place at the Crypt Gallery, St.Pancras Church. The location gives the artwork some representation of how a person hides away from the real world. Daytime Sleepwalking means that a person walks in the daylight when there is a large crowd on the street while there are secretive fantasies in her mind. These secretive fantasies are shown through Ji Hee's artworks. Daytime Sleepwalking exhibition presents a variety of works: Sleepless Nights, Impossible Anxiety, Stalker, and Show Me Your Love.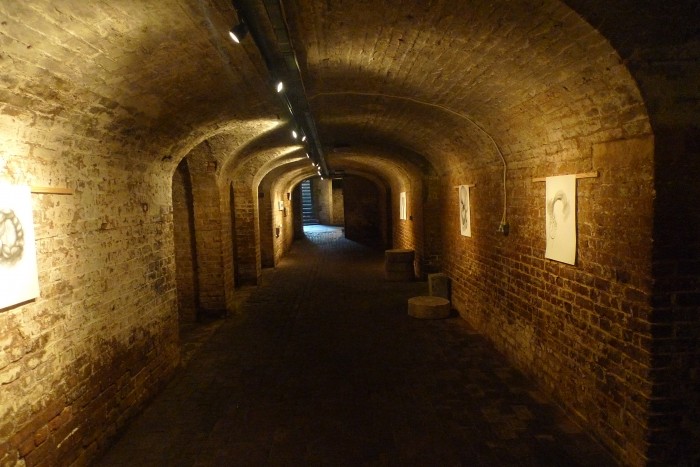 The Crypt Gallery, St. Pancras, London
As I entered into the Crypt Gallery, I was in Ji Hee's world that is expressed through her diary.  Although there might be some tension around the surroundings while looking at the artworks, I could see the secretive and joyful meaning from them. She shows her artworks that represent her ideal of Western beauty and consciousness of her own beauty. Compare to her previous works, most of the art pieces in Daytime Sleepwalking are based on installations and drawings. This is totally a different style and challenge for her.
She uses abandoned English books as her new creative medium to feature two series Sleepless Nights and Impossible Anxiety. These series depicts her experiences with English language and culture.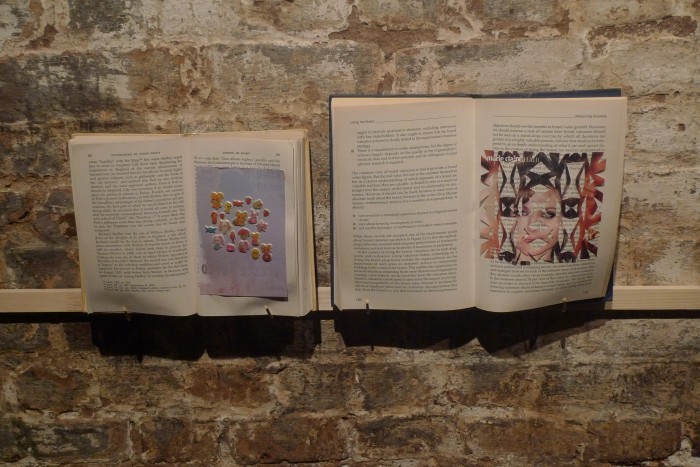 Sleepless Nights
For Sleepless Nights series, she draws her personal drawings in the books as her diaries. These drawings represent her emotions. She points out that she has troubles with the language especially when it comes to reading.
 Impossible Anxiety
Impossible Anxiety series is shown with pop up images of groups of Western female paper dolls on the books. These are shown to Kim's point of view about how Asian women perceive towards ideal Western beauty. She is also concern about the power of Westernization and males' ideal type of women in modern society.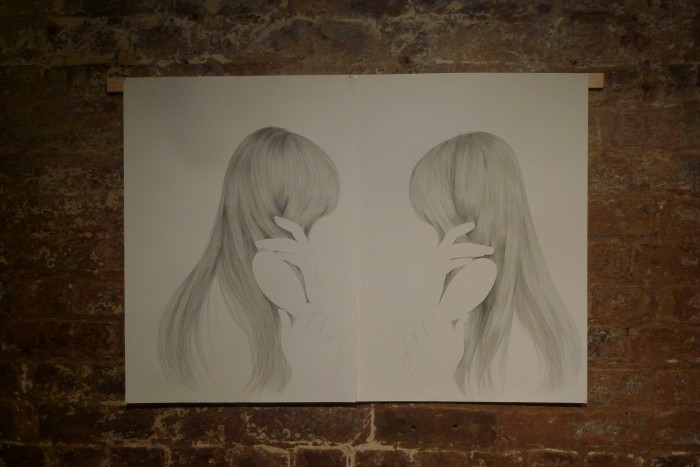 Stalker
Kim also shows the hair drawing series: Stalker and Show Me Your Love. These series shows how the artist's is craving for absolute beauty. To her, hair represents the essence of true beauty. She features her drawings on various hairstyles without the facial identity of the person. I was intrigue with the hair and hidden face which makes me wonder whether the outer beauty is more important than the inner beauty. Also, one special painting which has the colours makes me believe that it shows their consciousness on the Western hair colour and hair style. With the hand placing on the hair, there are two perceptions: (1) women craving for the sense of true beauty and (2) men craving for their ideal beautiful women.
Show Me Your Love
The overall exhibition shows the artist's feminist point of view about the need for beauty and acceptance in the society while having the sense of Westernization. It truly represents her own experiences while she was in London encountering a totally different culture especially when it comes to language and beauty. Again, her artwork leads the viewers, including myself, to another different world. Cyrpt Gallery is a perfect place to feature her exhibition that represents her dark world with full of fantasies. The exhibition was an eye-opener about how it is still happening in society, especially for women, who are still conscious about beauty.
You can check out her website which also includes her previous works. She will continue to use artistic approach to showcase her artworks in the near future.I am looking forward to her next exhibition and also her different approach on the use of different art materials and artistic style.
Tags : Art,Contemporary Art,Feminism,Kim Ji Hee