Dongju: The Portrait of a Poet (2016)
Posted on June 30, 2016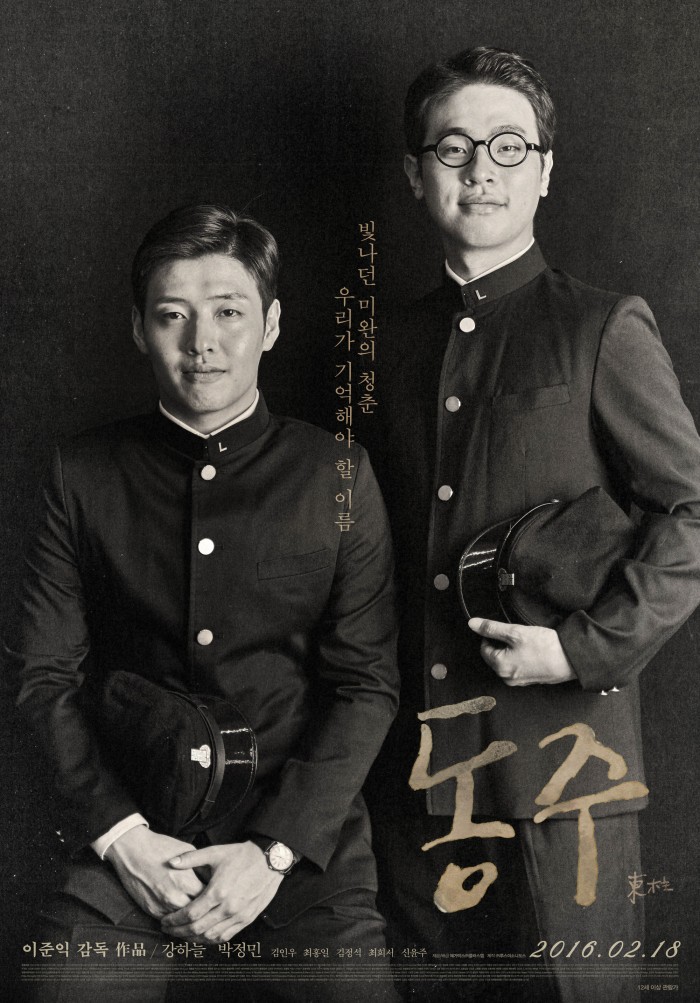 Director: Lee Joon-ik
Casts: Kang Ha-neul, Park Jung-min, Kim In-woo, Choi Hong-il, Choi Hee-seo, Shin Yoon-joo, and Min Jin-woong
Genre: Biopic
Running Time: 110 minutes
The legendary Korean poet, Yun Dongju (Kang Ha-neul) is sent to the Fukoaka prison and being interrogated by the Japanese detectives due to his involvement in the Korean independence movement during Japanese invasion. In between, Dongju's past stories are revealed from how he wanted to become a poet and has his lyrical poems to be published. Meanwhile, he is being drawn into his cousin, Song Mong-gyu's (Park Jung-min) plans in taking down the Japanese government's powers and ideals.
It is surprising and interesting to see that the film is shown as black and white. Director Lee Joon-ik, known for directing historical and periodical films including the recent film The Throne, takes Dongju: The Portrait of a Poet into a different style which conveys the early days between 1940s and 1950s in Korean history. Compare to previous films, such as The Throne and Battlefield Heroes, he wants to take us back in time when Dongju and Mong-gyu in a classic manner. He also wants to present the film as Dongju's visual memoirs on becoming a poet who struggles under Japanese government's power. In order to do that, he emphasizes on having the cameras focuses on the characters' actions within the locations in detail. Some of the most iconic scenes are when Dongju writes poems in his study room and Mong-gyu has his last conversation with Dongju from outside the window before he escapes.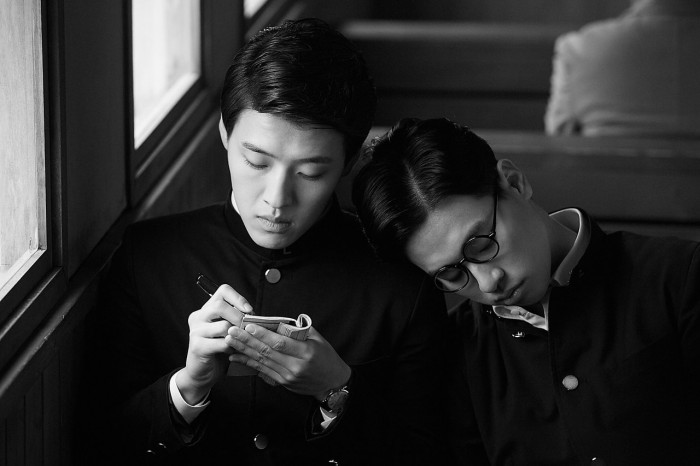 Dongju: The Portrait of a Poet is one of the few films that focus on Asian poets and writers. Compare to Ann Hui's The Golden Era and Paul Schrader's Mishima: A Life in Four Chapters, they have similar cinematic and classic aspects. The poets' and writers' stories are conveyed in emotional expression through the conversation with the characters and impactful actions in each scenario. Characters are focused significantly through the use of close-up and panning camera from short distance to give overall dramatic elements to it. It builds up a close connection between the characters and audiences while understanding their stories as struggling writers publishing their works during wartimes. The history visually leaps out from books that are hardly read.
Dongju's poems being conveyed in monologues as he writes and thinks about his poems are calm and meaningful. The poems start off with mentioning title, followed by expressing them based on his personal experiences during his time in his hometown, Longjing, Seoul, Tokyo, Kyoto and Fukuoka. Dongju's poems are sad and beautiful that shows passion that he wants to become the poet to share his honest words to the readers. The poems are well-balanced with the mesmerizing scenes, such as the poem "Foreward", read along with the scene on the stars shine in the night sky. It builds up an understanding about Korean literature including poetry that relates to poets' and readers' life experiences within natural surroundings.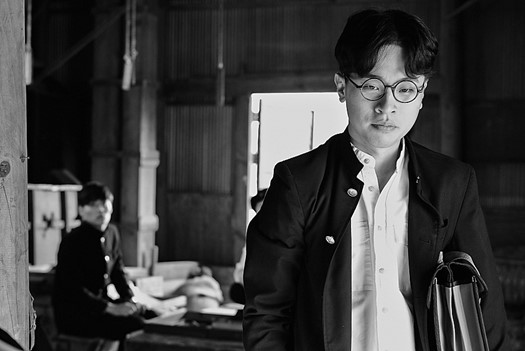 Kang Ha-neul and Park Jung-min play very challenging roles, since Dongju and Mong-gyu are the iconoic figures in both Korean literature and history. At the beginning of the film, they start off with a naïve, stubborn and cheerful personality that they want to share their literature works to the readers. Later, due to the Japanese government's power, their portrayals totally shift into more serious and emotional gestures that create a push-and-pull brotherly relationship between the two of them. The state of being confused and criticized by the Japanese government ignites their frustrations that give great impressions on their serious efforts in portraying their own characters. The climax and ending scenes are great when they cry out the sense of freedom and rights especially when they are being forced to signed the documents during interrogation.
It is painful to watch as Dongju struggles as a poet during the time when Japanese government takes control of political power including language and education. Yet, it is insightful and memorable to know that Dongju puts his upmost best in bringing his poems to life as he hopes that generations after generations are able to read his poems. Directors including Lee Joon-ik continue to further explore and showcase well-known figures in Korean history and literature through films that convey emotional and insightful thoughts to the audiences.
Rating: 7/10
Dongju: The Portrait of a Poet won the Grand Prize and Best New Actor (Park Jung-min at 52nd Baeksang Awards. The film is screened at the New York Asian Film Festival 2016 (NYAFF).
Tags : 15th New York Asian Film Festival,52nd Baeksang Awards,Biopic,Choi Hee-seo,Choi Hong-il,Film,Kang Ha Neul,Kim In-woo,Lee Joon Ik,Min Jin-woong,Park Jung Min,Shin Yoon-joo