Emergency Couple (2014)
Posted on April 7, 2014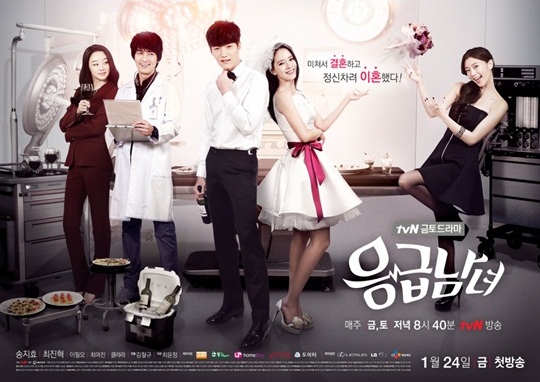 Jin Hee (Song Ji Hyo) and Chang Min (Choi Jin Hyuk) met each other with love at first sight. Chang Min is from a family full of doctors. Even though his family oppose, Chang Min and Jin Hee decided to get married. Chang Min gave up his medical internship and worked as a pharmaceutical salesman. Their marriage life is a messed up. Chang Min's family not only looks down on her but Chang Min also treats Jin Hee badly. So, they divorced. Six years later, both Jin Hee and Chang Min, who just finished their studies in medicine, meet each other at the emergency room of the same hospital where they will work as interns together.
The title fits well with every aspect of this drama. The divorced couple who saved the peoples' lives in the emergency room while they need to save themselves from the love and hate between them. It is an enjoyable medical drama, which is by far the good ones, to watch. There is a slow-and-steady pacing shifts of genre: from romantic comedy to serious melodrama.  The intros on some episodes give clear pictures of what is going on with the divorced couple. Some of the funniest scenes, including the love fights between Jin Hee and Chang Min, made me laugh so much. Towards the second half, things start to get serious and all of us hope that Jin Hee and Chang Min will get back together. It ended nicely with every character who has a happy ending. It is a well-rounded drama which has a balance of being doctors and settling their own personal lives.
The only problem that I have is there were a few missing gaps in between before and after Chang Min's death. It is understandable that Jin Hee gets the mental slap of what had happened. Yet, at times, it seems surface when Jin Hee tries to get back together with Chang Min even though she has no idea what are her true feelings for him. Luckily, thanks to Chang Min warm words, she realizes what he meant about love which totally make sense to me of what is going on between them.
From divorce to slowly getting back together as a couple
At the same time, a theme, which some viewers could relate to, is shown in this drama: divorce. It presents eye-and-mind openers as to why divorce happened, what effects could happened from it, and how to overcome or if they want to get back together. The only main reason why divorce happened is because the married couples didn't give enough time and space to understand each other. Then, it started off what would happen to their loved ones such as Chief Gook's parents divorced and left him being lonely. Finally, the characters have conversations of how to overcome love and marriage fights situation. The drama gives complete picture and realization to viewers who can relate this theme to their lives.
Compare to other medical dramas, this drama still have the usual "doing what they can to save peoples' lives while going against the high management". All of them, including Chief Gook, goes through the ups and downs of working as doctors. Each character's situation is clear and simple while putting them together in a group as they help each other out in the emergency room.
Supporting characters in Emergency Couple: Chief Gook (Lee Pil Mo), Professor Shim (Choi Yeo Jin), the childish and nasty Jin Hee's ex-mother-in-law (Park Jun Keum)
Obviously, you have characters that you will love and hate. Song Ji Hyo and Choi Jin Hyuk did a good job in portraying the funny and lovely divorced couple. They put themselves in the characters' shoes with a sense of realism. When it comes to romantic comedic scenes, they pull it off really good that hurt my stomach due to laughing a lot. They also did well in conveying sentimental emotions in melodramatic scenes. They have a nice and simple chemistry that is not overdone.
Lee Pil Mo and Choi Yeo Jin also acted out wonderfully as the sunbaenims to the interns. At the same time, they portrayed their characters who are in a friendly romance. Lee Pil Mo manages to keep being serious but, at the same time, be funny which is good. Choi Yeo Jin's bright personality shines in this drama with her strong and convincing attitude. Now, here comes the storm, I absolutely love and hate the mother-in-law. You can't help but to go over to her to slap her in the face due to her childish and selfish attitude. However, I must say that Park Jun Keum did pretty well in being the evil mother-in-law who gets in between Chang Min and Jin Hee.
(Source: CJENMMUSIC Official YouTube)
Overall, Emergency Couple is clear and simple. There is not too much over-exaggerating scenes which you will feel annoyed with it. A balance of bits and pieces of two genres. The casts did well in portraying the characters' scenario in emergency room. Most importantly, they convey realism about divorce, marriage life, and love. Like I said before in the beginning, Emergency Couple is a well-rounded drama with meaningful theme that viewers could relate to. One of the medical dramas that you should definitely watch.
Rating: 7/10
Tags : Choi Jin Hyuk,Choi Yeo Jin,drama,Lee Pil Mo,Romantic Comedy,Song Ji Hyo,TV