Empress Ki (2013 – 2014)
Posted on May 1, 2014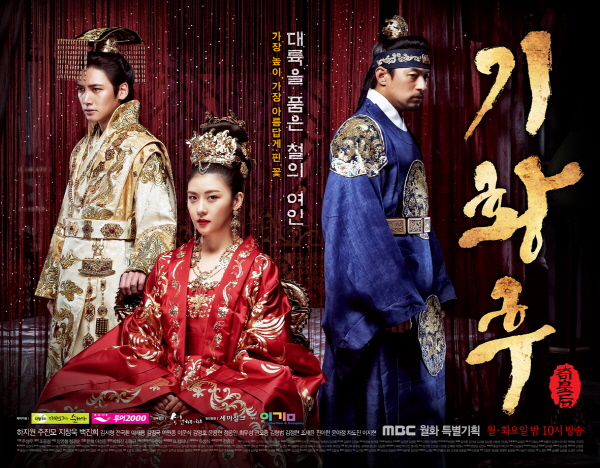 Sung Nyang (Ha Ji Won) has been going on a rough journey since childhood. As she grows older, she dressed up as a man who is the leader of the gang. She meets Wang Yu (Joo Jin Mo) who asks to have a competition with her. Later, she finds out that Wang Yu is the king of Koryo. She also finds out that her father is one of the generals for the king. Thus, she joins the military. She is assigned to take care of the Emperor Huizong of Yuan, Ta Hwan (Ji Chang Wook). He treats her as a very close friend while she still disguises as a male. After some time, almost everyone including Wang Yu and Ta Hwan find out that Sung Nyang is a woman. Both of them fall in love with her. Meanwhile, troubles arise for the three of them. Due to losing her loved ones, Sung Nyang works her way to the top till she becomes Empress Ki. She focuses both love and political ambition for the good of Koryo and and Yuan.
(Source: Show Biz Con YouTube)
It finally comes to an end after watching 51 episodes of Empress Ki. The first episode starts off with Empress Ki being together with the emperor while Wang Yu looks on followed by Empress Ki crying in tears after Wang Yu leaves the palace. This episode sparks the viewers on how they get this far. Thus, Empress Ki begins by looking back into the past of how all three of them and gone through the ups and downs. Before airing first few episodes, the caption that reads "some characters and places in the story are fictional" is shown to avoid making the viewers confuse. Thus, this drama is about a fictional account on Empress Ki's life. At the same time, it partially relate to the history of Empress Ki. 
Empress Ki being tangled up between Ta Hwan and Wang Yu
The first half of this drama was more exciting than the second one. Sung Nyang was going through the bumpy roads as the bad guys fight over power which leaves her losing her love ones. Then, once she enters into the palace to seek revenge, the whole intensive drama begins as you start questioning the characters' evil actions. For example, I started blasting out in anger on why on earth Tanashiri goes her own way to fulfil her selfish needs. There were so many scenarios that make your blood boil and cry in tears. However, in the second half, I think the writers couldn't come up with better ideas. There are two situations in the drama: (1) Empress Ki is supporting the Emperor in the palace and (2) Wang Yu finds the leader of Eagle House who make both Koryo and Yuan in a total mess. The shifts between the two of them is fine as you know their side stories but there comes to the point that it suddenly become dry right after El Temur and his family died.
At times, the character development is stagnant because of its storyline that doesn't grab so much attention. Both Empress Ki and Emperor are clearly shown how close they are while they struggle due to greed for power and trust by officials. On the other hand, the relationship between Empress Ki and Wang Yu is quite surface. Some of the supporting characters shine in this drama. Tal Tal conveys his serious and charismatic attitude while Bayan Khutugh may look like a lovely empress but at the back she is totally evil. Then, some of the characters die even Empress Ki is losing her loved ones as she is fulfilling her roles for the good of Koryo and Yuan. It brings out the dramatic effect but certain characters who are killed or died, one by one, can be a little bit annoying.
Tanashiri (Baek Jin Hee) – Bayan Khutugh (Lim Ju Eun) – Tal Tal (Jin Lee Han)
On the other side of the coin, I give thumbs up to all the casts who have done their upmost best in portraying the characters. Ha Ji Won's acting as Empress Ki is impressive. She is able to play a serious role who is a lover, a wife, a mother, and a queen. While she is being serious in portraying Empress Ki, she evokes her sensitive emotions that touch my heart. Sadly, Joo Jin Mo didn't get much space to show his acting skills through his character, Wang Yu. Even though Wang Yu is meant to be having serious personality right after he thought Empress Ki died, I find that his character has lack of expression. In my opinion, the writers didn't do much character development on Wang Yu. Ji Chang Wook did a good job in acting as the Emperor who is confused about how he should be the true king for Yuan. He is constantly being pushed around by the officials which make the viewers feel sorry for him. Other casts, such as Baek Jin Hee and Jin Lee Han, have done their part in making you love and hate them but impressed with their acting skills.
(Source: 1theK YouTube)
Empress Ki has both story-line and character focus at first but later on it becomes more of the character focus and then turn out that you feel less attached to watch this drama. Due to lack of writers' effort, it affect some casts in portraying the characters, both actions and emotions. The drama has strong casts who make you love not only certain emotional and intensive scenes but also their acting efforts. Yet, the storyline has died down a bit after the first half. There were so many gaps in the storyline that it didn't grab your attention. To me, I feel sorry for both casts and characters are in a whirlpool of confusion. It takes time to watch while thinking what is going on inside and outside the palace but somehow there are some things that could have been improved.
Rating: 7/10
Tags : drama,Empress Ki,Ha Ji Won,Historical,Ji Chang Wook,Joo Jin Mo,romance,TV