Eudon Choi Brings Modern Feminine Beauty with Florals and Leather
Posted on October 8, 2013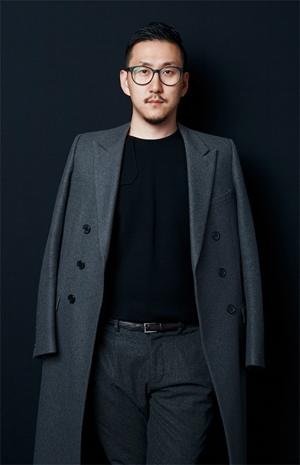 Eudon Choi  (Source: Eudon Choi Official Website)
In Seoul, Eudon Choi is trained as a menswear designer which gave him the opportunities to learn about the in-depth tailoring techniques. Later on, he studied at the Royal College of Arts, London in an MA in Womenswear. Before establishing his own brand, he worked as a womenswear designer for a few years. Through his experiences in menswear and womenswear, he is able to blend both sartorial techniques and masculine cuts that fit well with the feminine form of clothing. He gains inspiration through looking into historical and vintage garments, which relate to menswear detailing, and remade a form of fashion that is modern with in-depth details.
Eudon Choi Terra Nova Autumn/Winter 2012 Collection (Source: Eudon Choi Official Website)
Between 2010 and 2012, he has gained numerous recognition through participating catwalks from Fashion Week in fashion cities and received a few rewards.
2010: selected as the Vauxhall Fashion Scout's Ones to Watch

September 2010: received VFS Merit Award and BFC/ELLE Talent Launch Pad

2011: won the LYCRA Style Emerging Talent Award at the WGSN Global Fashion Awards in New York

September 2011: with the invite by Anna Wintour and Franca Sozzani, he presented his Spring/Summer Collection 2012 at Milan Fashion Week with the support from The Vouge Fashion Fund

February 2012: had his first solo catwalk show at the London Fashion Week with Terra Nova Collection
Eudon Choi Spring/Summer Collection 2014 (Source: Eudon Choi Facebook)
During the London Fashion Week in September 2013, he featured his Spring/Summer collection 2014 that shows the "gentle feminine beauty" by featuring his designs with florals, solid colour patterns and pastels while ensuring the feminine structure of garments. His collection is inspired by Princess Deokyhye, who is the last princess of Joseon dynasty.
(Source: London Fashion Week YouTube)
His latest collection truly signifies the essence of feminine beauty that is gentle yet beautiful with the patterns and feminine garment structure that catches my attention. He is able to implement both masculine and feminine essence within the clothing of his collection. He presents his works from biker jackets to school uniforms to night gowns while maintaining the elegance of femininity. They are simple yet elegant collection that customers will definitely wear. 
 Eudon Choi's River Island Design Forum Collection (Source: Eudon Choi Facebook)
Recently, he has launched the River Island Design Forum 16 piece collection that are available in River Island stores. His collection is inspired by a 1991 US Vogue photoshoot, Wild at Heart (photographed by Peter Linderberg and styled by Grace Coddington) that featured famous supermodels like Naomi Campbell and Cindy Crawford. In addition to that, his collection features biker detailed concepts with soft leather and sharp colours, such as silver, red, and black.
(Source: River Island YouTube)
Eudon has definitely bring out the feminist value through the biker leather concept that sparks the feisty and strong women power through this collection. He makes the collection as simple as possible but implementing the strong sense of feminism in his pieces. The jackets from this collection definitely fits well for autumn and winter. Ladies who want to have comfort while having a strong feminine look should check out Eudon Choi's River Island collection. The price range of this collection is from £30 – £ 250. These can be purchase online or from the selected River Island stores in the UK.
His overall collection definitely allows him to create womenswear that have modern cut with some touches of feminism. Even though he used to be a menswear designer in Seoul, he improved his fashion designing skills and has the capabilities in creating womenswear that are simple yet elegant and powerful. He doesn't make his collections too extravagant while ensuring the tailoring style with bold colours and patterns complimented each other on every single clothing piece. There is definitely a balance between bringing the essence of Korean aspects, such as inspirations from Princess Deokhye, and contemporary tailoring design. He will continue to produce upcoming fashion collections that presents modern femininity and the beauty of Korean fashion and culture.
[Official Website | Facebook | Twitter | Stockists] 
Tags : Eudon Choi,Fashion,London Fashion Week,River Island