Funereal by Giacomo Lee
Posted on June 27, 2015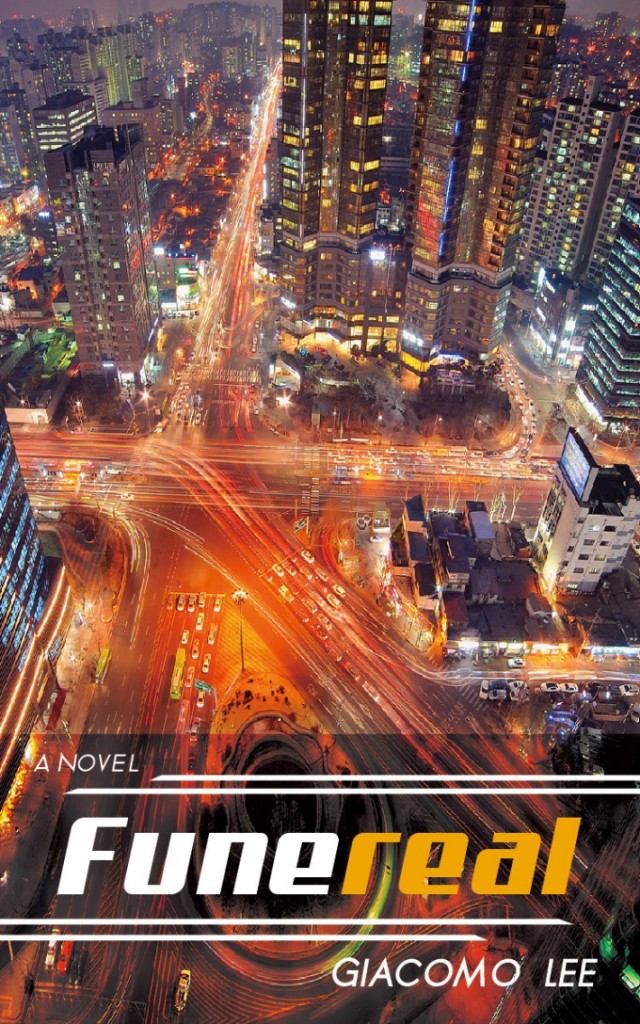 UK author and former resident in Korea, Giacomo Lee, takes the readers in understanding the Korea's pressure of being 'perfect' and people's own happiness his latest dark and mysterious novel, Funereal. The main character in her late twenties, Soobin Shin, is approached by a customer at the donut shop where she works at. The customer turns out to be an entrepreneur who hired her to take part in his next big thing: OneLife, a service that performs fake funerals for potential Koreans who are unhappy with their lives, cannot move on and give a sense of self reflection. After the service is over, they come out of the coffin that welcomes them to their 'new' life and support from their friends and families. Soobin is happy with the job as the main host of the company. However, while working at the company, she finds out about the dark truths behind their customers and company after one of the customers died in a mock funeral.
Funereal's storyline slowly builds up chapter by chapter while focusing on Soobin Shin questioning how does the Koreans and herself feel 'death'. At the same time, she wonders if other people are truly happy to fit in with the advance Korean society as there is in need of perfection based on looks and class in personal life and jobs including the entertainment industry and corporate world. Lee tries not to write out gory details but instead a few paragraphs that give the overall picture of how Koreans are going through hard times in peer pressure of being perfect and blending into different social groups. Also, Lee focuses on every single character about how they been through darkness by expressing them through written dialogues between them and Soobin. This helps the readers further understand the harsh realities they have been through in Korean society.
At the later part of the story, things start to get heat up with Soobin finding the shocking truth behind Geonwon Kang and other customers who have also been through depression, isolation and being used as 'puppets' in society. With the link with OneLife, the shocking truth made Soobin going through ups and downs that lead her to figure out how she is going through get through this nightmare. One of the chapters which grab my attention and gave me the chills is the abandon shopping mall where is the 'happy place' for Koreans. Lee writes them in simple ways that tells a lot as I picture the shocking scenes that Soobin see on each floor. It kept me going page to page of knowing what is going on in that building and finding out the truth.
Funereal has a dark truth that opens the readers' eyes about the line between dream perfection and nightmare reality in the advanced technological and beauty conscious society while understanding each individual who are going through accepted by others and accepting themselves. Readers, including myself, would come up with lots of life questions related to happiness, death, sadness, love, acceptance and appreciation. Chapter by chapter, page by page, Lee gives tension and surreal motion in every character and plot that link to an overall message about life and death, dream and reality.
Tags : Giacomo Lee,Literature