Gangnam Blues (2015)
Posted on July 28, 2015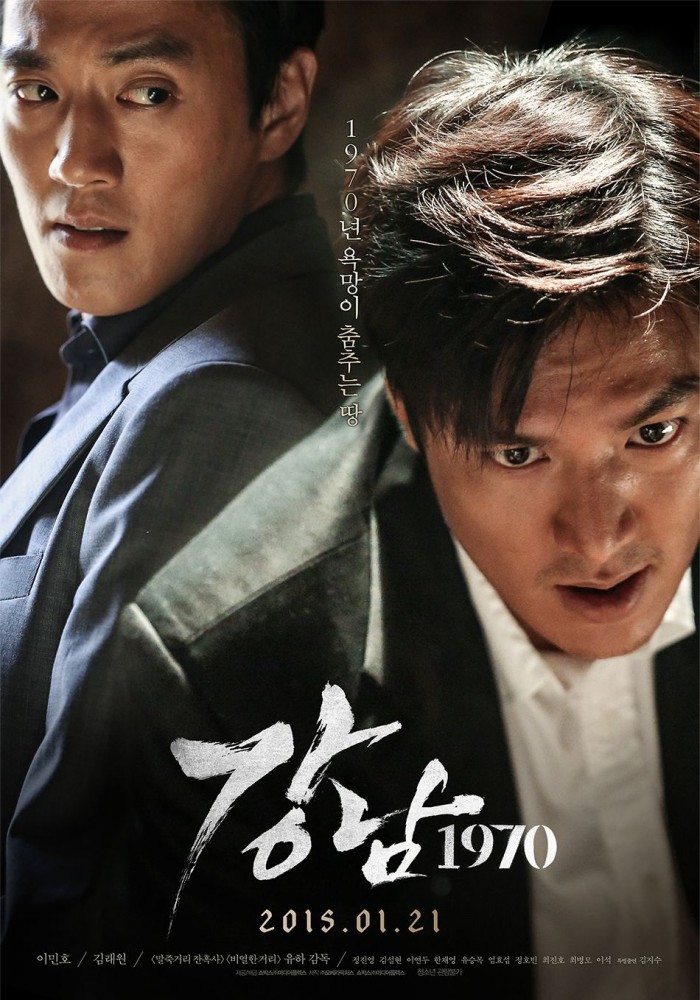 Director: Yu Ha
Cast: Lee Min Ho, Kim Rae Won, Jung Jin Young, Seol Hyun, Kim Ji Su, Lee Yeon Do, Jung Ho Bin, Eom Hyo Seop, Yoo Seung Mok, Lee Suk, Choi Jin Ho, Han Jae Young
Genre: Action
Running Time: 135 minutes
Jong Dae (Lee Min Ho) and Yong Ki (Kim Rae Won) grew up like real brothers in an orphanage. After they leave the orphanage, they earn a living by picking up rubbish in the streets. Jong Dae becomes involved in a struggle of interests over development in Gangnam, Seoul. During that time, he lives with Gil Soo (Jung Jin Young) and Sun Hye (Seol Hyun) as their family member. Later, he becomes a gang member to earn a living and search for Yong Ki who has gone missing during the previous gang fight.
Source: Drama Fever YouTube
Gangnam Blues is set in the 1970s where there is a lot of political corruption including the relationship between the government officials and gangs. In order to gain and fulfil their greed of status and wealth, some government officials seek help from gangs to show who runs the town. There are some cliché and notable elements in making it a cool and classic gangster film yet it showcases the struggles of escaping poverty, adapting to the changes in society such as corruption and tension among peers. Thus, it has its own certain uniqueness rather than being 'me-too' gangster film.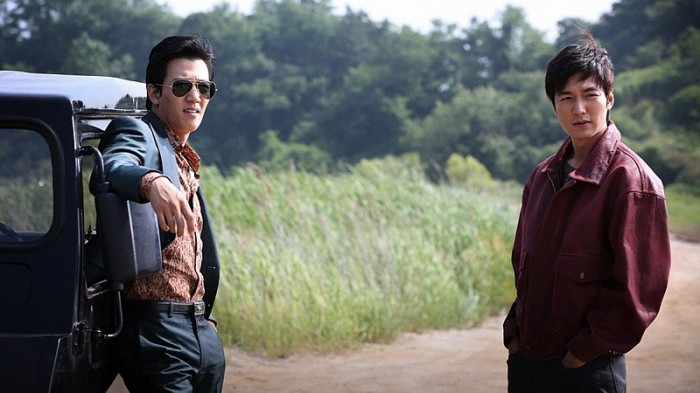 Yong Ki (Kim Rae Won) and Jong Dae (Lee Min Ho) secretly meet up
The overall fictional storyline is focused on two different politicians, with the gangs' support, going against each other and claiming lands including Gangnam. The director combines both gangsters' stories and politicians' stories together in well-mannered. However, some parts of the storyline were not really clear because there is more focus on the character development. There is lack of information on how politicians gained status and wealth through claiming the lands in complicated scenarios. Although sneaky and intriguing tactics were taken on how it is done by both politicians and gangs, these scenarios were not shown well in clarity.
I am impressed with Lee Min Ho's acting style in his first debut as the main character in the gangster film. Aside from his appearances in dramas as being the cool and rich flower boy, he is given the opportunity to shown his serious side in dealing with his own character in Gangnam Blues. He evokes various emotions in different scenarios and does his upmost best in the action scenes. Compare to the dramas City Hunter and Faith, his acting in action genre has improved a lot in Gangnam Blues which shows that he put in a lot effort in showcasing his acting talent. He should continue acting in films and portray different characters in different levels and genres that emphasize the depth of seriousness and emotions.
Kim Rae Won and Jung Jin Young portray the level of sensitivity and seriousness to their own characters in the film. At the same time, they keep up with the pace of how the characters bond close with Jong Dae as brother and father. They show anger and sadness, depending on situations, appropriately that highlight why the characters are doing such actions toward themselves and Jong Dae.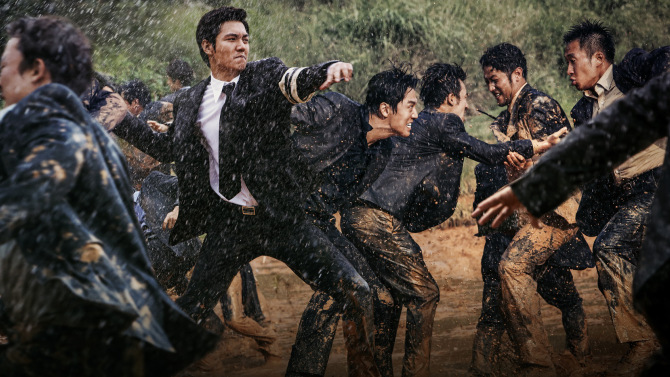 Fight battle at Gil Soo's (Jung Jin Young) funeral
There is plenty of action scenes and blood. Yet, the gory details are minimized as much as possible while showing dramatic style. Freddie Aguilar's 'Anak' is added as the background music to amplify each action scene's coolness and being classic. The gangs take whatever weapon they could find to attack their enemies, mostly stabbing at each other. The fight against each other at Gil Soo's funeral where there is heavy rain and mud consider as one of the iconic scenes to remember when thinking about Gangnam Blues. So much shouts of anger and sense of brotherhood are shown as they fight for their own dignity. Other than the common action scenes that we had seen in gangster films, a few scenes from Gangnam Blues, such as Jong Dae and Yong Ki secretly attack the gang members, the fight during  Gil Soo's funeral and the cinema fight scene, cannot be forgotten.
Gangnam Blues is considered a good classic gangster film with intriguing storyline that does not leave the audiences with confusion. The pace of story is steady even though there are some obvious scenes that are shown in the film. The ending is sad with deep sense of regrets and thoughts. Even though there are some clichés and usual action scenes, the director puts effort in making captivating storyline and ensuring that it is not going to be the 'same old' gangster film.
Rating: 7/10
Tags : Action,Choi Jin Ho,Eom Hyo Seop,Han Jae Young,Jung Ho Bin,Jung Jin Young,Kim Ji Su,Kim Rae Won,Lee Min Ho,Lee Suk,Lee Yeon Do,Seol Hyun,Yoo Seung Mok,Yu Ha