Hide and Seek (2013)
Posted on November 10, 2013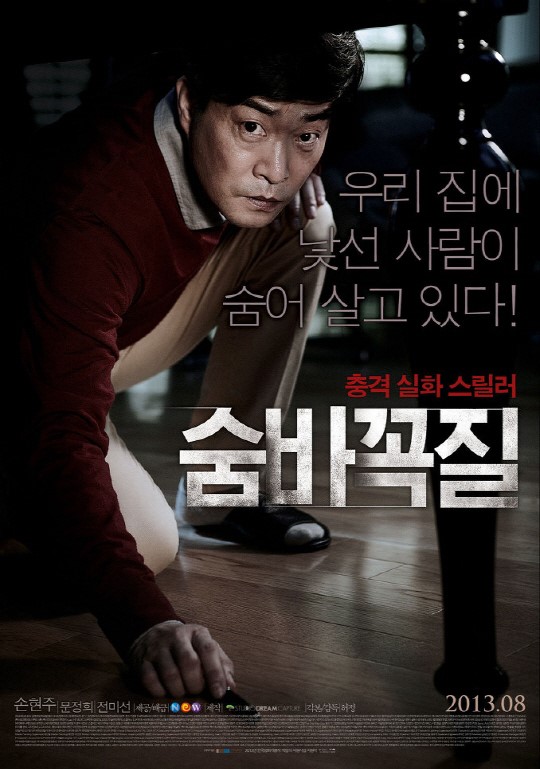 Director: Huh Jung
Casts: Son Hyun Joo, Chun Mi Sun, Moon Jung Hee, Jung Joon Won,Kim Soo Ahn, and Kim Ji Young
Genre: Mystery and Thriller
Running Time: 107 minutes
Certi: 18 (South Korea)
Sung Soo (Son Hyun Joo) lives with his wife (Chun Mi Sun) and two children at an exclusive apartment complex in Seoul. However, he has the obsessive-compulsive disorder (OCD) which means he is overly conscious about cleanliness and has fears with germs. Also, he tries to forget about the past but it keeps haunting him at times. One day, Sung Soo receives a call about his brother's disappearance. He and his family visit the shabby apartment outside Seoul where his brother lived. Later, he hears something weird from the neighbours, including Joo Hee (Moon Jung Hee), and finds strange symbols around the area. He decides to find out what is going on but danger comes when he and his family return to Seoul as they are not alone in their comfortable home.
Once the introduction scene starts off with the girl being hit by the mysterious killer at the scary and shabby apartment complex, I had my hopes being on the most intensive ride ever in my entire life. From the beginning to the end, I was literally gripping my hands while being on the edge of my seat while shouting. My eyes were wide open with fear yet exciting.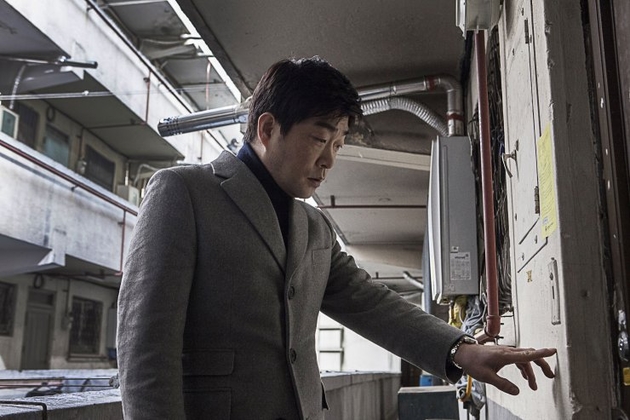 Sung Soo at the shabby apartment complex
Huh Jung explores two main aspects of the film with thriller: the homes where they live and the phobia/illness which Sung Soo, Jo Hee, and her daughter have. The homes where they live are based on the social status, which is rich versus poor. There is a huge comparison on how parents could afford to buy apartment or house to live with their families. Sung Soo and his family live happily in a comfortable and safe apartment complex while Jo Hee and her daughter live in the rural apartment which is not safe. Although home is where families stay together with love and happiness, money still comes in the way as they still consider how much they are willing to buy or rent the living space. The more comfortable and secure home is, the more expensive that home is. The less payment for the home is, the more dangerous the living area that the people stay in.  The living areas, which Huh Jung has chosen, are good examples to distinguish the social status of people including families in South Korea.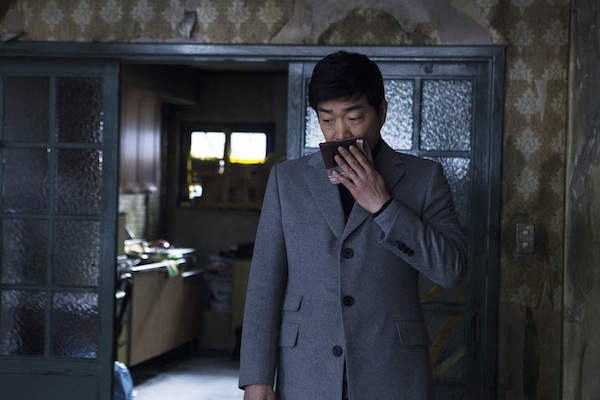 Sung Soo, who has OCD, checking his brother's messy home
On the other hand, Huh Jung focuses on the characters who have either illness and/or phobia. He looks into how different people are going through their daily lives, while having different illness. Sung Soo, Joo Hee, and her daughter are good examples to relate to this topic. Huh Jung brings out these characters in great detail by presenting the symptoms they had. Sung Soo has the OCD that made him encounter illusions about germs will made him suffocate. So, he decides to clean every single spot until he is satisfied that the germs are gone. While you reached to the middle of the film, you will be surprised about Joo Hee and her daughter's illness which I will not mentioned in detail. Still, these characters clearly spark my interests and curiosity as the narrative storyline starts to build up within this film.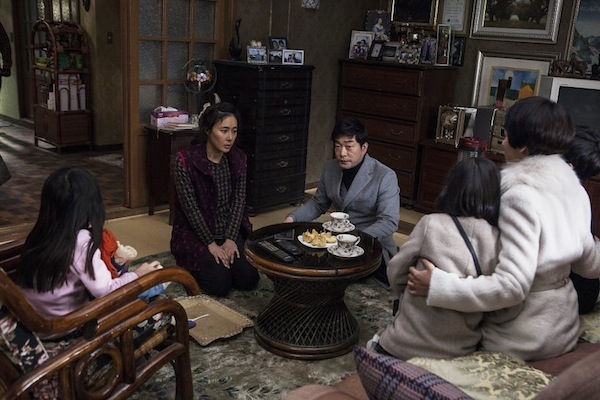 Joo Hee invites Sung Soo and his family over to her home
The casts of Hide and Seek have done a job well done in portraying the characters which made my mind blew away with their intense emotions. Son Hyun Joo pulls of spectacular portrayal of Sung Soo who not only has OCD but has a hidden past of his brother. He manages to act out various situations which the character has to face: from overcoming his personal past and illness to being the man to protect his family from danger. He has done well in being in Sung Soo's shoes with realism of certain people in modern society. Moon Jung Hee gives both scary and sad vibes through acting as Joo Hee. Joo Hee is one of the scariest person that I have seen in films. She made me hold my breath while grasping my hands tight. Again, you have to find out why she is the most emotional character in Hide and Seek. However, I was disappointed with Chun Mi Sun. Although she is supposed to be Sung Soo's wife who cares a lot for her family, she could have given the opportunity to do much better.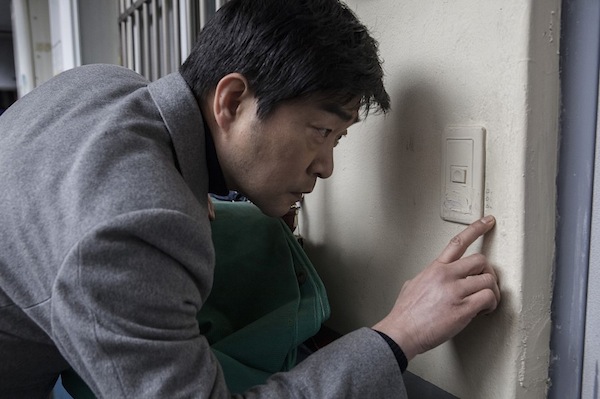 What is the reason behind the secret symbols at the whole apartment building?
The storyline is intense, scary, and exciting. Hide and Seek is one of the Korean thriller films that I was scared but enjoyed watching it. There are certain scenes which I could expect something to happen but these scenes were way above my assumptions. Each scene, including tbe scary ones, made my heart and mind jumped and screamed at the same time. These scenes, such as the mysterious person secretly stays at the house and writing symbols at the whole apartment building, gave me goosebumps and chills. I also enjoyed the mystery behind Sung Soo's brother and secretly entering into someone's home including Sung Soo's lead to the truth that is shocking and unbelievable. Yet, Sung Soo's past about his brother has not been covered much. There are certain scenarios that Sung Soo have symptoms and actions on getting rid of the traumatic past but these need to be explored. The questions circling in my head as I wonder about his past that made Sung Soo suffered a lot. So, Sung Soo's side story is not fully explored. Also, the scene which I was a little bit frustrated is "hitting the person's head so many times but the person is still alive". How is this possible? The logic behind coming back alive after being attacked so many times is questionable. The whole storyline is perfectly well done but there are a few complications in it.
Huh Jung made his debut a success by bringing the original and attention-gripping storyline with thriller that makes the audiences with fear and excitement. I had a good massive headache from watching Hide and Seek. The whole film made my mind explode that I need to calm down my nerves. For the past few days, the haunting "Hide & Seek" song was still playing in my head while recalling the scenes which are unforgettable. There were times that I have to take slow breathes until I came back to my sense. There were also times that I was in dazed from what I saw, so far, the most hand-gripping and gasping for breath film that I had watch in my entire life. Hide and Seek is definitely the excellent choice of film to start the London Korean Film Festival 2013. It is just the beginning for Huh Jung in his filmmaking career but he will definitely come up equally good or even better than his debut film in the near future.
Rating: 9/10
Tags : Film,Huh Jung,Mystery,Son Hyun Joo,Thriller