Home by Hyun Jin-Geon
Posted on January 21, 2014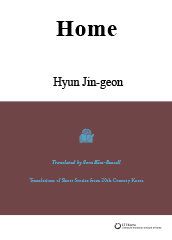 The story is set in the 1920s when the Japanese Empire's colonial exploitation is in full force in the Korean peninsula. The narrator meets a man who wear an unusual set of clothing at the train carriage. He finds out that the man left his home village, which is outside Daegu, and moved to Japan before he returns to Seoul to look for a job. This man shares his story about the misery he has faced during the Japanese colonialism in Korea.
At first, the narrator doesn't want to talk with him while the man kept disturbing him because he wants someone to talk to. Later, the narrator decides to hear what the man has to say. It is interesting to see how the conversation starts to get more interesting as the narrator continues to listen to the man's story. The narrator slowly opens his heart to understand the man's suffering. Even though the narrator couldn't comfort the man with words, but he is willing to listen and ask the man about his life story.
The man's story about his misery was written in detail but also meaningful. He recalls his happy times when he was with his family in his home village. The smile becomes the tears after his parents passed away due to the struggle of gaining income through farming on the lands which are owned by the high officials. In order for him to survive, since his parents passed away, he has no choice but to start his own journey through gaining income in Japan follow by finding a job in Seoul. He has to struggle in earning money so that he can survive but he is longing for home which is where his actual happiness is. The home, which he longed for, is gone which makes him even more sad. All the memories at his home village that he treasured slowly disappear because of the power and money. Like the narrator, reading the man's misery story about his life and home village slowly pierces through the heart.
Home is part of the short stories in 20th Century Korean Literature which you can download the application for free. It is only compatible for iPad. There are also pdf versions of these short stories through the following link.
Tags : Hyun Jin Geon,Literature,Short Stories