Hotel King (2014)
Posted on August 9, 2014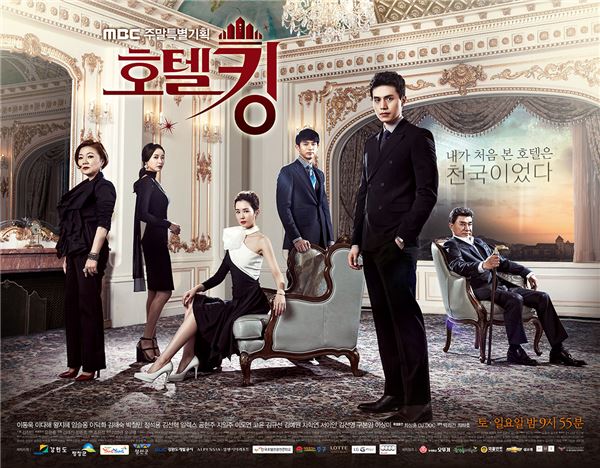 When Cha Jae Wan (Lee Dong Wook) was a child, he is one of the group of beggars who ask for money in the streets of New York. One day, he is hit by the gang beggar and then he is awake at an expensive hotel. The saviour, Lee Jong Goo (Lee Deok Hwa) tells him that his father, Ahn Sung Won, abandon him and his mother. Jae Wan swores that he will seek revenge. After building up his career in hotel business, he now works as the general manager at the CIEL Hotel who is owned by his own father. Later, he grabs the opportunity to tell his father that he is the son but his father denies and then dies suddenly. Ahn Sung Won's only child, Ah Mo Ne (Lee Da Hae) arrives at the CIEL Hotel. The hotel staffs' first impression that she is arrogant but they don't realize that she has weaknesses. While she is suspicious about her father's death, as the new chairman of CIEL Hotel, she struggles to keep the hotel business running.
It has so much soap opera moments that the viewers will saying out loud of "what" and "why". There are a lot of twisted plots that is way beyond of what is obviously going to happen and how the secrets are revealed. Not only at the end of each episodes but in between them that are shocking. Some of the characters' secrets and stories behind them which I couldn't believe what I just see and heard. However, the storyline gets a little bit draggy in the middle because of the bad guys getting in the "happily ever after" moments. It goes back and forth until you wonder when this is ever going to end nicely. Still, towards the third quarter of the drama, writers start to patch things up with the rest of the storyline that will not disappoint the viewers.
 Jae Wan (Lee Dong Wook) looks on as Jong Goo (Lee Deok Hwa) gives a welcome hug to Mo Ne (Lee Da Hae) – A test of trust between Mo Ne and Mi Nyeo (Kim Hae Sook)
It's all eyes on the characters and the chemistry between them that sparks the viewers' attention. With the twist and turns of storyline unfold, each character's true colours shine. Jae Wan hardly smile a lot at the beginning but you can see the look in his eyes as window of emotions. His eyes tell whether he is angry or sad. He is serious about the tasks which he uphold while caring about the people around him. Lee Don Wook has done splendidly with his serious and charming gentleman personality and flaming charisma.
In my opinion, I am disappointed with Ah Mo Ne in this drama. She pursues to do what she can to not to let go of CIEL Hotel but making her the weak one being bullied by the bad characters continuously. It is true to have some problems that make things complicated for her so that the drama will be more intense. However, the repetitive amount of times of her wanting to be the best but it is still not good enough or even putting effort to do it. On the bright side, she is the angel who is love and caring towards Jae Wan.
Two of them are the lovely romantic couple that make your heart flutters while you watch some cute and romantic scenes. Mo Ne has the cheerful aura while Jae Wan has the cold aura from time to time. Despite having two different personalities, they have bickering and heartfelt conversations including being all sweet and lovey-dovey at the small CIEL Hotel. There is the common push-and-pull relationship because of problems that cause it but that what's make the scenarios that shakes the viewers' heart and mind with bountiful of emotions. 
What are the secrets about Jae Wan, Mo Ne, Jong Goo and Mi Nyeo?
Let's not forget about the two supporting characters that make the viewers hate them so much but giving applauds to Lee Deok Hwa and Kim Hae Sook. They constantly causing so much troubles for Jae Wan and Mo Ne. Lee Deok Hwa, acting as Lee Jong Goo, is so evil and selfish especially when he pretends to be the good guy. The evil smile and words that Jong Goo said out from his own mouth make me want to strangle him. The greed for money and power made him become the crazy evil man to get what he wants without caring about people's troubles. It also made Jae Wan get so angry as you can see the flames in his eyes.
The cunning lady, Baek Mi Nyeo, confuses other characters based on trust. It is interesting to see how Mi Nyeo's true character starts to bloom as her secrets start to reveal. You will be shocked to see how sneaky she really is later on. Also, at the later episodes, she becomes delusionally crazy due to her harsh past. She screams in anger like a crazy woman whom make me feel so scared but, at the same time, feel sorry for her. Kim Hae Seok give her very best to be the evil cunning lady that makes you suspicious about Mi Nyeo and then starting to her along the way.
Credit: STARENTRY Entertainment YouTube
The storyline may be a bit lengthy in the middle but, with twisted plots that show up in every episode, it makes you blurted out about why the characters have to go through the ups and downs. There is plenty of good chemistry among the casts that build up lots of intense emotions and actions. Secrets are revealed slowly, romance and anger ignite in flames, and, in the end, happiness blooms at the CIEL Hotel. An enjoyable and intensifying drama to watch.
Rating:  8/10
Tags : drama,Im Seul Ong,Kim Hae Sook,Lee Da Hae,Lee Deok Hwa,Lee Dong Wook,romance,TV,Wang Ji Hye