I Need Romance 3 (2014)
Posted on March 7, 2014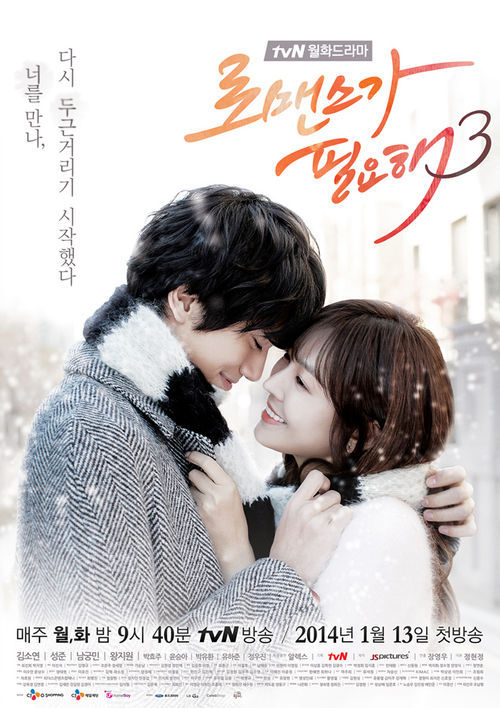 Shin Joo Yeon (Kim So Yeon) works at a home shopping network. She has the cold personality while she works hard in her career. After her boyfriend break up with her, she doesn't believe in love. One day, Joo Wan (Sung Joon), whom Joo Yeon took care of him since young, comes back from the US. Not only for his career as a music producer, but also doing his upmost best in getting love and attention from Joo Yeon, nickname Shing Shing. Joo Yeon is the one that Joo Wan truly loves her from the bottom of his heart. Meanwhile, Joo Yeon gets the projects done while dealing with her former high school friend, Oh Se Ryong (Wang Ji Won). Joo Yeon also has to comply and work together with her boss, Kang Tae Yoon (Nam Gong Min). As she goes through her career, with the help of Joo Wan, she slowly realize the meaning of loving the special person.
(Source: CJ Entertainment Drama YouTube)
What I love about the I Need Romance drama series is how the cinematography is set. Not only just filming but also inputting photo stills while the characters said their thoughts emotions about love. I Need Romance 3 has gotten even better while still consistent with its own concept of cinematography. It set the storyline, characters with the cinematography nicely while being both romantic and sentimental.
The Joo Yeon and Joo Wan (noona and dongsaeng) romance
Compare to the previous I Need Romance drama series, the storyline in I Need Romance 3 is a mix of mature yet cute romance that audiences could enjoy. There were so many scenes, particularly the double Joo romance, that give me so much goosebumps. Both of them are so sweet especially when the caring Joo Wan makes sure that the strong yet naive Joo Yeon is doing fine. On the other hand, there are some sub plots of other supporting characters, like Kang Te Yeon and Oh Se Ryeong, which gives an overall picture of what is going on with them.  There is a love square among the four characters but it is a little bit dramatic yet enjoyable at the same time. It doesn't have so much gaps between the plots of this drama. The ending wraps up the whole picture with the meaning 'I love you' which is like putting a cherry on top of the dessert. Very deep and straightforward with the meaning of 'I love you'.
I Need Romance 3 Casts
The casts has done well portraying their own characters. Kim So Yeon has both bright and spicy personality which she can act well as Joo Yeon, who is a strong career woman but also naive and sensitive about having doubts about love and caring for others. I enjoyed how Joo Yeon acts cute at certain times when she is with Joo Wan. Sung Joon has become one of my favourite actors. Aside from his handsome looks that many of you will fall for him, he has the charming and sexy personality that makes Joo Wan the perfect man that you desire for. Nam Gong Min also did well in handling the character, Kang Tae Yoon, who acted in situations during work and relationships. Wang Ji Won is also my favourite that has subtle expression and emotions that make me hate and then love Oh Se Ryeong. Other casts did a good job in portraying their own scenarios while connecting with the main casts.
(Source: CJ Entertainment Music Official YouTube)
There is nothing much to complain about I Need Romance 3. It has a mix of sophisticated and cute romantic storyline with great balance of story plots. It has romantic scenes which give you goosebumps and possibly dream of having the ideal romance. It has great casts who have great amazing chemistry and connection which make this drama amazing. It has great cinematography of still images and filming that set you in sentimental and romantic mood. What more could you ask for? I would love to see if this drama is adapted into a romance novel. A romantic drama that is not to be missed.
Rating: 8/10
Tags : drama,Kim So Yeon,Nam Gong Min,romance,Romantic Comedy,Sung Joon,TV,Wang Ji Won