I Saw The Devil (2010)
Posted on March 23, 2014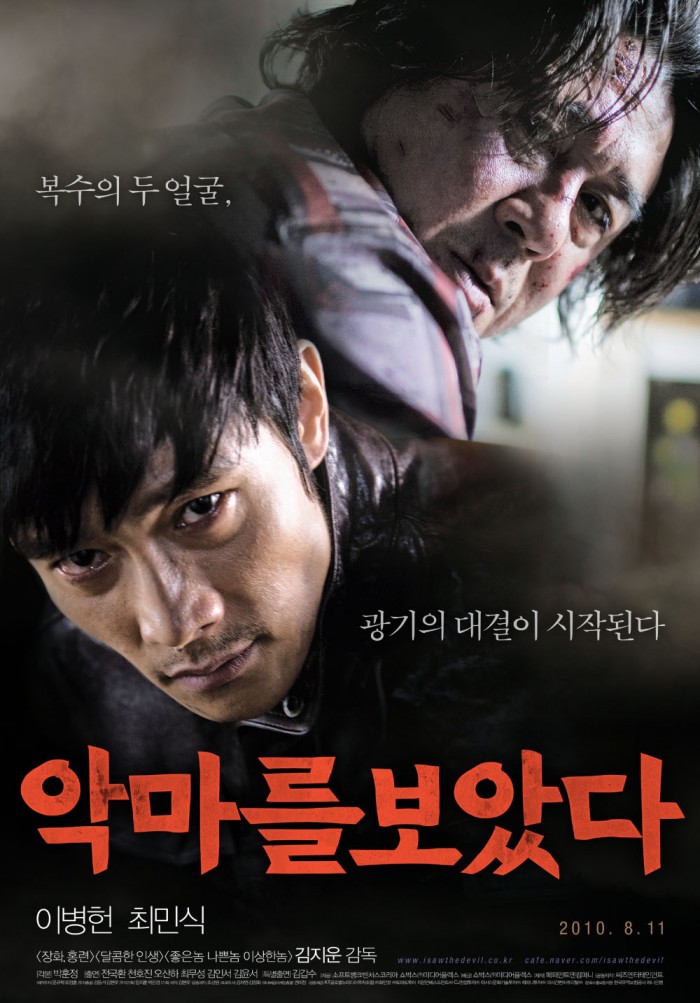 Director: Kim Jee Woon
Writer: Park Hoon Jung
Casts: Lee Byung Hun, Choi Min Sik, Jeon Kuk Han, Oh San Ha, Kim Yun Seo, Cheon Ho Jin, Choi Moo Sung, and Kim In Soo
Genre: Thriller
Running Time: 141 minutes
Certi: 18 (South Korea)
So Hyun's (Lee Byung Hun) fiancee, Joo Yun (Oh San Ha) was killed by the psycho-killer, Kyung Chul (Choi Min Sik), while she was waiting for a tow truck to pick up her broken car on a snowy night. A few days later, after one of the children found an ear near the river, the police found her head. So Hyun arrives at the crime scene and is shocked to see her head. At the funeral, he apologizes to her for not being there to protect and swore to seek revenge on the killer. He tracks down Kyung Chul and extremely hits him with anger. Kyung Chul is still alive from the beatings. He was left with an envelope of money. So Hyun's plan for revenge begins by giving Kyung Chul continuous torture.
For me, it is by far the most horrific thriller film that I have ever watched. I was holding onto my cushion while, sometimes, I covered my eyes from seeing the gruesome killing scenes. It is way over-the-top scary that is so mental that both my eyes and mind are wide open. Both Kim Jee Woon and Park Hoon Jung did amazingly good on how So Hyun and Kyung Chul are going against each other with the 'devil versus devil' mirror concept. I like the idea how So Hyun has his own concept of seeking vengeance towards Kyung Chul by constantly torturing him while he is still alive. That fits well with what So Hyun's promise to his fiancee: giving 10,000 time more pain to Kyung Chul.  The emotional devil, So Hyun, gives extreme torture to the psycho devil, Kyung Chul.
So Hyun (Lee Byung Hun) and Kyung Chul (Choi Min Sik)
There are so much intense scenes that made me fuse up and then being scared from what I seen before my very eyes. The female characters are treated as objects that signified how psychologically crazy is Kyung Chul. The victims evoke emotional pain that pierces through my heart while I was watching these shocking and brutal scenes. The killing scenes with So Hyun and Kyung Chul shook my mind with terror. Lee Byung Hun and Choi Min Sik brutal physical actions and sensitive emotions connected well in making a gruesome thriller film. Also, the spills of blood during the killings adds into the gruesome artistic scenes. I was scared and impressed for what they made the characters cry in agony and pain.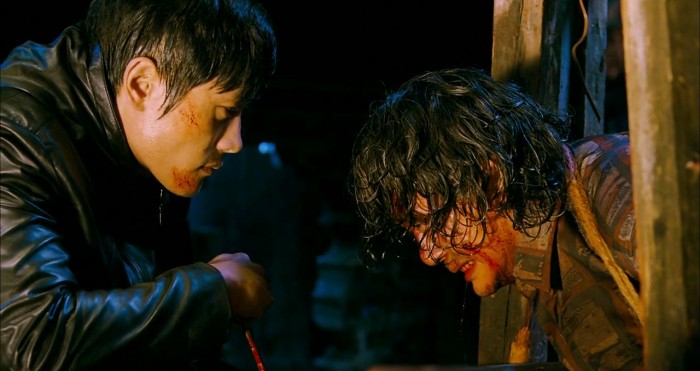 Devil versus devil
The whole concept of revenge in I Saw The Devil is way brutal that led me with a soulless expression while my mouth was wide open. I can see why before this film is distributed in certain countries like the US and the UK, some of the killing scenes are removed. Like I said previously in this article, I was scared but impressed, at the same time, of how the layout of revenge in the storyline is done with gruesome actions and sensitive emotions. It is the thrilling painful battle between two devils who have their own agenda and revenge. Artistically and horrifying film that might made you can't sleep well at night. If you are into watching extreme thriller films, then I Saw the Devil is the one that you should watch.
Rating: 8/10
Tags : Choi Min Sik,Film,Kim Jee Woon,Lee Byung Hun,Thriller