I Wish I Had A Wife (2001)
Posted on August 25, 2013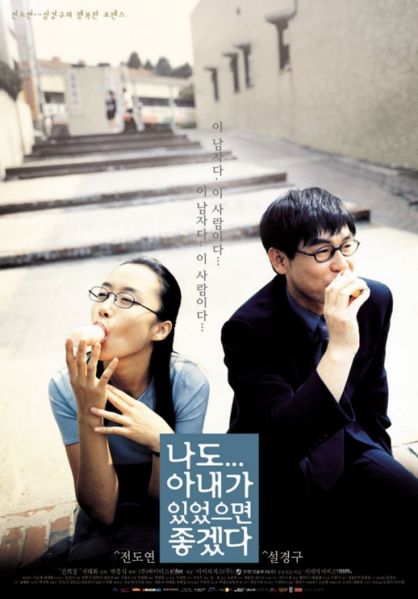 Casts: Sol Kyung Gu and Jeon Do Yeon
Running Time: 106 minutes
Bong Soo (Sol Kyung Gu) works at a local bank. Even though he's happy with his job, he is missing something. That something is that he does not have a lover to talk to. On the other hand, Won Ju (Jeon Do Yeon) works at an educational center which is near the bank. She slowly has love for Bong Soo. Every day, Bong Soo and Won Ju meet each other at various places. Despite Bong Soo's up-and-downs in his life, he doesn't realize that Won Ju loves him. One day, while watching the old CCTV videos, he founds someone calling for him through the camera that doesn't record sounds.
This is another classic and romantic film to watch. However, this time, it's the guy who doesn't know that the lovely lady has a crush on him. It's funny how Bong Soo is desperate to have a wife when Won Ju is just right there with him. I feel sorry for him because he has been encountering troubles while not having a love partner, but the shining star, Won Ju, is right in front him. Yet, the story is how the relationship develops from the 'puppy love' to a 'sweet lovey-dovey' relationship. Bong Soo should have accepted her from the very beginning but there is the 'push-and-pull' getting into a relationship. On the bright side is that, when it comes to love story, this film takes it slow and steady on how the lovebirds' relationship is developed. Throughout this film, we see the sweet romantic moments that we adore from how Won Ju gets Bong Soo's attention (eg. bank receipt love note) to lovebirds waiting at the bus stop to the 'happily ever after moment'.  It is interesting to enjoy watching the conversation between Won Ju and Bong Soo. It is definitely a perfect love chemistry of acting for Sol Kyung Gu and Jeon Do Yeon. The scene that you should keep an eye out for is the CCTV scenario which is a sweet love confession.
I find it interesting that how Jeon Do Yeon portrayed the sweet girl in such films like this during her younger days. I believe it's a start of developing her acting skills on portraying various characters from various genre. To me, she is a lovely 'girl-next-door' that makes you smile because of her sweet and innocent personality. While portraying Won Ju in this film, she manages to bring out the perception of how girls try their ways to get the guy they like appropriately. Also, she has a caring personality as she concerns with other people such as having good friendships with the students. Won Ju has a strong character as she tries her upmost best to confess her love to Bong Soo. Even though she failed to do so, but she always think positively and move on with her life.
For readers who love sweet and classic romantic film with oldies music, I would recommend you to watch this film. You will go happy, sigh, and, sometimes, wish that you want to have these romantic scenarios. Ladies will enjoy it while some gentlemen will enjoy, too. Don't you wish that these events could happen to you in reality?
Tags : Film,Jeon Do Yeon,romance