In Conversation with Kim Young Ha
Posted on May 27, 2014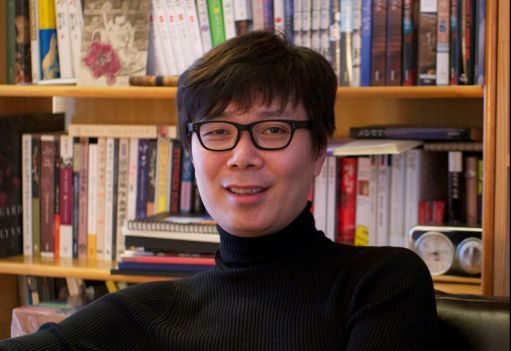 Kim Young Ha (Source: British Council Website)
The first author who talked at the English PEN during the London Book Fair 2014 is Kim Young Ha. Kim Young Ha made his literary debut in 1995 after finishing his studies in business administration at university. He has written novels that explores the boundaries between reality and fantasy, concept of 'hometown, desire and death, consciousness and body, fiction and media, Korea and foreign countries. He published I Have the Right to Destroy Myself, Black Flower, My Brother's Back, Quiz Show, Your Republic is Calling You, I Hear Your Voice, and A Murderer's Guide to Memorization. A few of his works were adapted into a film such as The Scarlet Letter from his one of his novellas, Photoshop Murder. His works has been translated and introduced in the US, France, Germany, Netherlands, the Czech Republic, Turkey, Japan, and China. He hosted a radio show about books and served as a professor at Korea National University of Arts. After 2008, had a long-term stay in Canada and the US. He also written monthly op-ed articles for the Opinion Pages of New York Times.
(Source: English Pen YouTube)
Kyrs Lee, author of Drifting House, had the conversation with Kim Young Ha who talked about his works, representation of Korean literature, film adaptation, and translation of Korean literature.
Consistent Themes in Kim Young Ha's Works
The conversation started off with talking about his three works, I Have the Right to Destroy Myself, Your Republic is Calling You and Black Flower. He wrote his first novel, I Have the Right to Destroy Myself, that is about death and suicides issues that happened in South Korea. The first draft of his novel was written in just 15 days due to the theme that made his continuously writing it.
Your Republic is Calling You and Black Flower is based on immigration as foreigners being in different countries due to his interests in writing diverse and consistent themes. His writings were reflected based on his past experiences of his lost of memories before the age of 10 and grew up in the military household. He constantly moved from one place to another which questioned his own sense of identity. Thus, he remake his memories and identities as he exposed to different environments. Through his experiences and interests in different themes and issues, these influenced him to write various novellas and short stories.
For new readers, he recommended to read Your Republic is Calling You.
Solitude and Loneliness in Characters and Stories
In Korean literature, writers have written themes of 'hometown'. However, for Kim Young Ha, he thinks that he doesn't have a 'hometown' as he is constantly on the move. He always have to adapt himself in new environments continuously. That is why it is difficult for him to write about 'hometown'. Due to the changes of Korean society, such as people moving from rural countrysides to urban cities, these inspire him to write because of how people are trying to adapt in different environment. They are in the same physical space that changes rapidly which impact their mental strength. 
Representation of Korean Literature
In the past, there is a lack of awareness of Korean literature in the world of literature. Kim Young Ha has a lot of pressure as a writer especially writing a monthly op-ed for New York Times. He pointed out that it impact writers to share their works to the rest of the world. However, it is not about showing the positive views about Korea. Artists and writers tend to show the dark side of Korean society: the real issues that are happening in Korea while conveying pain and suffering. There is a lot of pressure from Korea and Western countries about whether he should write about the 'truth' of pain and suffering of Korean society or not. It is the boundaries of how he dealt with different perspectives from various people's across the world including Korea on writing about societal issues in Korea. It is stressful for him in the creative process but he is developing on a step-by-step basis.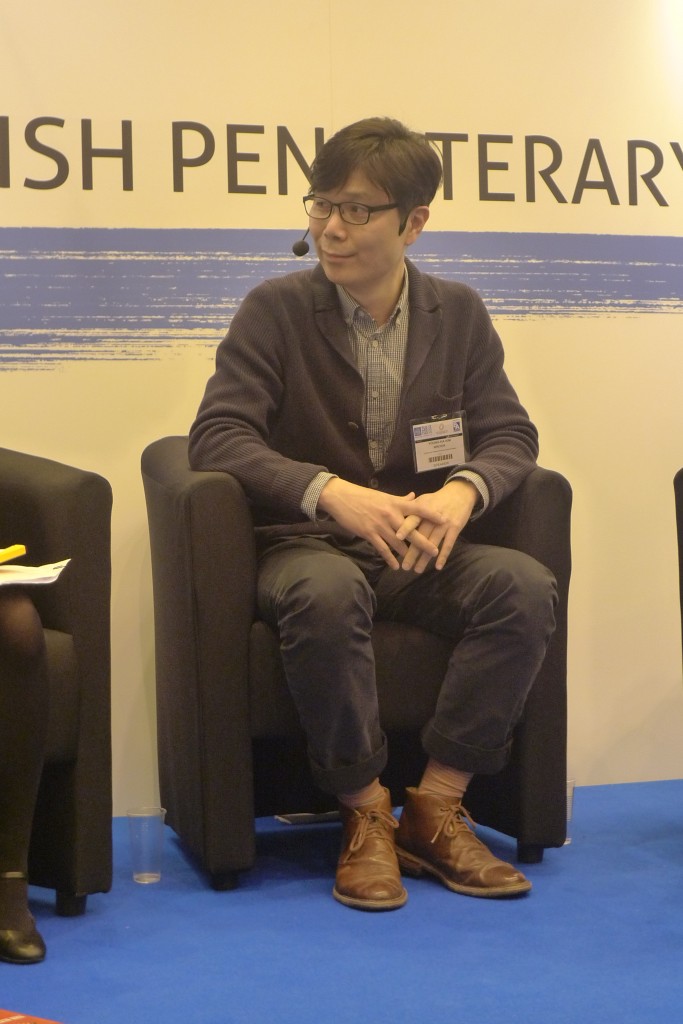 Film Adaptation
The film industries are interested in his works because of themes of death, murder, and sex. The rights of his works have been sold but, in reality, the films weren't successful. He gained a lot of experiences when collaborating together with the film industries. They including himself involved in exchanging their knowledge and skills in the creative process in conveying his stories through the films. In his opinion, the Korean film industries have a lot of talent and passion in making films whereas the publishing industries are struggling in creating and promoting Korean literature.
As a 'Korean Writer'
When he was young, he has struggles in publishing his works in Korea due to lack of appreciation from writers and readers. So, he decided to publish his works in other countries but it didn't work out. When he stayed in Vancouver and New York City, he learned that literature is written in his own native mother language, Korean, that he gained love from his Korean leaders. Therefore, he decided to publish his work in Korean first instead of publishing his works in other countries.  
Translation in Korean Literature
He can't confirm the quality of translation in different languages (such as Dutch, French, and Turkish). He is unsure how authentic are his works that are translated. He remembered the quote that "translators act as the role of writers". So, it is difficult to see if the quality of works are conveyed in different languages.
Finding Voices Outside Seoul
Kim Young Ha stated that Seoul is a homegenized urban city that is similar to big cities such as Berlin, New York, London, and Paris. Outside Seoul, there are many interesting cities, like Busan, Mokpo, and Jeonju, that preserve old-fashioned memories that have new potentials. He believed that it is important to revive the memories in the modern times. He stayed in Busan to concentrate on writing his work. Also, not many people over there know him and he loves to eat seafood. The individuality dialects in different regions of Korea have metaphoric poetic influenced him to write his latest novel, A Murderer's Guide to Memorization.  
Conclusion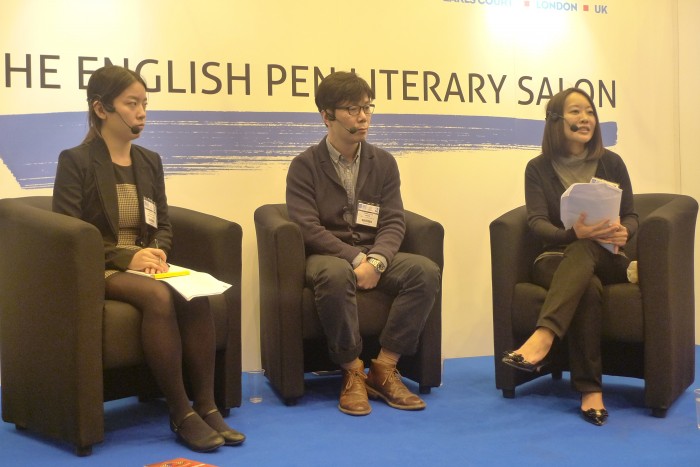 Kim Young Ha and Krys Lee at the English PEN, London Book Fair 2014
Kim Young Ha has gone through different environments that have rapid changes and consistent themes that impact him in writing his works. As a writer, he struggles and learns how he convey his perceptions and emotions and themes through his fictions that connect with the readers. At the same time, based on the people who are adapting to different physical spaces, he expresses how they have gone through with the sense of identity and belonging. On the other hand, there are doubts on how readers from different countries have thoughts about his work which pressured him but it helped him in improving his creative process in writing. The conversation ended with a quote from the author himself: "Writing is a complex process…can't control all aesthetic elements". Kim Young Ha has his own struggles in writing but he is doing his upmost best in conveying themes through fiction and written articles that have sentimental and knowledgeable aspects to the readers.
To find more about him and his works, visit the website and Facebook. The books which have been translated in English are I Have the Right to Destroy Myself, Black Flower, and Your Republic is Calling You. These can be purchased at Amazon, Foyles, Waterstones, Kinokuniya, and other selected bookstores.
Tags : Kim Young Ha,Literature,London Book Fair 2014