Insightful Lessons at the Korea Market Focus London Book Fair 2014
Posted on May 1, 2014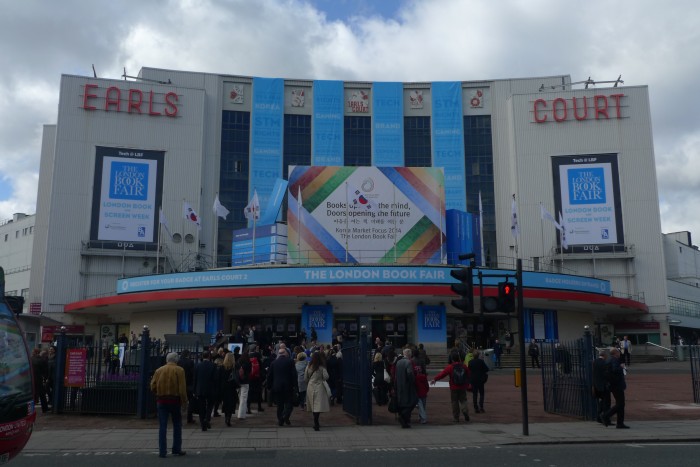 The Korea Market Focus London Book Fair 2014 at Earl's Court, London
The Korea Market Focus London Book Fair 2014 is one of the events that has been keeping me busy in April. Three days in a row being on the move from one place to another at the Earl's Court London. A start of a race with ranges of talks by Korean literature industries and authors. Then, I was at the Korean Culture Centre UK to hear Yoon Tae Ho who talked about webtoons and his works like "Moss" and "Incomplete Life". I ended my race at the Asia House where Krys Lee ("Drifting House") and Kyung-Sook Shin ("Please Look After Mother" and "I'll Be Right There") shared their thoughts in 'Separations'.
Display on novels written by ten Korean authors – Range of Korean novels which has been translated into English and other languages
At the Earl's Court, various sections of Korean literature are explored: publishing companies, digital publishing, children books market, webtoons, and many more. Korean literature also introduces various themes that have been discussed by ten Korean authors together with other writers and speakers. Also, the translations, which play an important role in translating Korean literature into English and other languages, has also been discussed.
Korean Publishing Market section – Korean Webtoon Gallery
Three days in different locations especially in the Earl's Court has open up my eyes and mind about Korean literature. There was plenty of areas to be explored. Most of the areas that grabbed my attention were the webtoons, digital publishing, and talks on different themes. Ten Korean authors shared their passion about Korean literature and their works that touched the heart of readers and visitors who first time get to know Korean literature. Like I said, I have learned a lot about Korean literature which needs its awareness to be increased not just in Korea but also to be known across the world. Korean literature is another area that is one of the aspects of Korean culture that should be explored.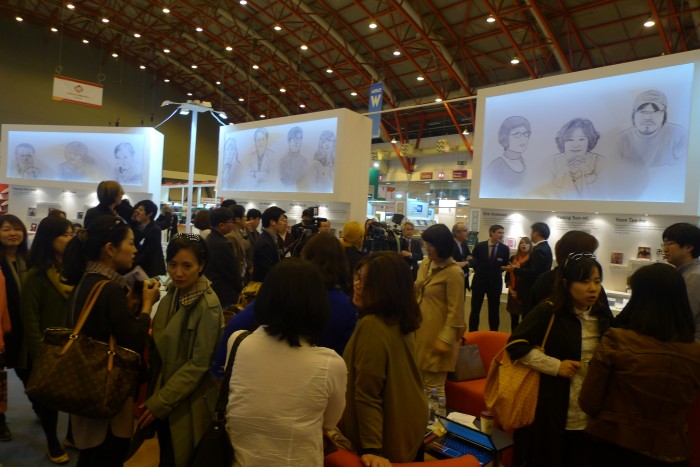 Sketches of ten Korean authors next to Korea Pavilion
From time to time, I will be posting up articles of "Korean Literature Talks" series which are about the talks that I have been to during this event. 13 talks, that I have attended, in total. The talks are based on different themes of Korean literature including conversations with ten Korean authors. Keep on a look out for these articles.
I end this article with the thought of the day by TFL that is posted on the last day of the event. "Books give a soul to the universe, wings to the mind, flight to the imagination and life to everything." So, Korean literature is an eye-opener to old and new readers including those who are interested in Korean culture. Again, look out for my "Korean Literature Talks" series as I post each article on a regular basis.
Tags : Events,Literature,London Book Fair 2014