Interview with An Honest Mistake
Posted on August 31, 2016
Photo Credit: An Honest Mistake Facebook Page
I am so excited that I will be watching a lot of gigs at the Zandari Festa 2016 which is part of this year's autumn trip in Korea. Having heard great things about Zandari Festa through friends and social media, I have to come and check it out. The annual international music event takes place in Hongdae, the heart of youth culture and Korean indie music scene, from 30 September 30 to 3 October. Local and international talents, festival goers and music companies come together to build connections and share their passion for music. This year, 150 acts will be playing at ten venues in Hongdae. What's even better is that An Honest Mistake, from my home country Malaysia, will be having their gigs for the first time in Korea including Zandari Festa 2016.
If I Told You This Was Real Would You Believe Me MV (Source: stryperized777 YouTube)
Lead vocalist and guitarist Darren Teh played as a bassist in a metal band. While playing, he wrote emotional acoustic songs based on influences by Dashboard and Taking Back Sunday. From there, it led him to wanting to have a band. That's how An Honest Mistake was formed and debuted in 2008 as an acoustic live project. Although there were changes of members, that didn't stop them from continuing on and their sounds slowly matured with a combination of upbeat pop punk, emotional acoustic ballads and heavy hardcore tunes.
The band is completed with lead guitarist Leonard Chua, bassist Tomas Tan and drummer Ian Ng. Along with three albums, including Say What You Want, Say What You Will, they went on tours in Thailand, Singapore, Indonesia, the Philippines, India and Taiwan. They shared the same stage with international acts like Boys Like Girls, Motion City Soundtrack, and Against The Current. The band recently signed with Universal Music Malaysia and they will be releasing their new single We're Alright.
Before the band embark their journey in Korea, I had a chat with Darren at Plan B, Publika where he talked about their excitement to perform in Korea and Zandari Festa 2016, possibilities of bridging the indie music scene connections between Korea and Malaysia and the future for Korean indie music to be known in Malaysia.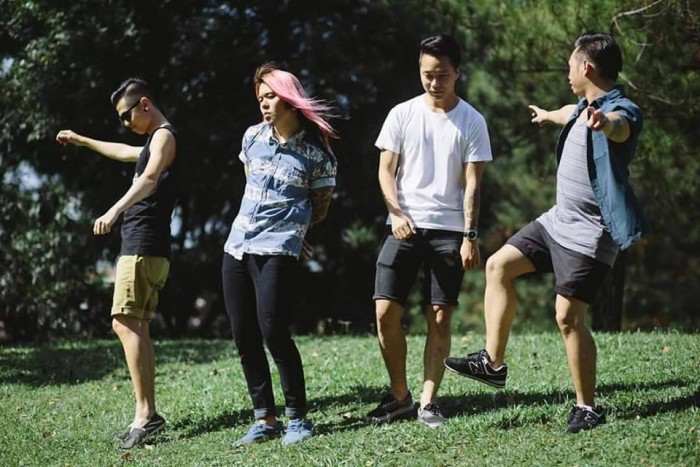 Photo Credit: An Honest Mistake Facebook
An Honest Mistake is the first Malaysian band to perform in Korea including Zandari Festa 2016. How did you know about Zandari Festa 2016 and why have you decided to perform there?
I found out about the Zandari Festa 2016 through friends from the Philippines (Paranoid City, who are also performing at Zandari this year).  We had just spent some time together in Malaysia because they were in Kuala Lumpur for a gig I put them on. About a week after, we were chatting and they told me about the fest. I checked it out and it looked really similar to Music Matters in Singapore as there is a music conference and showcases. So, I decided to drop the organizers an email and got a reply almost instantly.
Korea has always been in my 'bucket list' of places to perform at. It didn't happen immediately until now. It was in the plan anyway because we had met Love X Stereo at the Vans New Wave Music Fest in India in December 2015. We spoke about us going over to Korea and them coming over to Malaysia. They were the first people we told when we got the official invitation to perform at the festival. So, I guess this is how the universe works. You plan and dream then they eventually fall into place.
One of the things that I've always believed is that whatever I say and plan will eventually happen. It's like I am prophesying. Haha. It's like in 2009 when we wanted to play in Singapore, we somehow met the organizers and ended up performing at one of the biggest annual music festivals there, Baybeats. It's the same for Thailand, India, Indonesia and the Philippines.
How did you find out about the Korean indie music? What is your impression about the Korean indie music?
I organize gigs apart from playing in the band. I've also branched out into getting regional acts to perform in Malaysia through the connections that I've made over the years. It was a natural progression from organizing local gigs to having regional guest bands. There's so much to offer here in Asia. Through the power of Google and the internet, that's how I found out a bit more about the Korean indie music scene.
Most people will think K-pop when they think about music from Korea. I used to teach English in an international university. A lot of my Korean students have shared their adoration for their favourite K-pop artiste. Then, I asked them if they knew about The A-pop, Vassline, 21Scott and other Korean bands but they said no. I found out all about these bands through Google. Through the suggested videos on YouTube, I found out about 21Scott, Vassline and other bands. I know Vassline is one of the pioneers of Korean heavy music scene.
Generally the impression of any indie scene is the 'struggle to succeed' and that spreads across all genres in every country. Everyone is trying to reach that invisible goal of 'making it' and that's what makes it so unique and fun because it makes you work really hard. I've heard so many good bands coming out from Korea and being a country that focuses on perfection in everything, you know that bands don't just do it for fun. They mean business.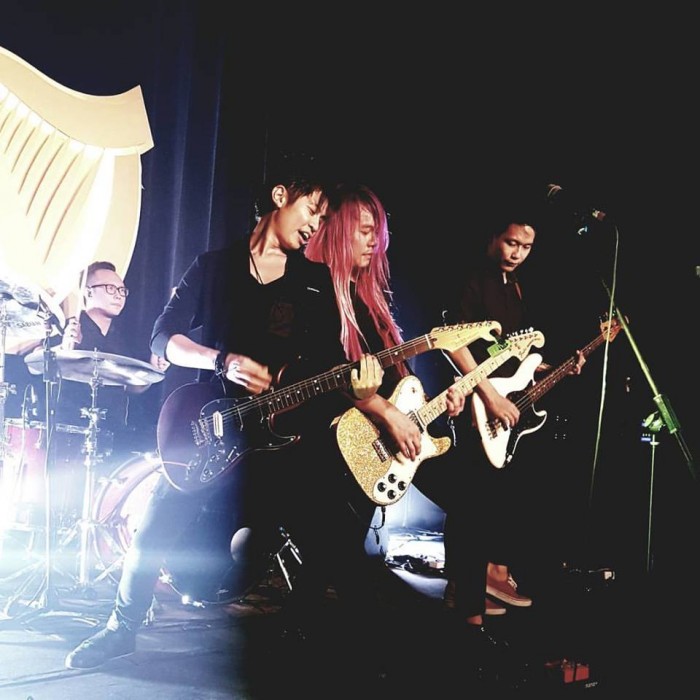 An Honest Mistake Live Show at the launch of Amplify FM by Guinness Photo Credit: An Honest Mistake Facebook Page
What can festival goers expect from your live show at Zandari Festa 2016?
They would expect a lot fun and jumping around. Definitely a lot of movement and sing-a-longs. We move around a lot while on stage. Our shows are never static. You don't stand in one spot. You have to move around. You will have plenty of fun and energy at our live show.
Why are you excited about the Zandari Festa 2016 and performing in Korea?
For us, there are a few reasons. The first thing is the fact that we are actually playing in Korea. We are going to Korea!  For many years, I told myself that I want to play at the Busan Rock Festival and Pentaport Rock Festival. These are the two festivals that I have to play at. Through Zandari Festa 2016, this would be the best way for me to get connected. I see it as an opportunity to expand our market to Korea and our connections which also means I will be able to bring Korean indie bands to Malaysia too. It's about building connections and providing more opportunities for bands like an exchange programme. It's really about the connections we are going to make, friends we are going to make and future collaborations we are going to work on.
Secondly, we are scheduling as many press meet-ups with the help of our music family from Universal Korea. We're signed to Universal Music Malaysia so there are lots of cross cultural exchange going on here. It's like meeting your cousins who live in Korea. I'm also meeting up with the management of Cort Guitars. I've been an ambassador for Cort for many years now and I figured since we're going to be in Korea, why don't we kill many birds with one stone and pay them a visit as well. Cort is one of the best-selling guitar brands in Malaysia and it's constantly picking up. These are all the reasons why are we excited to be in Korea.
Everything ft. Daiyan Trisha MV (Source: An Honest Mistake YouTube)
You did some collaborations with oversea artists including your recent collaboration with artists from the Philippines, India and Indonesia. Would there be possibilities in collaborating with Korean indie bands?
I definitely see an opportunity to collaborate with Korean bands. The main one right now that we definitely want to collaborate is with Love X Stereo. Although we are both 'punk' bands, Love X Stereo is more electro/synth while our band is more pop punk. So, if we blend them together, I think it would be really cool.
I think another band that I would really want to collaborate with is Victim Mentality. The guys are crazy but they are fun guys. Krocodile can really sing because when we played in Taiwan together, he did a Stryper cover which is one of my favourite 80s hair metal bands. When we hung out together at the festival in Taiwan just this July, they mentioned that they have performed at Zandari Festa, Pentaport Rock Festival and Busan Rock Festival.
However, if I could collaborate with one K-pop artiste, I'd like to do a track with Psy or Wondergirls.
K-pop has always been the talked about topic in Malaysia. Five years down the road, do you see that the K-indie music will be known in Malaysia?
I have been organizing gigs and bringing artists to Malaysia. By doing that, I also work my way through going into the other countries' music scenes. I am trying to establish myself as a 'go-to person' whenever artists from the region want to perform in Malaysia. I am also building bridge for more opportunities for bands to cross over. Now that I am going to Korea, I definitely want to see K-indie bands in Malaysia. There is an opportunity because people are hungry for new music all the time. So, yes. Definitely more K-indie bands will be known in Malaysia.
Would that be the same for Malaysian bands to perform in Korea?
I hope to be able to say the same about Malaysian bands to perform in Korea. Through the connections, I think I'll be more than happy to help get Malaysian bands to Korea. It's all about crossing over and building bridges.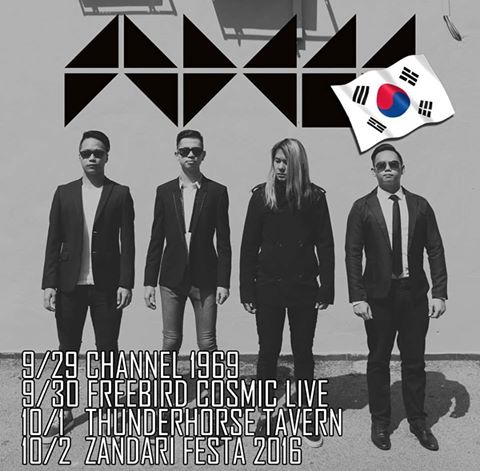 Photo Credit: An Honest Mistake Facebook
Could you tell us your upcoming live shows in Korea?
On 29 September, we will be playing with two bands at Channel 1969. On the 30 September, we will be playing with Love X Stereo and Paranoid City at Club Freebird. Then, on 1 October we will also be playing with Love X Stereo and Paranoid City at Thunderhorse Tavern. And, on the 2 October, we will be playing at the Zandari Festa.
On the 3 October, it will be our rest day when we check out the Zandari Festa. During the day on most days, we will have press meetings and hanging out with Love X Stereo at their studio.
Will you be having some leisure time in between?
I hope so and I would love to. Based on our schedule, right now, I want to pack it up with as much 'work' as possible so that there are more opportunities for us to go back to Korea. But, if we do have free time, obviously we will travel and have as much local food as possible. What we get in Malaysia has been localized so it's not 100% authentic. We want to check out the city. However, for this trip, that is really not my focus. Maybe the next one where we can travel completely for leisure.
Thanks for having me to have the interview with you. Looking forward to see your live show in Korea. Check out their live shows at Channel 1969 (29 September), Club Freebird (30 September) and Thunderhorse Tavern (1 October) before they make their first live show at the Zandari Festa 2016 (2 October). Find out more information about An Honest Mistake on their official website, Facebook, Instagram, Twitter and YouTube. Purchase their album, Say What You Want, Say What You Will, at The Big Rooms. The album ships worldwide.
Tags : Acoustic,An Honest Mistake,Malaysia,music,Pop Punk,Zandari Festa 2016