Interview with Billy Carter
Posted on May 16, 2017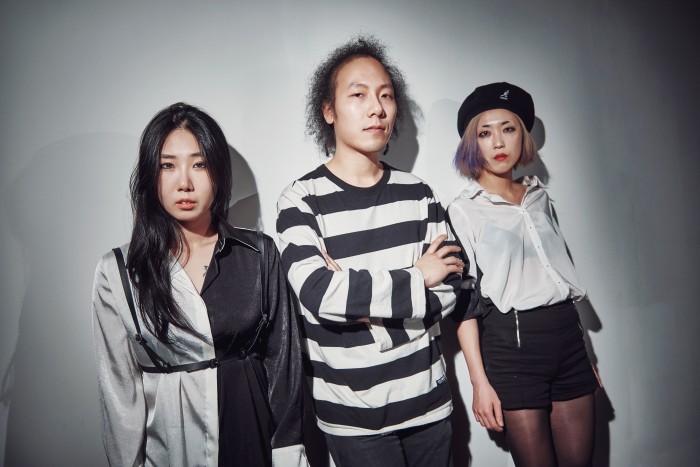 Jiwon Kim (Vocalist) – Hyunjoon Lee (Drum) – Jina Kim (Guitar) (Photo Credit: Courtesy of Billy Carter)
Billy Carter appeared in the Korean indie music scene in 2014 followed by two EPs and 1st full-length album within two years. Also, having to perform plenty of live gigs across South Korea, Billy Carter are loved by local and international fans due to the combination of blues, garage, rockabilly, rock 'n' roll and punk in their music and outgoing live gigs. Billy Carter is one of my 'must-see' live gigs whenever I visit Seoul. You can check out my previous time when I watched their live gigs during last year's Zandari Festa here.
Having to listen to their EPs The Red (2015) and The Yellow (2016), these have two different styles. The Red introduces themselves with their rockabilly and blues rock style music with their hit songs You Go Home and You Ate My Brain. On the other hand, they take on playing a slightly mellow and acoustic style through The Yellow. While hear the sounds of Hyunjoon's drum and strumming guitar play by Jina, both Jiwon's and Jina's emotional vocals, especially listening to the lyrics, every single song including I Don't Care and French Boy lit up the overall atmosphere with bright aura. Their latest album Here I Am is more intense as they present their inner emotions through their songs like The Dog and We Can Fight. Jina's guitar chords are wilder than the previous EPs. In each song, they belt out their emotions, from singing in delicate tone to shouting their heart out to making you dance within the crowd.
Their MVs You Ate My Brain, I Don't Care and The Dog has its own different approach. They used a thermography camera to record their live performance, they sang in the bus and used the Sims style with weird but interesting concept. In a nutshell, their music has various styles but more emotional in terms of lyrics and chords. I would recommend that, besides listening to their EPs and album, you should see their live gigs especially the acoustic ones. Trust me, you will be blown away by their crazy and intense performance, unexpectedly.
Recently, Billy Carter has announced on their Facebook that they will be going on a European tour in the UK (London and Liverpool), Ireland (Cork and Dublin), making their first appearance at Primavera Sound in Barcelona, Spain and the last two stops in Berlin, Germany. 
Before they fly to Europe for their tour, vocalist Jiwon Kim talked about their music and upcoming European tour.
Can you introduce yourself to the readers?
Hi, we are Billy Carter from South Korea. We are 2 girls and a guy playing Blues, RNR, garage and whatever we want to make. And I'm today's interviewee Jiwon, the vocalist of the band. Glad to see you!
How did you meet and became 'Billy Carter'?
The guitarist Jina and I have been friends since we met at school when we were 18. Jina. In 2011, Jina suddenly asked me to go on a trip to London together and I said yes without a doubt. Then we made an acoustic band to make the journey even more fun and that was the birth of Billy Carter.
After we came back from the UK, we decided to keep playing together. And in 2014, the drummer Hyunjoon joined us and we became the current Billy Carter. Jina said Hyunjoon was our junior in school but I'd never seen him at school I guess. Anyway, Jina remembered him and recommended him as a drummer and I felt in love with his drumming right after we played together as a trial.
Describe your music and live gigs in three words?
Love, Peace, Fight
How did you guys come up with the songs together when you are in and out of the studio & stage?
The inspirations come from each of our head from anywhere. Can be from both our experiences or imaginations. I think the stories make the sounds. One of us brings a lough versioned song with a story and tell the rest of us what it's about and why it's come out and we complete the song together adding each members' interpretations.
You released two EPS The Red (2015) and The Yellow (2016) followed by your 1st full-length album which was released late last year. In terms of the overall songs within each album, how are they different among the three of them?
The Red is kind of very special because it's the first record of Billy Carter as a 3-piece. We wanted to say hello to the world through it. It can be an appetizer and also a summary of our music.
The Yellow is the acoustic one. Most of them are from the songs Jina and I used to play in London in 2012. Hyunjoon gave the bounce to the songs with his percussions.
Here I Am is our first LP. Just as the title of the album, we tried to express all different emotions from our inner selves to prove our existence. It starts with our signature opening songs which are cheerful and lively, but it's full of other songs acoustically experimental and emotionally darker and deeper than the EPs released previously.
Your MVs for I Don't Care, You Ate My Brain and The Dog has different artsy approach. How did you collaborate with directors in coming up with the concept for each MV to relate to your songs?
When we were recording the second EP The Yellow, the sub-producer from the studio introduced us the director Yooseok Kim. We checked his works and decided to work with him on the title song of the EP, 'I Don't Care'. He suggested us using a rental bus to make it like a road movie and we though it was a good idea. But telling the truth the day of shooting was extremely freezing and we were dying to go home! You can see Hyunjoon's hands got almost frozen at the outdoor performing scene of the MV. But as much as we suffered, the result was so lovely and fit for the music that we were very happy with it.
The live MV 'You Ate My Brain' and the 3D animated one 'The Dog' were made by video team 'Sugar Salt Pepper'. Including the BBD Trio, some bands from our label had worked with them on their MVs before. At the beginning, we were making only one MV. We discussed a lot and decided it to be a 3D animation filled with nonsense and oddity for The Dog. We just threw them the ideas randomly and they put them together in interesting way. The MV came out as just we wanted it to be! If you didn't watch it yet, gotta watch it right now. You can't help loving it!
For 'You Ate My Brain' MV, we wanted to used a thermography camera for the jacket of the album 'Here I Am' because the color matches from the temperature differential could be a present of different emotions. But the rental coasted quite a lot that we decided to make one more video very quickly with 'You Ate My Brain' which contains obviously the most intense, unstable and messed up feeling among our songs. I think the colors go well with the destructive and racy sound of the tune, isn't it?
Your live gigs are known to be crazy. Which is one of the most unforgettable performances that you did on stage?
Most of good shows are unforgettable and unremembered at the same time. It's kind of difficult thing to remember what I've done on the stage especially the show was too remarkable to keep myself under the control. Oh, sometimes I give Jina a lift on my shoulders. It's our hobby but it can be hommage to Galaxy Express too.
Jiwon and Jina, in your earlier years, you went on a music journey together in the UK. Why you went there and how was the experience like?
We like Europe. We chose the UK because so many musicians had been born and lived there and also English was more familiar than any other languages.
The experience in London was brilliant and terrible. We had fun, we fought a lot, we ate together, drank together, sang together and played together. We were really poor but felt free and was happy to play around. Yeah, it was an experience.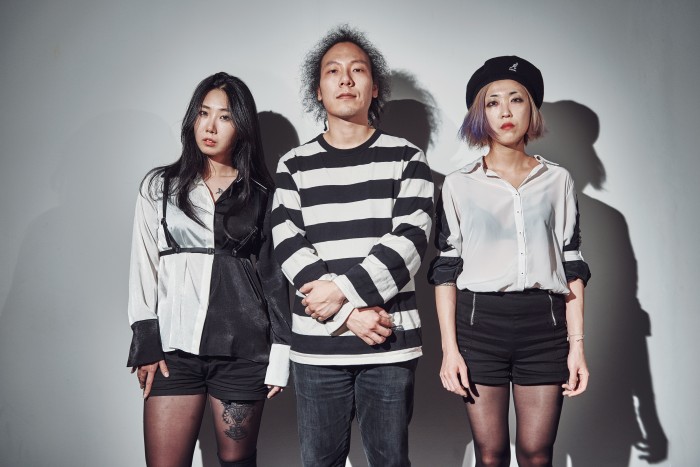 Photo Credit: Courtesy of Billy Carter
This year, this will be the first European tour which will be in the UK, Ireland, Barcelona and Berlin. How did all happen from making this decision on embarking on this tour? How were the preparations like in making this tour happen? Will it be different from your previous experiences in the UK?
Since the beginning, Billy Carter's been always heading to the world. It took more time than we'd expected but we always wanted to play outside Seoul, outside Korea where we can be total strangers. We tried to take part in international showcases as much as possible to make any chances and finally Primavera Sound Festival responded for our apply! It's really exciting!
Of course the preparations were really tough that we didn't have enough time because of national tour in South Korea and our first concert. I sent messages to all my friends who were living, playing music or involved with live music scenes in Europe and some of them helped me to get to the live venues, the promoters and the local bands. Thanks for all those friends, especially Phil from Angle Magazine, Maggie from Party Fears, Chris from Charlie Goes Electric and Minju from Bödi9 Hausprojekt. We spent almost all our money on the flights and journey.  My good bro Jinsuk from Skasucks, my other band, drew us a lovely and wicked merry-go-round illus and Soojung from Diealright helped me on lettering design for the back side of our tour T-shirt for free. They are a qualified tattoo artist and a designer. And most of all, Ran, A&R from Electric Muse helped us so much. She'll be travelling with us in the UK and Europe.
Of course it's totally different from the journey we went on in 2012. First of all, now we are three of us and we don't need to ask around the random venues for a gig! We started from open mic last time but this time, we're going to play at world famous festival too! Can't wait!
What audiences would expect to see when they come to your live gigs?
People who want to enjoy the gig? I don't know. All I can say is it'll be super fun.
You did some acoustic and busking performances on stage and Facebook live. You also recorded raw footages for your "Off the Record" series. Will you be doing those during the tour?
We cannot bring our acoustic gear because of the flight luggage policy. But if there's any chance, why not?
Will you be having some free time while you are in Europe?
Yeah for a couple of days in London. And we are going to enjoy other musicians' stage at Primavera as well. Playing music and watching gigs must be the best holiday we can have I bet.
If you get the chance to collaborate with any European bands, who would it be and why?
Skinny Lister. They give rum out to their audience!
Any upcoming plans after the European tour?
Going to record songs for our new albums. We already have enough songs for next album that we need to arrange and complete them first. And playing gigs too. Got no time to have a rest yet.
What would you like to say to the readers?
Thanks for reading and I love you!
Thank you Jiwon and Billy Carter for taking their time to participate in the interview. Thanks to Electric Muse for arranging the interview with Billy Carter.
Here's the full schedule of their tour in Europe.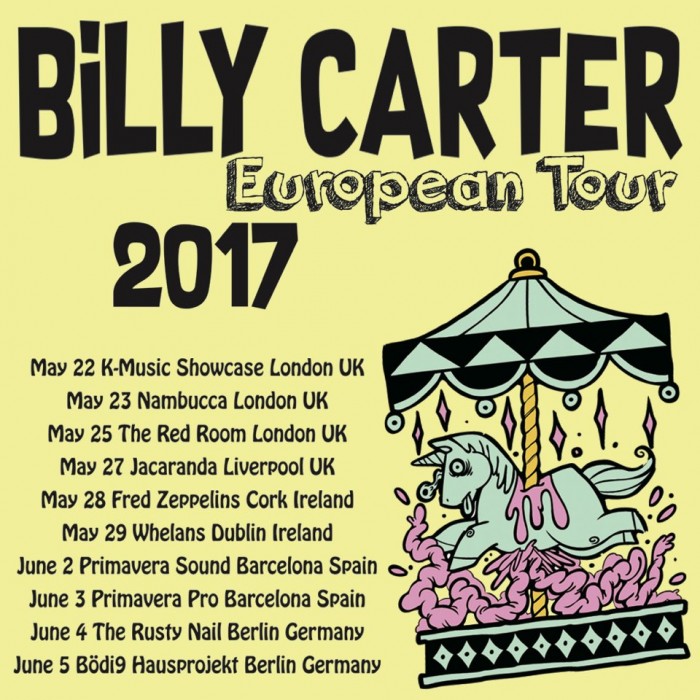 Image Credit: Courtesy of Billy Carter
Follow them on Facebook, Twitter and Instagram. You can watch their videos on YouTube. Listen to their EPs and album on Spotify and Bandcamp.
Tags : Billy Carter,Blues Rock,music,Rock,Rockabilly