Interview with EE
Posted on March 14, 2015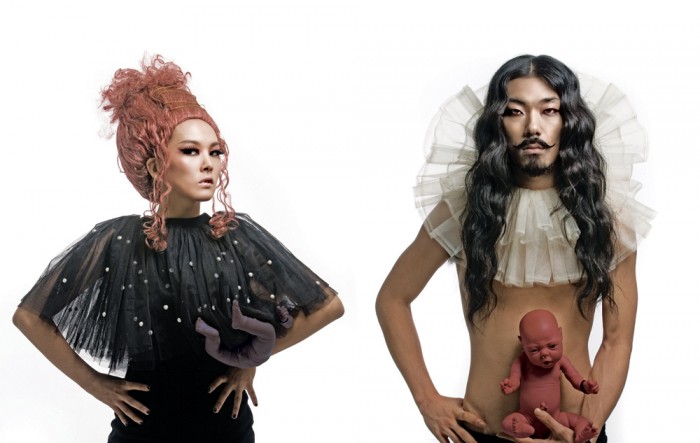 Source: Courtesy of the artist
There are even more surprises coming at SXSW 2015. SXSW 2015 is the event where visitors and performers discover old and new music. The duo from Seoul, South Korea whom you should check it out, while you are visiting SXSW 2015, is EE. EE is bringing not only electronic music but also live art performances which will blow your mind away. For me, the duo are the very first artist that could pull off both electronic music and live art performances that is shockingly amazing.
EE are a two-piece electronic band who called themselves as a "total art performance group". Yun-Joung first started off her music career in the mid-1990s as the vocalist for Pippi Band. In late 2007, she met Hyun-Joon, an installation artist and DJ/producer. Then, in spring 2008,  they formed as EE. In that following year in September, they held a three-day art exhibition to celebrate the release of their first EP single, Curiosity Kills. They continue to combine music, art, fashion and dance together to create quirky, dynamic, and undeniably unique performances with the mix of sounds and visual mediums.
Banging till i die MV (Source: Foundation Records YouTube)
In May 2009, EE played at the World DJ Festival in Seoul. They released their first full-length album, Imperfect, I'mperfect, in August 2009. The group received praises from critics in Korea and abroad for their playful and nostalgic music which is inspired by 1980s electronic and dance music. They continue moving on in showcasing their music by performing at the Korean edition of the famed Global Gathering festival in September 2009. They share their music abroad for the first time at Coachella in California (April 2011) and in the UK (January 2012).
Four years later since their Imperfect, I'mperfect release, EE put out the long-awaited follow-up, Unprdctvprdct, in April 2013. They continue to release more music with their previous EP, Weird People We R Da People, in August 2014 which is in a different element by combining electronic sounds and hip-hop. This year, they have just released their latest EP, Dear Door, with their title track "Wiggy Dawn", as they continue to have fun with their playful tunes and art performances. Next week, they be returning to the US for a live appearance at SXSW 2015. You are in for getting surprises from the duo at the festival.
SumGyeoJin Gem interview with Yun-Joung Lee who talks about their unique music and art performances and thoughts about performing again in the US.
What is EE and how was the duo formed?
Yun-Joung: EE was formed when a female musician met a male artist. We met as lovers, exchanged many ideas and inspired one another, and made a band.  EE was formed from our relationship.
How did you get interested in mixing electronic music, art, and fashion?
Yun-Joung: This also came naturally from our relationship. Our different interests naturally mixed together. EE's work is kind of like cooking. A lot of different ingredients are mixed to create something fresh and new.
Yun-Joung, you started your music career in the mid-1990s as the vocalist for the alternative rock group Pippi Band. Was it a huge change for you to start making electronic music as part of EE?
Yun-Joung: No, I don't think it was a huge change. Pippi Band had strong punk tendencies, but listeners can also find some electronic sounds on the band's second album. After leaving Pippi Band, I started experimenting with electronic sounds in a similar way, and then began making music with a much stronger electronic feel when I formed EE with Hyun Joon.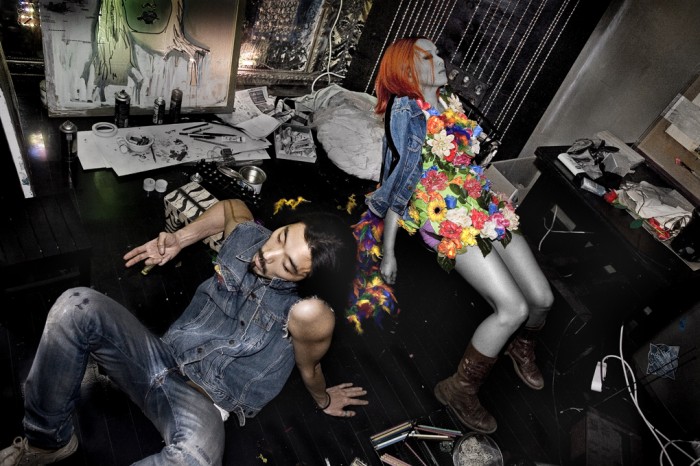 Source: Courtesy of the artist
Tell us about 'Weird People We R Da People'. How is this EP different from your previous releases? Do you have any plans for releasing new music soon?
Yun-Joung: Weird People We R Da People deals with some contemporary issues that we wanted to talk about. We don't think about genres but are always trying to add new layers or colors to EE's sound when making music. With that EP, our sound took on more of a hip-hop feel. Our first full-length album, Imperfect, I'mperfect had an '80s mood but Weird People We R Da People has a '90s mood.
We're planning to put out a new EP really soon. That EP will also deal with some contemporary issues.
Your live performances offer a great balance of music and art. What challenges do you face when preparing for live performances?
Yun-Joung: We design a specific stage set up for every performance. And we also create all the sounds, videos, and costumes that are used in every show. It's not easy work and takes a long time to complete everything but doing all of this is very important to us.   
You did a live total art performance of "I Am Not Stupid" for YAP near Hongik University Station. What was the audience's reaction when they saw your performance?

Yun-Joung: Their reaction was the same one that most audiences have when they see an EE performance – their eyes went wide and their mouths fell open. It's always fun and exciting for us to people have these reactions.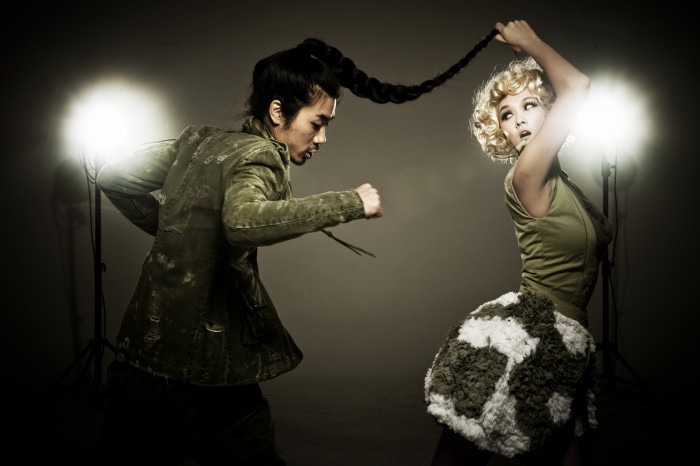 Source: Courtesy of the artist
Are there any artists or other musicians you'd like to collaborate with or perform together with? If so, who are they? Why do you want to work with these people?

Yun-Joung: We think collaborating always creates more awesome output. And we're open to working with every kind of artist, regardless of what kind of art they make. Collaborating with other artists can give us new, valuable experiences and inspire us in many unexpected ways.
You are going to perform at SWSW in next week. What are your feelings about traveling back to the US to play again? What things are looking forward to doing at SXSW?

Yun-Joung: It's always exciting to perform on stages in different places. It's been four years since we performed in the US at Coachella so we're looking forward to going back to America again. We're also looking forward to performing for open-minded music fans and meeting lots of artists and people from around the world at SXSW. We want to show everyone something that's a bit shocking but also fun and exciting.
Is there anything you would like to say to international music fans including those who will be attending SXSW in next week?
Yun-Joung: There are many good songs in the world, but if you want to see a performance that is strange, fun, and will make you think come spend time with us. We hope to see lots of wide-eyed music fans at SXSW in a few weeks. And we hope to perform for those of you in other countries sometime in the future too.
Wiggy Dawn MV (Source: 1theK YouTube)
Thank you EE for the the interview before they bring in exciting performances at the SXSW 2015. Catch them at the SXSW 2015 and you will be amazed by their wild performances. Here is EE's schedule at SWSW 2015:
March 18 Austin, TX (11 pm) @ 405 Club

March 19 Austin, TX (10:30 pm) @ Elysium (K-Pop Night Out)
Follow them at their Facebook, Soundcloud and YouTube.
Tags : Art Performance,EE,Electro,Hip-hop,music