Interview with HarryBigButton
Posted on December 21, 2014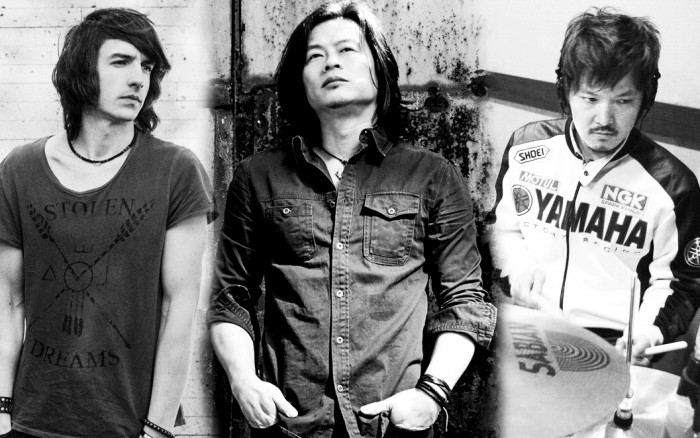 Neil Smith (Bass Guitar) – Sungsoo Lee (Lead Guitarist and Vocalist) – Taegi Keem (Drums) (Photo Credit: HarryBigButton)
When I first heard HarryBigButton's songs, which are Coffee, Cigarettes, and Rock 'n' Roll and Control, I started to listen to their albums and watch their live performances through YouTube. I watch every live performance videos as much as I could. With some English lyrics and raw sound performances, I couldn't help but put them into my "must see live rock gigs" list.
A post-hard rock band, HarryBigButton, which originates from a cockney slang that means cheap and vintage car stereo with chunky big buttons, debuted in 2011 with their EP 'Hard 'N Loud' which has a mix of traditional hard rock/metal and 90s alternative with remarkable elements to it.  They joined the 2nd season of Top Band but later was eliminated in the final 16. The fans' support and comments about the band influenced them to continue to perform live gigs at shows and festivals, both locally and internationally.
After releasing the album, 'King's Life', in 2012, the band went through with changing band members until drummer Kang Dae Hui and bassist Neil Smith were part of the band. From there, they slowly return to the K-indie music scene by performing in Seoul while slowly building up their fanbase and music. Earlier this year, the drummer left and replaced with Taegi Keem followed by releasing their second album, 'Perfect Storm'.
"Trust Game' live performance (Source: HarryBigButton Youtube)
After listening to two albums, 'King's Life' and 'Perfect Storm', between the two of them, you can hear the improved raw and loud sounds of the overall songs. Sungsoo Lee sang with deep and emotional feelings as the English lyrics, word by word, has in-depth meanings to it. Although the lyrics are minimal, but making lyrics short and meaningful add the in-depth layer into making rock music. Most of the songs are mainly focus on the instrumental sounds. You will feel de-stressed and enjoyed while you listen to the roaring sounds of the guitar with the support of bass and drums. I definitely recommend you guys to listen to their albums. You won't regret it.

Last week, Sungsoo Lee, the lead guitarist and vocalist of HarryBigButton share his rock music experiences and the rise of K-indie music in global perspectives
How did you found and love rock music?
Sungsoo: Listening to music was part of my life when I was a little boy.  I listened to all kind of music playing through my old radio. One day, I decided to learn classical guitar. It was around 14 as I remember. I don't know exactly why but at some point I was led to rock music and started to take interest in electric guitar players like Randy Rhoads (Ozzy Osbourne), Ritchie Blackmore (Deep Purple), Roy Buchanan and etc. At that time, I just knew rock music was what I wanted to play.
What inspired you to create music and write lyrics?
Sungsoo: It all virtually comes from everywhere, from my friends, from relationships, from current affairs and my voice from deep inside. Everything happens around you, and even small things can become the most inspirational thing.
You have to listen to others and listen to what's happening right now. I think that's the most important thing.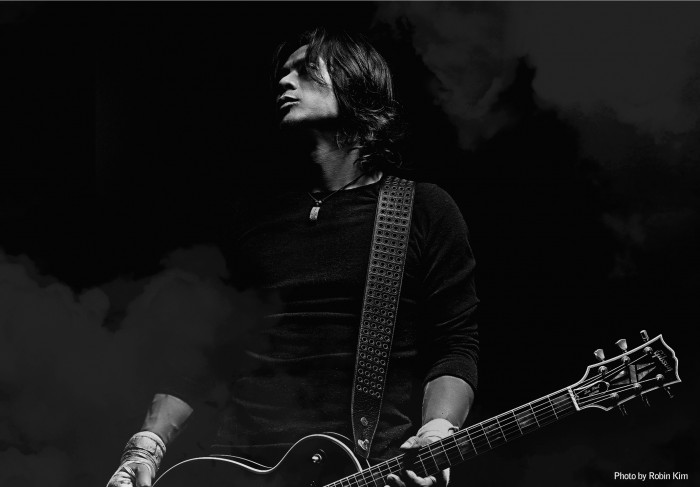 Photo Credit: HarryBigButton and Robin Kim
Based on the tracks that you had produced, what are the differences between two albums 'King's Life' and 'Perfect Storm'? Any challenges that you experienced when recording them?
Sungsoo: 'King's life' is HarryBigButton's first full-length album. While 'King's Life' shows HarryBigButton's identity, 'Perfect Storm' shows HarryBigButton's musical evolution.
As I was a guitarist in the past, when I recorded 'King's Life' album, it was my first time to record as a vocalist. I usually finish guitar recording in a day or two. So, I thought the vocal recording could be also done in a day! Because the vocal track only needs one or two tracks while the guitar needs at least more than four tracks! At the first day of vocal recording, I recorded around six songs. Just after recording, I was told that no one does like that. (Really?) So, I asked to other vocalists and they all said that they usually record one song per day or even needed more days! Well…for 'Perfect Storm' album I eventually managed to record one song per day. Sound real "Hard Rocking" work, doesn't it? Ha Ha.
Which song truly represents you as a band?
Sungsoo: It's very difficult for me to pick just one.
I would say Angry Face, Coffee, Cigarettes and Rock'N'Roll, and King's Life represent HarryBigButton. I strongly recommend you to listen to whole songs of HarryBigButton.
You have been part of the Korean rock scene for more than 20 years. How do you see the changes between 80s till now? Where do you see Korean rock music stand as time goes by?
Sungsoo: In the 80s and 90s there was a big heavy rock scene and they mainly focused on particular genres. Now, people are playing many different music styles in their own ways. Korean Rock scene has been growing for many years gradually. I believe the scene will become more solid and will be expanded to larger market in the near future.
K-indie music has slowly become known across the world especially in Asia, Europe, and USA. What are your thoughts about that? Do you have any plans for oversea tours?
Sungsoo: Korean Rock music has never been introduced to the global audience properly in the past. But as you mentioned, it has slowly become known as many bands play oversea live gigs these days. We are trying to make it work for next year.
Coffee, Cigarettes, and Rock 'n' Roll live performance (Credit: NANJANG Live Gwangju YouTube Channel)
In your opinion, do you believe social media and music festivals play their huge role in spreading the word about K-indie music and bands?
Sungsoo: K-pop has been spreading out through mass media backing huge marketing cost. However promoting Rock band is different matter. Social networking service like YouTube, Facebook, Twitter and etc. helps Rock bands to promote their music globally. For instance, we have been receiving great reviews and compliments from all over the world on our YouTube video clips.
What were the challenges you faced when doing live gigs in different venues?
Sungsoo: All the venues have different gears provided which means it's so hard to maintain best sound for every gig. So, we tend to carry our own gears like guitar amp head, cymbals and other heavy stuffs for every gig in order to make best sound. In other words, make audience satisfied. Making best sound is essential. All the rest are depends on your daily preparation. We are one of the hard-working bands.  What I focus on now is making best show not only making best sound and performance but also making unique concepts for each gigs and elaborate stage compositions.
If you have a time machine that takes you back in time to the rock music days, where would you want to go and why?
Sungsoo: Simply, I won't take myself back to the past. For me the present is always the best!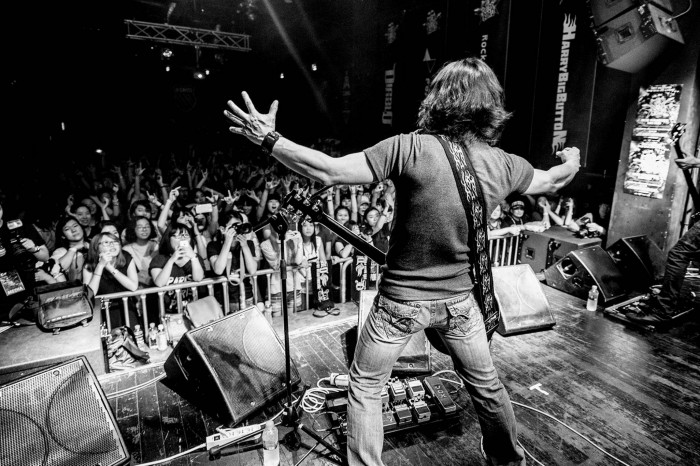 Photo Credit: HarryBigButton
What are your plans in 2015?
Sungsoo  : We just finished our schedule this year last week. Now, I am taking some break and preparing for new songs. Hopefully we can release new tracks sooner or later. We will definitely become "Harder and Louder" in 2015!
To you, what is rock music?
Sungsoo  : Rock music keeps me alive. What else I can say.
Stay Hard & Keep Rocking and hope to see you all someday very soon! lml
Thank you Sungsoo for taking the time to take part in this interview. A lot of interesting thoughts from him about his passion for music and his career. Excited and looking forward to HarryBigButton upcoming performances in 2015.
You can find more information about HarryBigButton at their official website, Facebook, Twitter, and YouTube. Purchase their albums through iTunes. Listen to their albums at Spotify and Reverb Nation.
Tags : HarryBigButton,K-Indie,music,Rock