Interview with Say Sue Me
Posted on April 25, 2017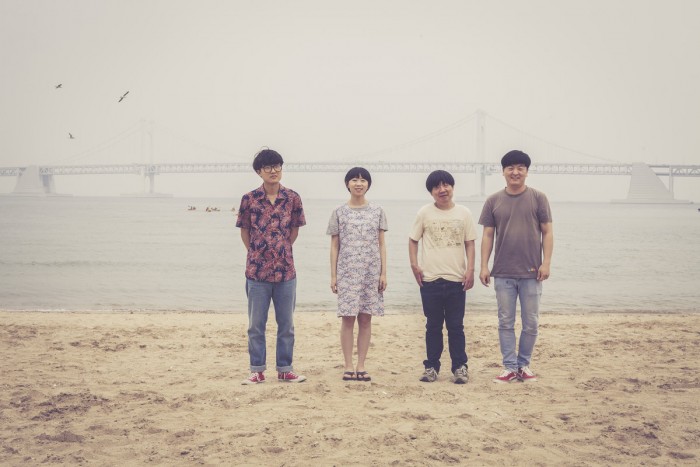 Kim Byungkyu (Guitar/Chorus), Choi Sumi (Vocals/Guitar), Kang Semin (Drums), Ha Jaeyoung (Bass) (Source: Say Sue Me Bandcamp)
Most of the Korean indie music are mostly bands who are based in Seoul. I have decided to listen to some bands in other places where Seoul-based bands have performed there before. While browsing through, I found out about Say Sue Me and decided to check out what the band is all about.
Say Sue Me is a four piece-indie rock band based in Busan. The band was formed while drinking tea and beer at a tea shop in Nampo-dong in the winter of 2012. Byungkyu and Jaeyoung met at elementary school and they started playing guitar together in middle school. The band name consists of their names that start with S or M which led to think of how to combine them followed by one of friends who came up with Say Sue Me. They had performed in Zandari Festa and Busan International Rock Festival.
Listening to their first album We've Sobered Up and EP single Big Summer Night brought me back to the memories where I truly enjoyed my first time in Busan. The sight and sounds of natural sun, sky and sea gave me the energy of happiness.
A couple of songs from We've Sobered Up that bring out the sunny and chill-out vibe are 'To be Wise', 'One Week', 'Sorry That I'm Drunk' and 'The Night of Gwangali'. The lyrics for first three songs are honest and 'conversation-like' along with upbeat tunes which make you want to dance all day and all night. 'Night of Gwangali' is my most favourite. The sound of sea and waves are crashing by the beach at night when the guitar and bass are played. It reminds of the good times I had while relaxing at Gwangali Beach where I saw the sun set that welcomes the night sky. This instrumental song put you in relaxing mode of being at the beach and drinking beer.
EP single Big Summer Night has a series of songs which gives a complete picture of summer, beach and surfing. Listening to Big Summer Night, including 'Bad Habit', 'Summer Night', and 'One Question', Sumi's delicate vocal tunes along with honest lyrics harmonise beautifully with Byungkyu's guitar melodic tunes.
(Source: EBS Space YouTube)
Say Sue Me will be having their first UK tour together with Kyoto's all punk girl band Otoboke Beaver and their own performance at the FOCUS Wales together with Love X Stereo, 57 and PATiENTS. Also, they have released a UK debut album, a compilation of 17 tracks from their first album and EP single including the bonus track. Before they fly off to the UK as their tour will start on May 1, Say Sue Me have an interview to talk about their music and upcoming tour.
Could you introduce yourself to the readers?
We are Say Sue Me, a four-piece indie rock band in Busan, South Korea. Our music is made for dancing however you want.
How is your music like?
People who listen to our music often talk about the sea, so it seems that our music is drawn from that world of sunlight, waves, and moonlit beaches, like thinking back on old memories in a sad yet bemused, lonely yet whimsical way.
Night of Gwangali (Source: Electric Muse YouTube)
Let's talk about your 1st album We've Sobered Up and EP single Big Summer Night. Could you talk more about these songs and how is it different between the two of them?
We made the first album without a theme in mind. It just arose naturally song by song, so the overall color or feeling of it was a little disappointing. We wanted to solve these problems in the EP so we tried to concentrate on making songs that focused on summer and the sea.
You recently released a compilation album with a bonus track. What is the bonus track about?
The bonus track is "Michelle Marie" which is a song by the band Barbie Dolls. The members of Barbie Dolls are our most beautiful friends.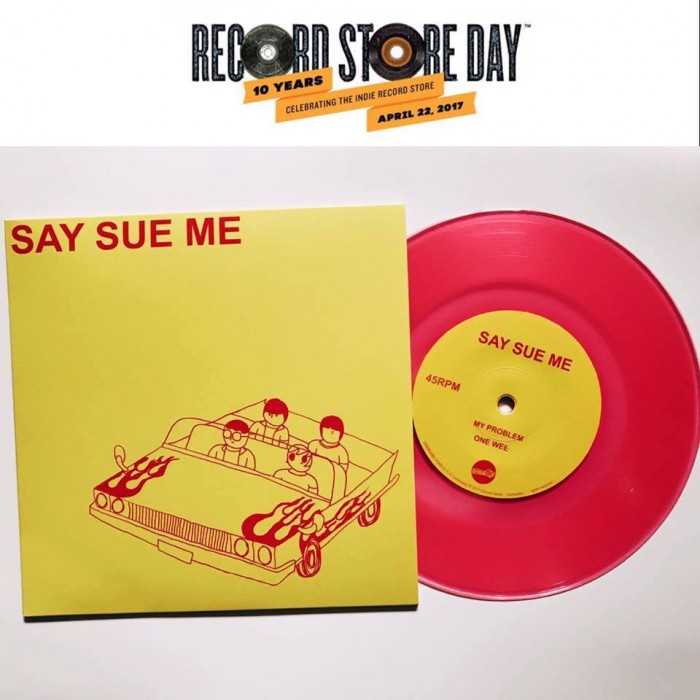 Source: Say Sue Me Facebook Page
You also released a four track EP in vinyl records. What is the reason behind releasing them in vinyl records in the music market, especially in Korea, Japan, US and UK, where most listeners actively listen to music digitally through online streaming?
The U.K. label, Damnably, is releasing the LP as part of our tour. It's fun and exciting to have our music in the world in various ways. And no matter what, listeners in Korea can still find our music easily through online streaming.
How is the indie music scene in Busan? Is it different from Seoul?
Venues in Busan like to have audiences drinking and dancing but in the Seoul scene people just sit quietly and focus on the music.
You will be having your first UK tour including performing together with Kyoto all-girl punk rock band, Otoboke Beaver, and performing at Focus Wales. How did you feel about having to perform overseas for the first time especially in the UK?
We are unbelievably excited about both our first trip to the U.K. and our first tour with a band from another country. It feels like we've become real rock n roll musicians!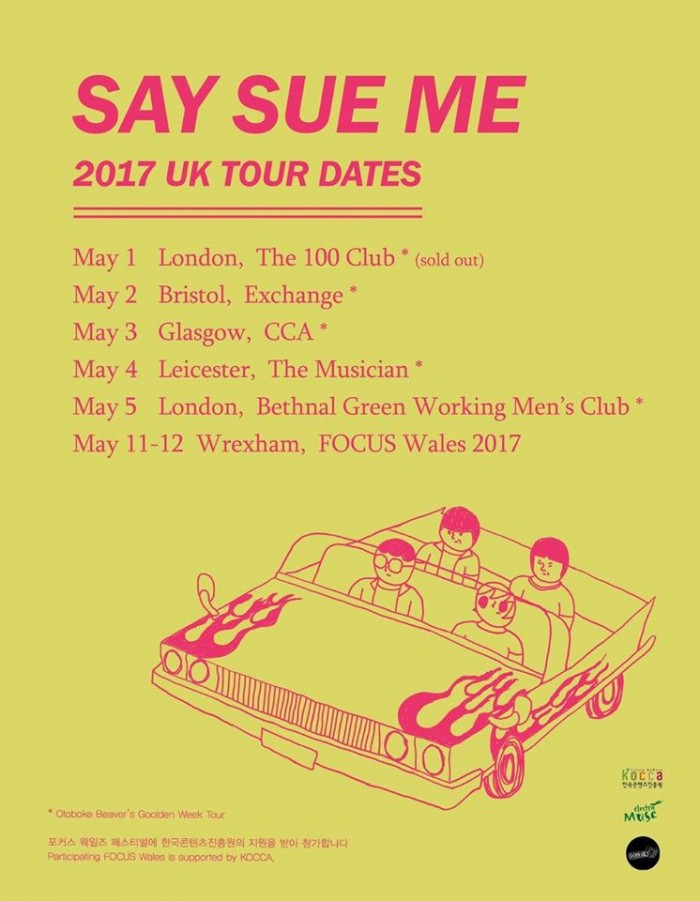 Source: Say Sue Me Facebook Page
Can you mentioned where else are you going to perform in the UK?
Our tour will start in London on May 1 and~
May 2 – Bristol, Exchange
May 3 – Glasgow, CCA
May 4 – Leicester, The Musician
May 5 – London, Bethnal Green Working Men's Club
May 11-12 – Wrexham, FOCUS Wales
What will audiences expect to see at your live gigs in the UK?
We always have fun playing and we hope that the audience will feel that too and dance with us.
Will you be having some free time during your tour in the UK? If you have the free time, what will you be doing?
Yes, we'll have some free time. We want to drink good beer & whiskey!
Source: Damnably YouTube
Out of all your songs, which song would you recommend audiences to listen and why?
Actually, it's difficult to choose one song to recommend because all of them would be good, but if we had to choose just one we recommend 'One Week'. We don't really know why but 'One Week' has the most fun rhythm.
What places and things to do would you recommend for people who visit Busan?
The alleys of Jungang and Youngdo with the port and the sea nearby seem to feel the most like Busan.
Any upcoming plans after your UK tour?
We're busy preparing for the release of our second full-length album in Korea. We hope to have it out by summer 2017.
What would you like to say to the readers?
We hope we can meet you during our tour.  Be healthy and happy everyone.
Thank you Say Sue Me for taking part in the interview. They are coming to the UK on the May 1 in London and end their tour at their two-day performance in FOCUS Wales (May 11 – 12). Enjoy the summer together with Say Sue Me. 
The LP has been released in conjunction to Record Store Day that was celebrated on 22 April. The design of the LP cover is illustrated by Semin. Sadly, Semin is currently in a coma since late last year. With the fundraising and support by their fans, we hope Semin will recover soon through treatment. Find out how you can purchase the LP at participating stores here. Don't forget to buy their UK debut CD during their shows in the UK.
Find out more about Say Sue Me on Facebook, Twitter and Instagram. Listen to Say Sue Me's music on Spotify and Bandcamp. You can also pre-order their UK debut album on Bandcamp.
Tags : music,Rock,Say Sue Me,Surf-rock