Interview with Smacksoft
Posted on March 14, 2014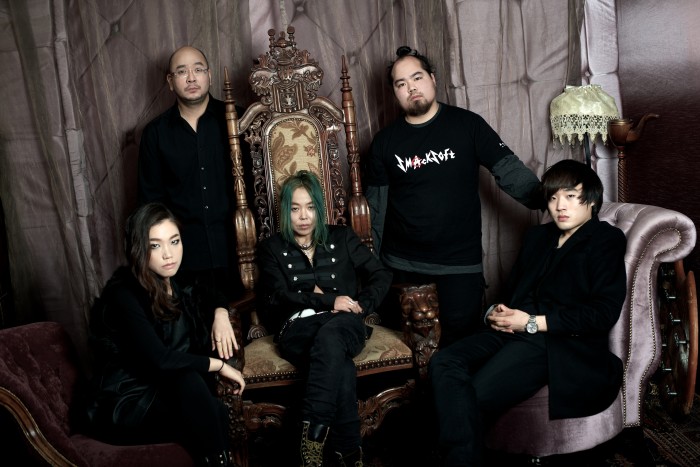 (Source: Smacksoft)
Once you listen to certain songs of the band, you can't help but continue listening to the whole album or you listen them repetitively. If there is one band that made me hypnotized by their music, it has to be Smacksoft which you have to keep an eye out for them. The band is known to produce music with layered hybrid sounds of post-punk, rock, and electronica.
Since Bo Ryung Whang's debut with Cats with Three Ears (1998), she has been involved in the underground music scene. In 2001, she formed the band Smacksoft [Rainbow99 (guitar), Jin Shil Suh (drums), Ji Yong Shin (bass), and Ha Neul Kang (keyboard and synthesizer)] after releasing her 2nd solo album, Sun Sign. She toured and performed gigs with the band around Korea and Japan in 2002. Later, Whang took her time off in travelling and focusing on her education. Smacksoft returned to the Korea's music scene in 2007. The band released 2.5 EP (2008) and a full-length album, Shines in the Dark (2009). This album helped the band in earning a nomination for "Best Modern Rock Album" at the 2010 Korean Music Awards and ranked #45 on 100Beat.com's 100 best Korean CDs of the 2000s. The fourth full-length album, Mana Wind (2010), received lots of recognitions from Korean magazines and popular Korean web portals like Naver and Daum.
In 2012, as part of their North American tour, they performed in Mexico and the United States. Later, in November, they released the fifth album, Follow Your Heart. With that, the band earned a nomination for "Best Modern Rock Album" at the 2013 Korean Music Awards. Last month, Whang has released a solo seven-song EP titled As if Nothing Ever Happened. This month, they had finished performing at the SXSW. They will be performing at the Korean Underground Vol. 1 (San Antonio, Texas) and CAAM Fest (San Francisco, CA).
'Solid Bubbles' Live Performance at EBS Space (Source: EBS Culture YouTube)
Follow Your Heart sets your mind in the state of transition. It lets your mood go with the flow with instrumental sounds. Going chord by chord. Going beat by beat. As Whang expresses short, simple, and meaningful lyrics, the strong and rhythmic tunes are out of this world. Imagine you close your eyes and then you will feel the sense of happiness and freedom. Listening to the whole album gives me lots of goosebumps, in a good way. Each song has so much layers of emotions and tunes which, instantly, pierce right in my heart and mind.
SumGyeoJin Gem got the chance to speak to Bo Ryung Whang (leader, guitar, and vocalist) who share her passion about the music and US tour. The band is looking forward to share their music to the rest of the world.
How do you describe your music?
We tell people that we play post-punk music.
What motivates you to make music?
I make music simply because I love doing it.  If I didn't love it, I'd stop doing it.
For first-time listeners, which songs would you recommend them to listen to?
I'd suggest they to listen to "It Is You & Me."  It's the lead track on our 2012 album, Follow Your Heart.  People can check out the music video for the song here: 
It Is You & Me MV (Source: Pony Canyon Korea YouTube)
What are the differences between Follow Your Heart and your previous albums?
Follow Your Heart has a much more electronic sound to it.  It'll get your heart pumping, but it's a lighter album than some of our previous work.
From all the albums that you have made, which song truly represents you the best? Why?
I think "Solid Bubbles," from our fourth full-length, Mana Wind, represents us the best. The song seems like it's telling me what to do.  The lyrics say "You just know when it feels right." I think this is so true and it gives me goose bumps when I hear it. The song has heavy drum beats with real drums and has electronic beats too. I think it best represents the style of music I want to keep doing.
What is your opinion about how the Korean indie music is slowly starting to be heard by more international audiences?
It's great to see. It means that a lot of local bands are doing good things. I hope that everyone can continue to improve and eventually have the chance to share their songs with people around the world.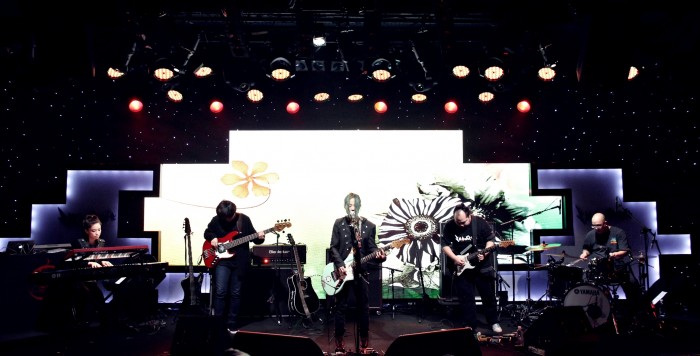 (Source: Smacksoft)
In March, you are going to tour in the US and will play at SXSW 2014. How do you feel about that?
I feel great about that!  I'm really excited to perform in Austin, Texas during SXSW.  And the Korean Underground Vol. 1 concert in San Antonio and our CAAMFest gig in San Francisco are going to be really cool as well.  Music is about sharing and I'm excited about sharing our songs with new people.
What are you really looking forward to when touring in the US?
Having a safe trip and getting to meet lots of new people.  We're excited to hang out in Austin and experience the atmosphere and energy of SXSW.
What kind of set list are you going to prepare for your gigs in the US?
It's a secret. People need to come to the shows to find out!
(Source: Smacksoft)
You have toured in other countries outside of Korea in the past. What have you experienced when performing in other countries? What is the most memorable experience you have ever had?
During our 2012 American tour, we played at Earthdance in Massachusetts. All the people there were really generous and kind. I closed my eyes when I sing, so I didn't see the crowd during our performance at all.  But I saw video of the show afterwards, and everyone was having so much fun and dancing all around while we played. It made me never want to close my eyes again when I sing.
What is one important thing you have learned during your music career?
Keep on doing what you're doing and stay true to yourself.
Would you like to say anything to your international fans?
I'm so grateful for all of your support.  Thank you so much for listening to Smacksoft and coming to see us play in different places around the globe.  It means the world to us.
Thank you to Bo Ryung Whang for taking the time to participate in the interview. They have performed at the SXSW Festival in Icenhaur's, Austin, Texas. They will be performing at the following dates:
March 16 San Antonio, TX @ Limelight
March 20 San Francisco, CA @ Brick & Mortar Music Hall (CAAMFest) 
Follow them through the official website, Facebook, Twitter, and YouTube. Purchase their albums via iTunes. 
Tags : Electronica,Indie,music,Post-punk,Post-Rock,Rock,Smacksoft