Interview with The Geeks
Posted on January 10, 2015

Source: The Geeks Facebook Page
I put on my earphones, played The Geeks latest album "Still Not In This Alone" and the music blast out with a bang. A big BANG that blow my mind in explosion. Both lyrics and music have the sense of motivation, make you let out all your emotions and go crazy. After listening to the album and watching their MVs, I see that The Geeks have so much crazy energy that spreads to the crowd and the crowd joins in to enjoy the wild rock gig. From continuous jumping to energetic shouts to getting into moshpits and even doing crowd surfing. Everything is in a package full of pure and raw hardcore rock you would expect including live performances.
Before The Geeks fly over to South East Asia for their tour next week, the lead vocalist, Ki Seok, talks about the Korean indie music scene, their experiences in tours and their album, "Still Not In This Alone".
How did all of you meet up and become "The Geeks"?
Ki Seok: Our guitarist Jun and I went to the same school in junior school in 1994. In fact, we are at the same class and he was my desk mate. Yes, it was two tables put together for alignment purposes as seen in a lot of Korean TV shows and movies. He introduced Nirvana to me one day and it completely changed our lives. Since then, we have literally "studying" pink and hardcore music since our first discovery. After that, we bought our first guitars and started jamming together, just the two of us. We named ourselves The Geeks although there were only two of us because we were like hardcore geeks. Fast forward to 1999, we both went to college and it was a natural progression that we start a real band together. We put up an advertisement and Bong joined us as a bass player. The rest was history.
What kind of music you grew up listening to since young? 
Ki Seok: I was listening to a lot of local and global pop music (Do you remember those NOW compilation songs?) before I discovered rock music up until Jun presented Nevermind. A lot of Korean pop music. Then, I fell in love with 90's alternative music and 90's "neo" punk very heavily. My love for the genre continued to grow. It led me to punk and hardcore. Ever since, it's been a great marriage with the music.
You released your latest album, "Still Not In This Alone". What are the differences between the latest one and the previous releases?
Ki Seok: Here is an analogy I'm going to use to describe the difference; Previous releases = A passionate youth with super high energy that is pure. Still Not In This Alone = A grown-up who is still committed and passionate. It is not to say the past was inferior. I love equally. As you get older, you look back on what you said when you were young "I can't believe I did that. It was awesome. So much energy. Something you got to do where you were young." But you are growing up, you definitely become more experienced, matured and seasoned, which allows you to do things you couldn't do when you were young. To sum up, progression is the word that can define it. Musically speaking, more heavier and melodic but still stay true to the root.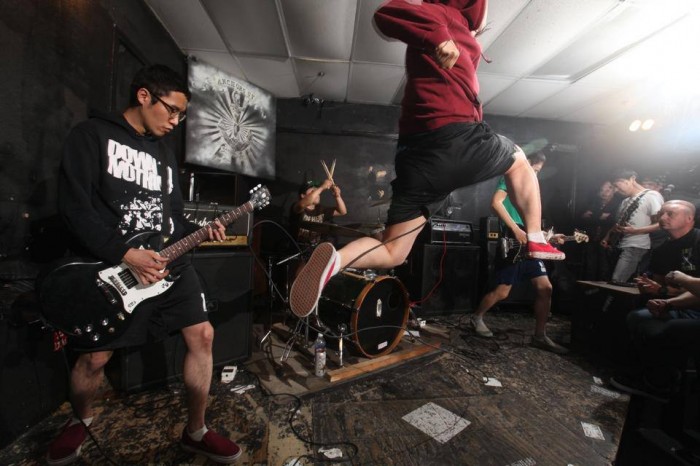 Photo Credit: Todd Pollock
The album features guest vocals David Wood of DOWN TO NOTHING, Scott Vogel of TERROR, and Martijn of NO TURNING BACK. What is it like to produce the album together with them?
Ki Seok: It all happened when I brought Terror and No Turning Back to Korea at the same time in 2009 through my own booking agency called Open Your Eyes. We (The Geeks) went on a Korean tour together. Although I knew David from Down To Nothing, Outbreak, The Geeks US tour back in 2005, he joined Terror before they came to Korea. I had a demo for defining moments back then. I looked around and realized I was surrounded by 3 best of best vocalists in hardcore scene and thought it would be a great idea to have them do guest vocals for specific breakdown parts. I ran a simulation and it worked perfectly. I brought them to my friend's recording studio and recorded. Wish I had had a better camera back then. It took 5 years until it came to fruition. I had kept it a secret until we announced it. I loved how it played out. It just strengthens the power of the song.
You have toured outside Korea. Compare to Korea, are there any differences when performing live to global audiences especially in different venues and atmospheres?
Ki Seok: Yes or no. It all depends on the scale of the scene and population. Our shows have been very well received both in Korea and around the globe so I honestly don't see that much differences other than various nationalities and races.
In general terms, on a head to head comparison, Korean music scene is smaller and not as healthy as other scenes we've toured. I know because we played a lot of local shows, not just big festivals. I experienced true local relevancy. Back to my point, this is not meant to downgrade Korean scene. I absolutely love this scene and know there are so many great bands working their tails off. It's just social perception on culture/art isn't that pervasive. I suppose my main message is that at its core people to who come to shows and have fun have the same spirit regardless of which country you are from. It is the matter of how well the infrastructure is constructed. Sustainability. I'm sure it will improve over time. We just need to take a leap of faith and continue to work hard to contribute to that positive change that will come eventually.
Defining Moments MV (Source: Blank TV YouTube)
Congratulations on your 15th anniversary last year. You have been in the Korean music scene for 15 years. Have you noticed any changes in that scene during those years? Where will this music scene be heading as time goes by?
Ki Seok: My view is strictly confined to underground music scene and is not fully accurate. I'm just sharing my personal point of view. 
I view myself as the 2nd generation of Korean underground music scene in terms of age and the timing when I got into music and started playing in the band. I've seen its heydays and its lowest points. Here are some of big things that have changed over the past couple of years compared to where it is now.
1) Overall scale of the music scene has grown : Big mainstream events and attention from mainstream media
2) Globalization of Korea music along with other media (tv shows and movie)
3) Centralization of Seoul scene has been accelerated. Other local scene not as developed yet.
4) Less turnout at small local shows
But I'm certain that Korea has such a big potential. It's poised for growth. So much that it will improve its fundamental elements. I see more young people showing their interests in live music, which is a great leading indicator. It will be a much better position in a few years.
You will be coming back to perform in Malaysia and Indonesia for the Southeast Asia Tour 2015. Do you still remember what was it like when you previously performed in these countries? What are the unforgettable moments that you never forget?
Ki Seok: We were one of the first, if not the first Korean hardcore/punk rock/to some extent rock band that ever toured those countries in a true touring fashion. (touring with local bands for local audience, not just big big festivals – You live moments with local people who are in it trying to keep the music scene alive everyday). So, we had zero expectation. I remember being super nervous about it… and puking in a toilet because of pressure. But bang, as soon as we hit our fist note, everyone went crazy for us. I still can't forget how appreciative kids were and how our music influenced their music. Now I see bands covering our songs on YouTube and named their bands after our songs. It was just mind blowing.
What was interesting was it was an era where an initial growth period of Korean wave was taking place, I remember how much kids were into Korean culture. I heard about it before I came but didn't know it was true. It was real. They even sang along to our Korean song. Surreal.
I remember going to the big golden Buddha in Malaysia. OMG it was awesome. Hope we can come back. I still remember Indonesian kids shouting "sarangheyo' in Korean while we were on the stage. Oh yeah, no toilet paper was a big culture shock. But I quickly adjusted as soon I understood why. It was also my first encounter with Muslim culture. It was a great leaning experience to understand other culture and diversity. Now I respect it.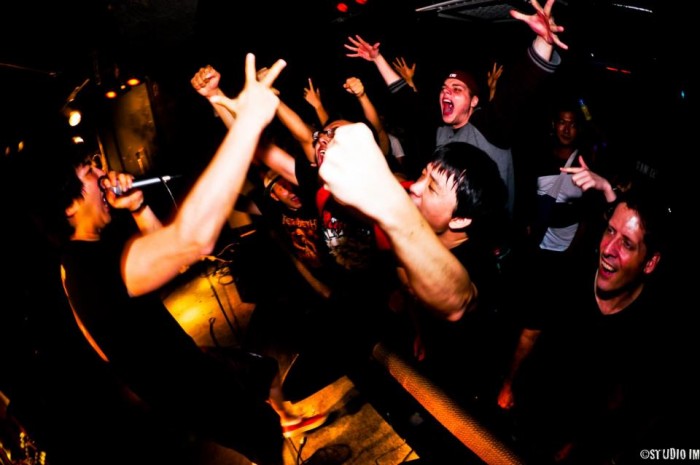 Photo Credit: Studio IM
During the tour, you will also be performing in Thailand for the first time. Why you decide to perform there?
Ki Seok: I love Thailand. I've already made two personal trips. I love everything about what the city/country has to offer. Food, Temples, People, Muay Thai. Above all, I became friends with hardcore kids. Great scene. It was a no brainer. Plus, we haven't play there. This band is all about exploring new ways of doing things.
You were featured in the documentary, "Us & Them: Korean Indie Rock in a K-pop World". What are your thoughts about Korean rock music's awareness in both local and global perspective?
Ki Seok: As I stated above, rock music in general isn't that mainstream here in Korea. It's all dominated by K-pop. Don't get me wrong. I love some K-pop and there are some incredibly good boy groups who I believe are the top of the world in terms of their field of expertise (a.k.a idol pop culture environment). I, for one, completely understand why Korean idol groups have gained enormous popularity in Asia. But I think it's fair to assume that a concept of live music, that excitement of going to a show with your friends and seeing your favourite band doesn't really exist in average Korean's lives. Why? Because of low awareness. Because they haven't been educated about it. In a few years, someone needs to put together a nice strategy to promote it to average people and educate how fun it is. Each band will play its role in defining that message.
From a global perspective, it is very mixed results. Let's forget about the Western world for a minute. Despite K-pop, Korean rock music isn't well known in Asia. On a Western front, K-pop still isn't mainstream despite big improvement in awareness and actual popularity level. Hence, Korean rock music isn't that promoted. However, Korean rock bands have been pushing the envelop toward entering into the global market via overseas touring, which we didn't have before. I think it's gaining traction. This will make a difference.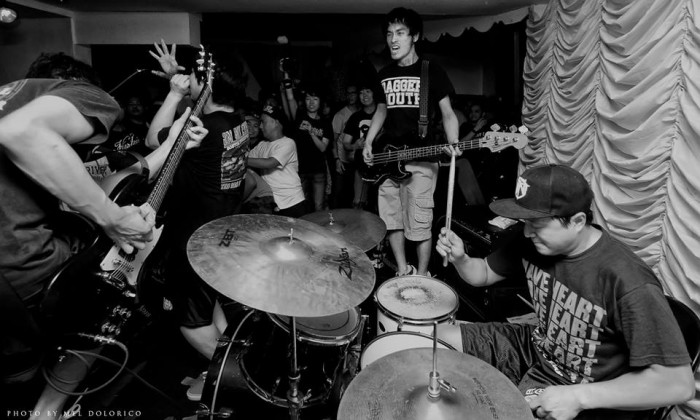 Photo Credit: Mel Dolorico
What are your future plans this year?
Ki Seok: More overseas tours. Will tour to the best extent possible. Some very interesting plan being reviewed. We will announce it once it becomes more concrete. We will continue to play shows in Korea, keeping the hardcore and punk rock scene. Big shows small shows, Hardcore non hardcore we don't care. We care about  having fun playing for us and people who care enough about us to stay and watch us play. We may release another music video, possibly in March.
To you, what is rock music?
Ki Seok: This is the toughest question that anyone has ever asked. Ordinary question would be "what does hardcore/punk rock mean to you?" because we are a hardcore/punk band. Let me think… it is about having music creative minds coming together collectively and creating chemistry. It is way of expressing our feelings, interacting through music, immersing into those shared moments. The format of rock music to me is the best way of interaction between people playing music and people who watch them perform. As opposed to other types of music/art, the music is at the forefront. People who actually play whom also the ones who created it are at the forefront. And you get to share it with the audience real time. The energy, The aggression, The emotion. And the impact is everlasting. There's something that rock music can only offer.
Any messages you would like to say to the readers?
Ki Seok: Please check out our new album "Still Not In This Alone" on Think Fast Records and Townhall Records. LP we released is a beautiful jewelery. Also please check our two music videos we put out for Defining Moments and A Light In The Dark. Come to our shows in SEA. Come to our shows in Korea and elsewhere! Have faith in yourself and work toward your goal. Positive minds with relentless actions will make a difference. Be passionate about life. The tireless spirit has led us here.
Thank you Ki Seok and The Geeks for taking the time to take part in this interview. Get ready to knock your socks off and go nuts with The Geeks as they will be coming to Thailand, Indonesia and Malaysia next week. Check out the tour details here. 
Tags : Hardcore Rock,K-Indie,music,Rock,The Geeks