Interview with Victim Mentality
Posted on March 14, 2015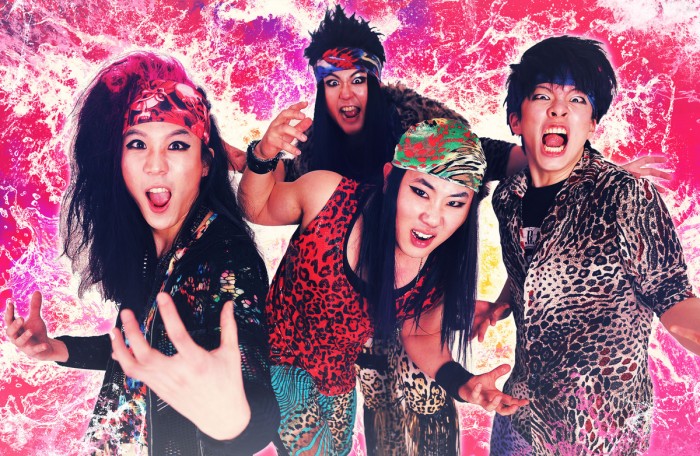 Source: Courtesy of the artist
SXSW 2015 is just around the corner, starting next week, and music lovers and artists are getting ready to head over to Austin, Texas to showcase and be entertain with old and new music that they love. Korean music artists continue to attend SXSW 2015. Not only the previous artists who came last year's 2015, but also the new artists who ready to show the world their passion for music. Victim Mentality is one of them and they are ready to bring the 80s' glam metal to you.
Seoul-based glam rock band Victim Mentality was formed in 2009. Vocalist Krocodile and guitarit Kyung-Ho Sohn bonded together in the early years by jamming Iron Maiden and Judas Priest covers. Sohn previously played in the melodic death metal band The Crescents and has been a member of symphonic black metal act Dark Mirror of Tragedy since 2007. While they take their time to showcase their love of '80s glam metal, both of them crafted the songs for their first EP, Magic Finger, in 2009 and 2010 and recorded them as a duo in 2012 and 2013.
Don't Spit on Me MV (Source: Victim Mentality YouTube)
In February 2013, they invited bassist Scorpion to join Victim Mentality. Magic Finger was released in July 2013. Their very first EP consists of powerful, catchy cuts "Don't Spit on Me" and "I'm Not Your Friend" along with the title track. The EP also have the Korean versions of "Don't Spit on Me" and "I'm Not Your Friend". While listening to their first EP, it sure bring back those good old memories where you either playing the air guitar or waving your hands along with powerful rock ballads.
July 2013 marks the month when the band made their live debut. They didn't have the drummer for their gigs until Tarantula joined in February 2014. For their style to suit their sound, they decided to wear leopard print outfits, lip gloss and eyeliner. To keep the audiences more entertained, Krocodile often brandishes a bullwhip while delivering his impassioned wails. With fans' support and getting attention in the Korean music industry, in May 2014, they were invited to play at Seoul's Green Plugged festival followed by Incheon Pentaport Rock Festival during the summer.
Victim Mentality recently release their debut full-length album, Heavy Metal Is Back. They are coming to the US for their first US tour and they are excited to bring their full-length album to the audiences at SXSW 2015.
Before they fly over to Austin, Texas for SXSW 2015, guitarist Kyung-Ho Sohn talk about the 80s glam metal, their released full-album and their thoughts about embarking their first US tour.
Why do you love '80s glam metal?  What made you decide to share this style of music with other rock music lovers?
Kyung-Ho: As everyone should already know, '80s heavy metal is excellent!  All of us have been crazy about '80s heavy metal since we were kids and back then dreamed of being rock stars that played this kind of music.  Of course, as time went by, we listened to other kinds of metal music too.  But '80s glam metal remained our favourite.  And when it came time to make music as Victim Mentality, we thought that the sound and style of '80s glam metal will make our natural talents and charm appear even stronger both musically and visually.
What was the recording process like when you produced your very first CD single, 'Magic Finger'?
Kyung-Ho: We started to write songs as Victim Mentality in 2009.  We made five songs and decided to record three of them to make a CD single.  We started to record the songs in late 2011.  After we finished recording the tracks, I mixed them with Nahzam Sue from  Sultan of the Disco in 2012.
During the mixing process, we thought about all our lyrics being only in English and decided to add Korean versions of two of the songs to the CD single as well.  After we finished making the music video for the title track, we released 'Magic Finger' in July 2013.
You included Korean versions of 'I'm Not Your Friend' and 'Don't Spit On Me' on your Magic Finger CD single. In your opinion, which is more important when introducing Victim Mentality to both Korean and international audiences, language or music?
Kyung-Ho: I think for Korean listeners, language is most important which is why we added Korean versions of those songs to the CD single.  But for international audiences, I think the music is more important.  The matter of language and music is something we need to keep considering.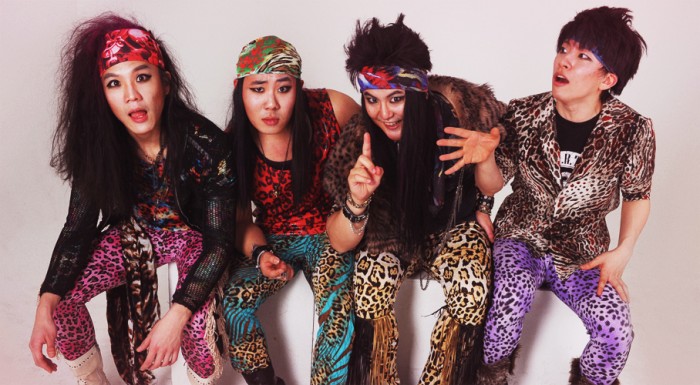 Source: Courtesy of the artist
What Victim Mentality songs would you recommend people to listen to? Why?
Kyung-Ho: For people that like power ballads, I recommend our song 'Magic Finger'.  It's the best metal ballad ever!  For people who have problems or stress at work, I recommend 'Don't Spit On Me'.  This song will blow all of your stress away.
And for those who are in the mood to just hear some awesome heavy metal music, I strongly recommend all the tracks on our upcoming full-length debut, 'Heavy Metal Is Back'.  It's coming out later this month.  It's going to be one of the best metal albums of all time!
Victim Mentality do a lot of preparation for concerts, including putting on special outfits and makeup.  What challenges did the band face early in your career when preparing for live performances?
Kyung-Ho: When we started performing, we weren't familiar with makeup so we needed help from our girlfriends and friends.  But then we just decided to start doing it ourselves, and we've gotten much better at it since then.  Our outfits are designed by us.  We bought the fabric and then took them to a boutique that makes clothes.  But at first we didn't know how to find a boutique that makes outfits.  So that took time too.  But now we've become very close with the owner of the boutique that makes our outfits.    
What kind of music did you listen to you when you were young?  How have your musical tastes changed over the years?
Kyung-Ho: I started listening to rock music when I was 10 years old.  I used to secretly listen to my older brother's cassette tapes and I listened to the Korean band N.EX.T a lot.  When I started middle school, I began listening to heavy metal from bands like Iron Maiden, Judas Priest, Metallica, and Megadeth.  And in high school, I started listening to death metal, black metal, and gothic metal.  
When I was 20, I joined a melodic death metal band called The Crescents.  At that time, I enjoyed listening to extreme metal.  From 2007 until now, I've been playing in the symphonic black metal band Dark Mirror ov Tragedy.
Despite all the different kinds of metal I've listened to over the years, in my mind bands like Iron Maiden, Judas Priest, and Motley Crue are always playing.  So '80s heavy metal is where my heart lies.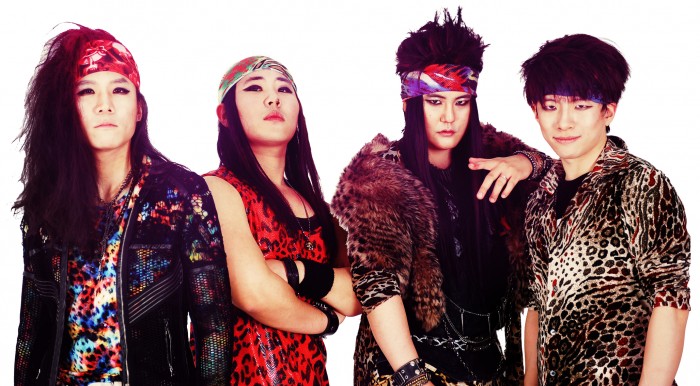 Source: Courtesy of the artist
You will be releasing your new album, 'Heavy Metal Is Back', next month. Could you tell us more about this album?
Kyung-Ho: Like I said before, it's going to be one of the best metal albums of all time!  The album was mixed to have an '80s heavy metal feel to it.  The title track and album title are both something we truly believe – that with this album, heavy metal is back!  
The album is a lot of fun and we think people are really going to enjoy listening to it.  It's a great way to pay homage to one of the best eras in heavy metal.
You are going to perform at SWSW next week, which will be your first time playing in the US. How are you feeling about the tour? What are you really excited about doing at SXSW?
Kyung-Ho: We can't wait for SXSW.  For our drummer, Tarantula, this will be his first time to travel overseas, so he's really looking forward to it.  As a band, I think the most exciting thing about the trip is that we're going to perform in the United States, which is the birthplace of glam metal.  We're going to make the most of this opportunity, and plan to show everyone what Korean metal bands can do!
Is there anything you would like to say to international music fans including those who will be attending SXSW next week?
Kyung-Ho: Victim Mentality will help you find the pleasure in your life, and will make you feel energized!  If you'll be at SXSW, please check out our shows at the festival.  And if you can't attend SXSW, please check out 'Heavy Metal Is Back' and keep metal alive!
Magic Finger MV (Source: Victim Mentality YouTube)
Thank you Kyung-Ho and Victim Mentality for taking the time for this interview before they head over to the US next week. Be sure to check them out while you are at SXSW 2015. Here are the band's schedule at SXSW 2015:
March 18 Austin, Texas @ Club Metropolis (Heavy Metal Pool Party)

March 18 Austin, Texas (9 pm) @ Karma Lounge

March 20 Austin, Texas (12 am) @ The Majestic (Korea Night II: Seoulsonic)
Check them out through the following sites:
Tags : Metal,music,Victim Mentality