J JS Lee Defines "Cleanist" in S/S 2014 Collection
Posted on October 13, 2013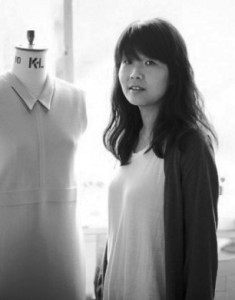 Jackie JS Lee (Source: Fashion Enterprise)
Seoul-borned, Jackie JS Lee came to London to study Postgraduate Pattern Course at Central St. Martins in 2007. After two years of working as a pattern designer at Kisa London, she went back to Central St. Martins to study for her MA. In 2010, her MA Graduate collection gained attention from the fashion press and buyers. This is followed by receiving the Harrods Award and her collection was shown at the Harrods Knightsbridge department store. Later on, she established her own brand, J JS Lee, that depicts modern women who considered sharp feminist clothings.
J JS Lee Spring/Summer 2014 collection (Source: London Fashion Week official website)
Recently, she has been awarded by the Samsung Fashion and Design Fund. Also, during the recent London Fashion Week, she features the Spring/Summer 2014 collection at the solo catwalk which is supported by NEWGEN. Her latest collection is inspired by Jellyfish while maintaining both male and feminine cutting within these clothings. With bold and simple palette and pastel colours, she defines her collection with 'cleanist' which means simplicity that consists in-depth detail through multiple layers.
(Source: London Fashion Week YouTube)
In her collection, she designs the clothing by making solid colours that could bring detailed and meaningful layers. At the same time, she creates unique and sharp modern womenswear that ladies can wear on everyday basis. Although her clothings look simple, but the colours with in-depth layers bring up the quality of modern chic look for women. We shall see what J JS Lee will have in store for us to keep updated on her simple yet modern chic womenswear fashion collection.
[Website | Facebook | Twitter | Stockists]
Tags : Fashion,J. JS Lee,London Fashion Week