"Jardins croisés" by Hyun Jeung
Posted on May 7, 2014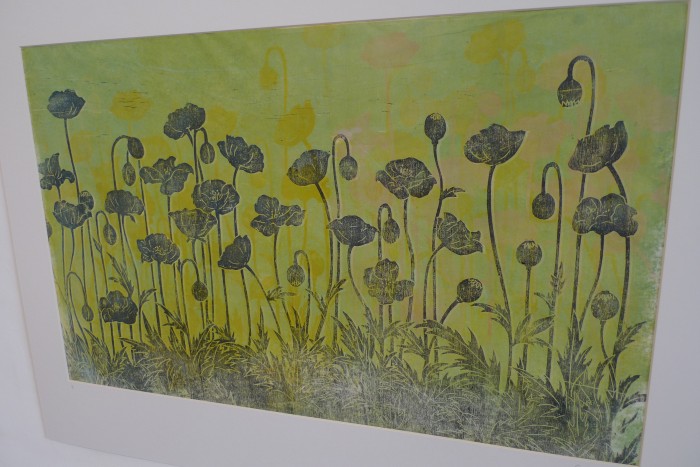 Hyun Jeung studied plastic art in Bachelors, Masters, and PhD at the Université de Paris I (Panthéon-Sorbonne). After her studies, she lives and works in Tunisia. Also, she studied print making at the École Nationale Supérieure des Beaux-Arts de Paris for one year under the tutelage of printmaker and painter Jean-Pierre Pincemin. She is trained in Chinese woodblock painting in Beijing. She has received prizes for printmaking from Gravix Foundation and Salon des artistes de la Ville de Paris. Her work is selected by the Bibliothèque Nationale de France and the Tunisian Ministry of Culture.
To celebrate spring, she had her second solo exhibition, Jardins croisés (Interwoven Gardens), at the MOKSPACE, London. The prints are based on her journeys in South Korea, her home country, and Tunisia by presenting East Asian gingkos and North African poppies as her representation of naturalistic impression. Jeung created the woodprints before using them as printing them on paper. Her aim is to convey the printmaking journey between the carved woodprints and sheets of paper. Jeung repetitively print each woodprint onto the sheet which gives different tone of colours and textures.
Jeung not only invite the viewers to the printmaking journey she also lets us be amaze with the wonders of nature with the colours of earth and greens. Also, the viewers explore the naturalistic earthy natures and forms that are represented through wood and paper; gingko and poppies. Having the woodprints and prints on paper side by side, give the viewers the impression that they could appreciate the nature that they see right before their very eyes. The art of presenting nature through printmaking with earthly colours and elements, through Jeung's effort and experiences, presents the sense of nostalgic feelings and memories. 
Visit her website. Follow her on Facebook.
Tags : Art,Hyun Jeung,Printmaking,Woodprint