KAA UK "Collaboration" Art Exhibition
Posted on October 7, 2013
This year, in 28 August to 7 September, the Korean Artists Association (KAA) UK had done a group exhibition at the KCCUK.
The KAA UK, which was established in 1997, are a group of professional Korean artists who are based in the UK. Their main goal is to present and promote Korean culture from their identity as Koreans in the UK.
The theme for this year's group exhibition is "Collaboration". "Collaboration" defines different individuals work together to create one single event or project.
Each individual artists adapt and relate their works to "Collaboration".
Soon Yul Kang's work, Collaboration_1, is based on the Eastern theory of Yin Yang and five elements (wood, water, metal, fire, and earth). Her work depicts the mixture of five elements. Yet, the wood and metal does not go well together. She takes the initiative to work out how, metaphorically, the these two elements can work together even though they have their own individuality.
Kang Soon Yul – Collaboration_1
Another artwork that depicts the harmony between the two different elements is Moon Jeong Min's work, Cross. By looking at the cross, you can see how the harmony of two elements come to the middle point of the cross. It can be a blend of black and white. It can be a blend of light and dark. Again, two elements with opposite sides can be together as one.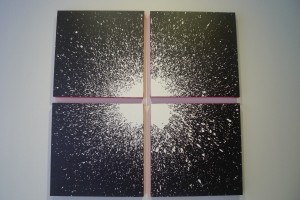 Moon Jeong Min – Cross
Chun Joo Hee and Shin Jee Soo worked together in creating White Blessing that has a mixture of literal and musical aspects. While listening to a composition, which is produced by Shin Jee Soo , you can follow along the narrative of black lines along the white painting. This painting consists of many layers which are created while the song is played. Both song and painting metaphorically tell how a single person goes along a journey through certain situations. It is a form of story.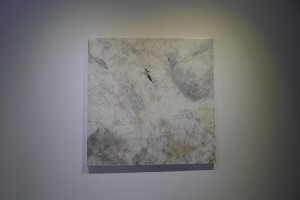 Chun Joo Hee and Shin Jee Soo – White Blessing
Park Mi So shares her experience as mother who raise her only son in London through her photography series, Mother Bless The Child That's Got Her Own. Looking at these photographs made me feel glad to have a mother that has been taking care of me since young. Mi So depicts her series on how mother physically and mentally strong they are in taking care of their children while living abroad. This can be in terms of different lifestyles and culture. As a Korean, she tries her upmost best to not to feel lonely and confuse in a foreign country while not losing her identity. She also encouraged her son not to lose his identity such as teaching him Hangul and Korean language at his young age. Her photography series truly show that mothers are the closest family member that we truly cherish.
 Park Mi Soo – Mother Bless The Child That's Got Her Own
Goag Sung Hwoa produced an animation, Swimming Narwhal, that highlights the importance of protecting the Arctic animals. While watching the animation, a group of Narwhal whales swim together and form a heart shape in the end. Sung Hwoa has managed to blend a group of Narwhal whales, different shapes and sizes, that get along well to be peaceful and happy. At the same time, there are like a family that cannot be break apart.
 Goag Sung Hwoa – Swimming Narwhal
The artwork that I was intrigued with is Kim Se Hee's Observation of the Invisible. She takes biological cell as her artistic subject. Based on her feelings, she draws various pieces of drawings. It can be either colourful, darks, messy, symmetric and others. Then, she records a video of her drawings. This is done by just using the glass and goes around the drawing while recording. I felt that I was entering into her own biological realistic world that explores both her experiences and feelings.
Kim Se Hee – Observation of the Invisible
Feleppa Seo Eun Jung and Kwon Sook Hee brings the importance of Minhwa through Ch'aekkori, Korean traditional folk painting with modern and contemporary twist. The base on the watercolour painting is Korean traditional paper. Feleppa Seo shows the objects of Korean traditional folk painting while Sook Hee shows the textile design. They aim to show the Korean traditional folk painting should not be lost in the modern society and audiences' mind. At the same time, the objects could impact the audiences' thoughts about the area of subject.
Feleppa Seo Eun Jung and Kwon Sook Hee – Ch'aekkori
Kim Tae Hyung and Shin Ha Neul present their collaborative work through Collaboration that depicts how Korean artists can tolerate in London. This is done through both painting and photography. These are based on the historical fact, 'The Six Martyred Ministers', also known as Sayuksin. Visually, these works relate that the Korean artists have been struggling how their works can be accepted in London. At the same time, in the art world, they have to deal with how to adapt to the Western lifestyle that contradicts with their 'Korean' lifestyle. Then, you can see that the paintings show their frustrations of being Korean artists in London. This is the question of acceptance.
Kim Tae Hyung and Shin Ha Neul – Collboration
One of the artworks that truly stand out is Soul Mandala Love 2-2. Although each of the artists have their own culture and style, their individual works are combine harmoniously into one amazing piece. It depicts the importance of collaboration with other artists in creating a work with different individual work and identity. Based on their exposure through different surroundings, music, literature, art, and space, they implement these experiences in their work follow by combining these pieces with among each other. This is truly a great cross-cultural piece that signifies harmony and unity with different aspects of culture and community.
Kim Ki Hyun, Kim Eu Rim, Brain Johnson, and Clarence Chan – Soul Mandala Love
The KAA UK has done well in depicting the importance of working together with other artists through the theme "Collaboration". They had address the importance of 'unity' among the Korean artists in the UK. Even though each individual has their own artistic style, I believe they work well with other artists to learn and develop their artistic capabilities.  This is considered as a continuous cultural learning and sharing process in the art world. I am sure that KAA UK will continuously promote Korean art in the UK and I look forward to their future group art exhibitions.
Tags : Art,KAA UK,Korean Artists Association