Kim Jee Woon Short Films
Posted on November 19, 2013
Kim Jee Woon has not only directed feature length films (such as The Last Stand, The Tale of Two Sisters, The Quiet Family, Foul King, and I Saw The Devil), he also directed and written short films as part of advertising campaigns or his own interest which focus more on storylines while taking characters into consideration. Here are some short films which were shown during the London Korean Film Festival 2013.
Coming Out (2000)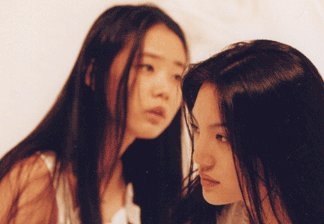 Casts: Gu Hye Ju, Shin Ha Kyun, and Jang I Ji
Genre: Horror
Running Time: 45 minutes
Certi: 15
Hyun Yoo shares a secret by asking her brother and his girlfriend to record her confession. She reveals that she is a vampire. Both her brother and his girlfriend don't believe her so they ask her to prove that she really is a vampire by looking for someone to take his or her blood.
Coming Out explores the true story behind the female vampire by interviewing with the brother while the casts re-enact the scenes which are addressed by the brother. Director Kim decides to break the myths and relics of vampires presenting Hyun Yoo who is not afraid of light, eat food normally, and doesn't sleep in coffins. Rather than being a horror genre, he adds in some humour to let the audiences laughed at certain comical scenes such as Hyun Yoo revealing the truth about her identity and her attempt to suck the blood from an innocent young schoolgirl at a phone booth in the middle of the night. Furthermore, there were some aspects of desire for love and affection between Hyun Yoo and her brother's girlfriend, Ji Eun. While in the process of Hyun Yoo showing her true identity through conversation and actions, Ji Eun desires about what it feels like to be bitten by the female vampire including the last scene where red blood splatter on the white background. It could either represent the sisterly love or the lesbian love as the bond between these two girls become stronger.
This short film was a start for Director Kim to develop his capabilities in creating short films. Although the storyline was a little bit lengthy, the elements of beauty and meaning through images and scenes clearly signifies the story behind Hyun Yoo, the female vampire. Hyun Yoo looks for having her own space to blend in with her own identity. Also, both Hyun Yoo and Ji Eun's desires inflicts their curiosity on trying different experiences about being and encountering a vampire. Director Kim allows audiences to understand the flow of images and characters which are shown in Coming Out.
Rating: 7/10
Present (2009)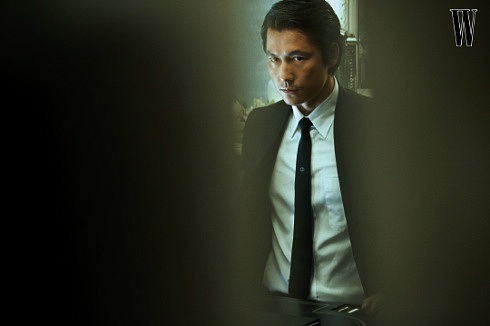 Casts: Jung Woo Sung and Kim Ah Joong
Genre: Mystery
Running Time: 30 minutes
Certi: 15
Present, which is commissioned by W Magazine, tells a story about a government agent searching for the murderer who kill his colleagues at the hotel. He looks through the traces, such as lipstick and perfume, left by the murderer. He searches until he finds the truth behind the killings.
There was a lot going on in Present as the government agent looks into every single nook and cranny at the hotel room while chasing after the fashionable murderer who secretly walks away. Later, we find that both the government agent and his girlfriend meet up for drinks at the same hotel. That's not all. The real murderer is actually his girlfriend which leads them into arguing among each other. Besides that, the girlfriend has to choose between her lover or her career. The object from her bag gives a significant answer to her own doubts. On the other hand, the government agent has to choose between his girlfriend and his career. Thus, so many doubts about making decisions which lead them to the right path. There is also the question who is actually the real spy within the team. Yes, shocking but true. It is a roundabout on looking for the actual spy who has been sending vital information to the enemy while some audiences might find the obvious answer to that question.
Director Kim uses a lot of visual filmmaking skills that takes the audiences on a mission to find the murderer including focusing on the characters' emotions and dialogue. These visual action scenes surely captivate the audiences attention with quick shooting and killing which they enjoyed. While considering the storyline, he focuses more on the characters as he explores their decision-making between two options. With technology in filmmaking, he is able to bring out his written script come to life with action, surfaced mystery, and emotive value. 
Rating: 7/10
Heavenly Creature (2012)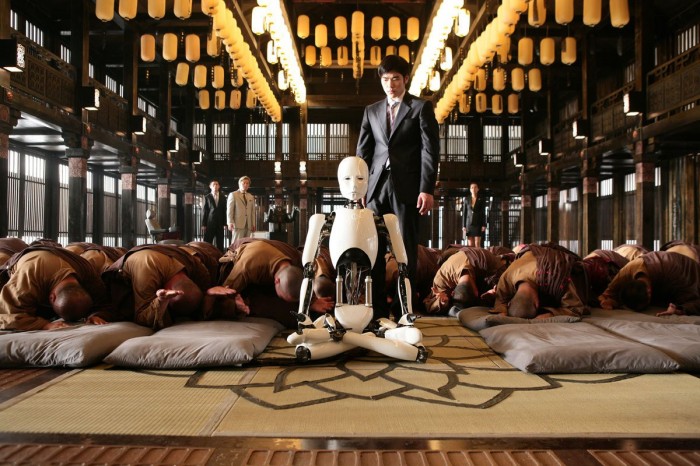 Casts: Kim Kang Woo and Kim Gyu Ri
Genre: Sci-fi and Drama
Running Time: 34 minutes
Certi: 12
The story revolves around technology, religion, and society. The robots are treated like slaves but, at the Temple of Enlightenment, robot RU-4 has reached enlightenment. After looking into robot RU-4's situation, the manufacturers decide to terminate him. However, the monks stand up against them because they believe in robot RU-4 as a friend and close sibling. This short film is part of the Doomsday Book.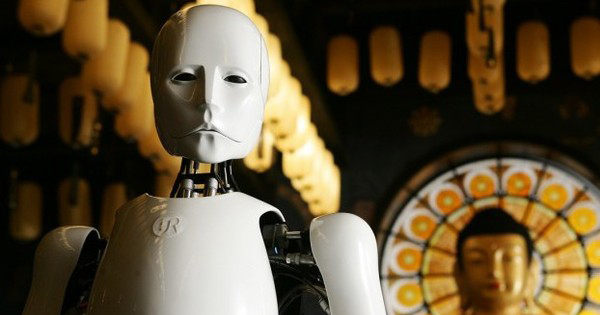 This is the battle between human and techonology in terms of acceptance in the future modern society. The humans, like the boss of manufmanufacturing company, believe that robots will take over the world. Still, other people like the monks and the repairman have the sensitive thoughts toward robots who have feelings, too. They treat the robots like friends and family members while disregarding differences. Robot RU-4 finds his own purpose in life and happiness through Buddhism. Despite his identity, he breaks his own boundaries to do what he wants and share his thoughts with his fellow monks. In the end, he made a wise decision after believing that he has reach enlightenment.
Director Kim wants to let the audiences what would it be like when robots come into the society in the future. Will we be afraid of them? Will we take advantage of the robots badly? Or will we take robots as our companion and family? It draws their attention to the fact that certain robots have feelings, too. Just like us. Aside that this is known as a sci-fi short film, the meaning is clearly shown in the conversations between human and robots.
Rating: 7/10
One Perfect Day (2013)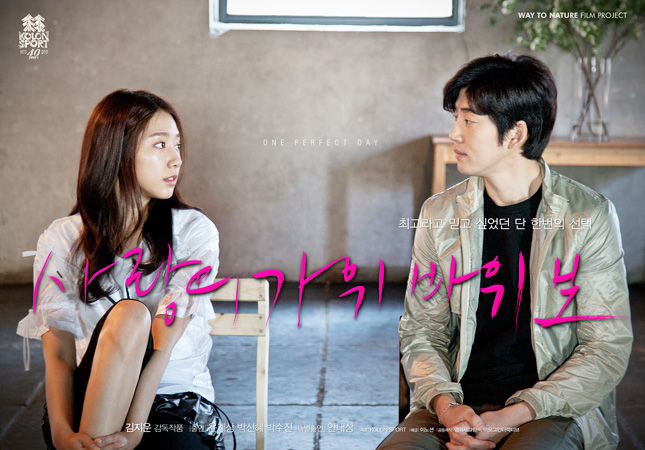 Casts: Yoon Kye Sang and Park Shin Hye
Genre: Romance
Certi: 12
Sponsered by KOLON Sport, Director Kim directed his first romance short film, One Perfect Day. Woon Chul desperately looks for the perfect girlfriend. He goes to many dates with women but they have no interest in him. One of the girls left him after an annoying date which Woon Chul suggested some irritating options. Later, he meets a stray dog which might lead him to his dream girl.
Director Kim has done well in directing his first romance short film by showing a sweet and funny love that is unforgettable. It is lovely to see the life of Woon Chul in finding his true love with so many tries. He had a crush on his colleague but she went with another guy. Then, there are blind dates which he goes to. With so many failed attempts that he made toward his dates, the girls are totally not interested in him. That goes to show that never to make these kind of mistakes on blind dates.
My favourite part was the rock-papper-scissor game since Woon Chul suggest to his date to play this game at the stairs. Aside from being just a game, Director Kim draws out the layers of meaning behind the game. An example would be how it is associated with Woon Chul's future his chosen hand gesture through this game. With the wise words from his father since young, he followed that belief while doubting about his decisions. Thanks to the lovely stray dog, he is brought to the dream girl. He meets her under the cherry blossom tree. A romantic scene that some of us would love to have in our love lifes. Woon Chul and the dream girl agree to do the rock-paper-scissor game to see whether they can go out together on a date. At the same time, monlogues come from both of them what kind of hand gesture they should put. It is similar to whether they should go on a date. This particular scene made the audiences hold their breaths and grip their hands while hoping for that answer.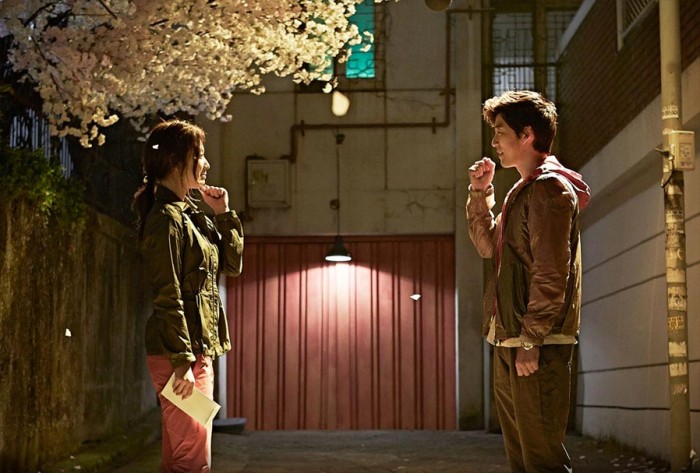 Director Kim has done again in directing the storyline which is sweet, funny, and meaningful through the power of rock-paper-scissor game that gives the answer to life and love. The storyline may look simple but there are in-depth meanings with the concept of Woon Chul's love life and the game. He has made Woon Chul that one perfect day which is unforgettable. So, to you, is the game for fun or for answers to your future life?
I was impressed with the short films which are written and directed by Director Kim. Compare to the full length feature films, the short films have simple and meaningful storylines which the audiences could interpret. At the same time, he focuses on the diverse characters and concepts which associate with people who has curiosity and realisation while going through their everyday life. Short films like these should be shown more to the wider international audieces. Even if these films are short, there should be meaningful and exciting storylines that will grab the audiences' attention. I hope Director Kim and other directors continue to create more insightful short films that we could enjoy with smiles and tears.
Tags : Film,Kim Jee Woon,Short Film