Kimchi Cult: Burgers and Fries with Korean Twist
Posted on December 7, 2013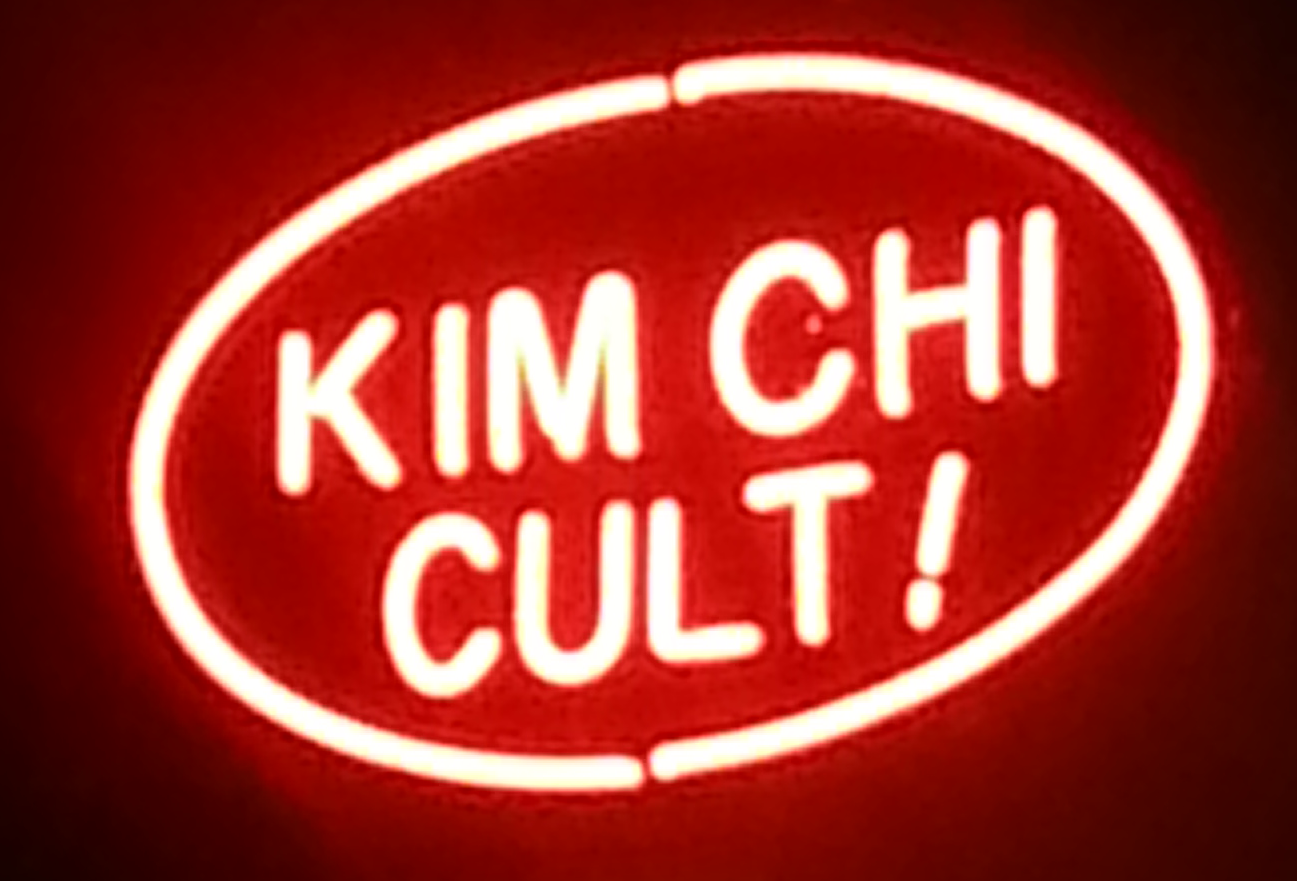 Kimchi Cult Neon Sign
I finally allocated my time to come down to the Black Hearts Pub, Camden Town, where Kimchi Cult is. I have to try out the burgers and fries that people have been talking about and the reviews that I have read. Also, Kimchi Cult is heading up north which is Glasgow, Scotland soon. So, I went over there to get some Kimchi Cult food before they leave. I went there to try some in two days.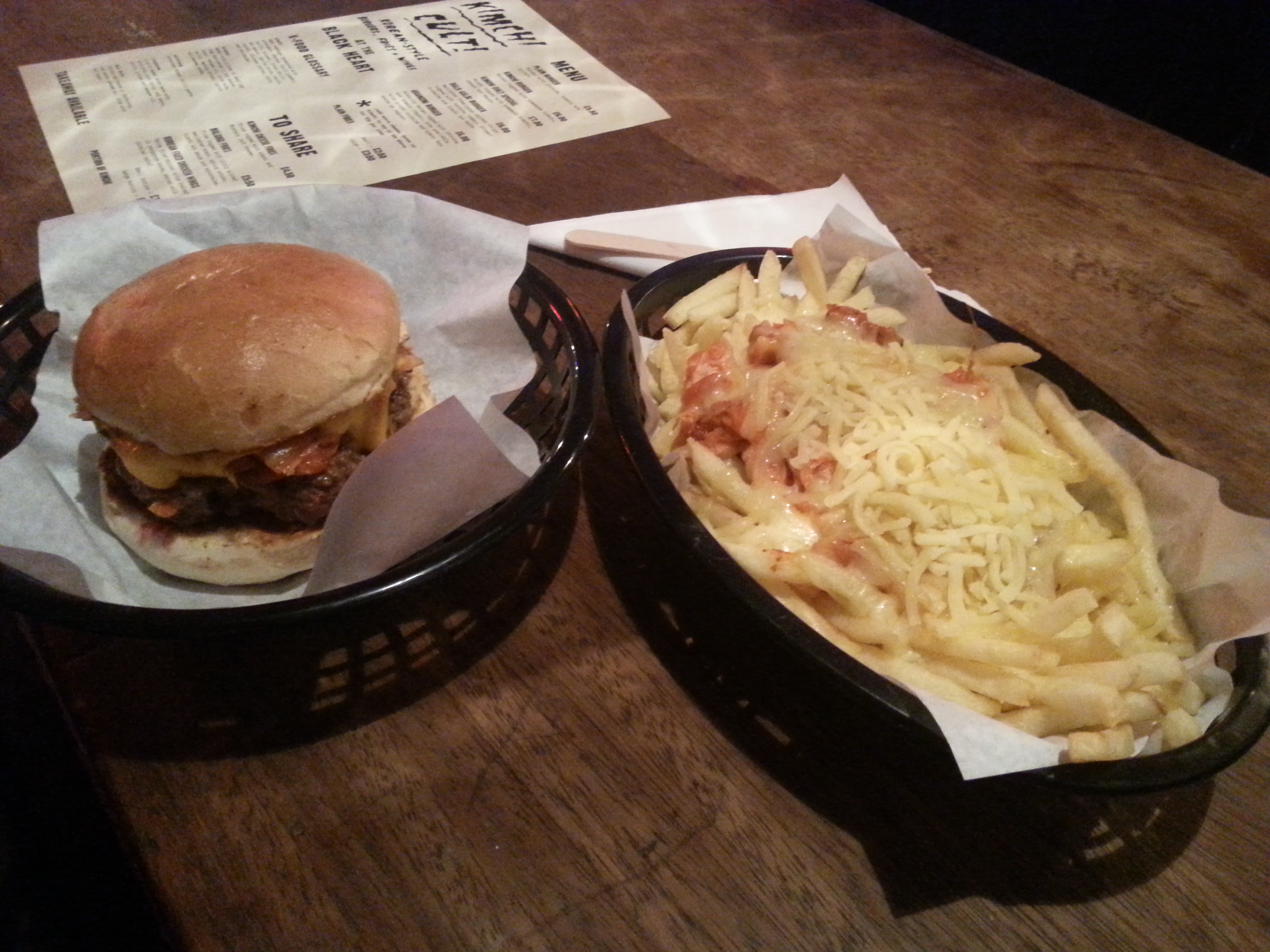 For the first round, I tried the Kimchi Cheeseburger and Kimchi Cheese Fries. The Kimchi Cheeseburger was not too messy since the layers of beef patty, kimchi, and cheese are nicely placed within the burger bun. The beef patty was not to soggy as it was perfectly cooked but it was slightly salty as I continue eating the burger. The 2 weeks fermented kimchi had a spicy punch that made me slightly better as I was sick with a flu. It was like a remedy to me. The whole burger was not to greasy while I was eating it without leaving a single mess. The Kimchi Cheese Fries, which has the mix of melted cheese, kimchi, and fries, is so heavenly and spicy that just keep eating them continuously. Yet, for me, if only it was less salty because of the kimchi that made it more salty.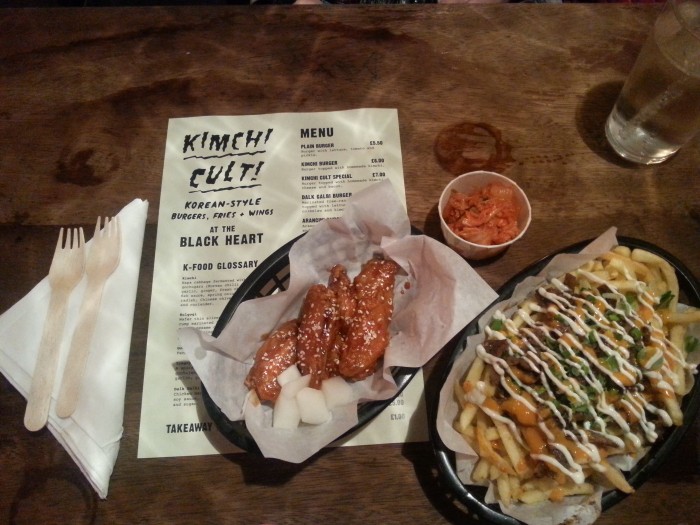 In round two, I went to the Black Hearts pub again to try other dishes: Korean Fried Chicken Wings and Bulgogi Fries. Kimchi was given as a complimentary. Their kimchi has made me even feel better as it was like a cure for my flu. The Korean Fried Chicken Wings is the perfect side dish to share with your friends. These chicken wings has a mild spicy taste while leaving your fingers a little bit messy. The Bulgogi Fries definitely has layers of flavours within the package. The beef was marinated perfectly. Eat together with the Kimchi hot sauce and mayo gives a blend of spicy and sour flavour to both beef and fries. Yet, for me, I think there is a lack of balance of flavours in the fries. Instead, each ingredient has their own individual flavour that doesn't fully round up a dish that has blended flavours.
Since April 2011, Kimchi Cult has been introducing Korean food through burgers and fries with Kimchi and Korean twist. Their food has a mild taste that doesn't give me great sparks but it is a great intro and basic food for people who are new to trying out Korean fast food. Kimchi Cult will be moving to Glasgow and setting up their restaurant over there. So, for those who are living in Glasgow, you are lucky that you will be trying out Kimchi Cult's burgers and fries soon. For those who are in London, you have two weeks left to go over to the Black Hearts Pub and try their food.
Here are the following times and locations:
Black Hearts Pub: Tuesday – Thursday (6-9pm) and Friday & Saturday (12 – 9pm)
Chatsworth Road: Sunday (11 – 3pm)
So, head over there as soon as possible. Don't forget to try their kimchi. Follow their updates through website, Facebook, and Twitter.
Tags : Burger,Chicken Wings,Fries,Kimchi,Kimchi Cult