Korean Food Fest at Urban Food Fest: Food, Fun, and Company
Posted on May 5, 2014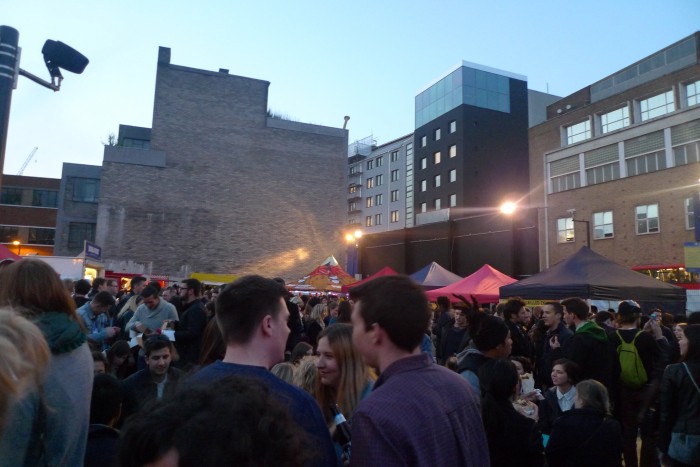 What better way to start off the May bank holidays by coming down to the Urban Food Fest to savour different kinds of fusion Korean foods that we tried. It's a lovely Saturday evening in Shoreditch. Korea Foods, Yijo BBQ Restaurant, Choi Boys, Galbi. Bros, Yogiyo, Busan BBQ, and KORRITO came together in one place for just one night only to provide their food specialities.
By the time I reached the venue around 8pm, the place was very crowded. It is both good and bad but mostly on the good sides. The good side is the more people come, the more people know about variety of Korean food. When the queue is long at food stalls, this means the food is good. The bad side is there was not much seating area because there was so many people. It was so crowded that you have to squeeze through to get to the food stalls. If they have an event like this, it's better to have bigger space and more seatings. Still, it was a huge turn-up that so many people came for this event to enjoy some Korean street food.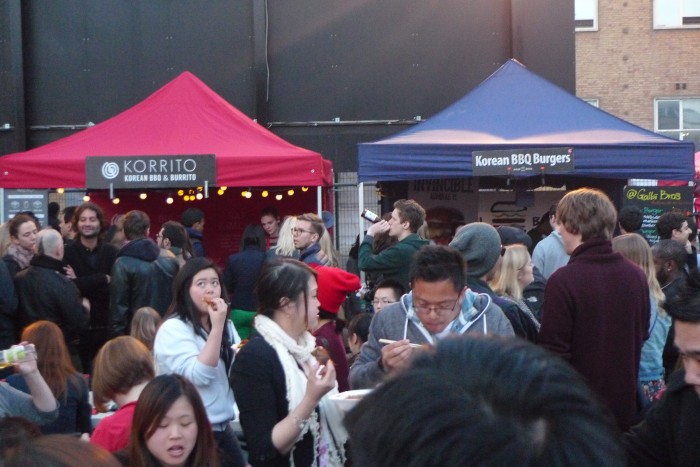 There were some Korean foods like Ramen burgers from Galbi. Bros and Japchae from Yijo BBQ restaurant that sold out instantly. It is good that these food are delicious but sad for late comers, including me, who didn't get to try some. Still, in the back of my mind, there will be another opportunity to try some of these food next time. Also, Choi Boys' tteokbokki is a must-try street food. It's awesomely good spicy with great punches. My friends went back to the Choi Boys food stall to buy some more because it was so good. Yijo's bibimbap has a mix full of flavours that is light and crunchy. Busan BBQ's new street food, Kim Long 'Un Ameri-Korean hot dog, has the meaty hot dog with a spicy kick of sauce and kimchi which melts in my mouth.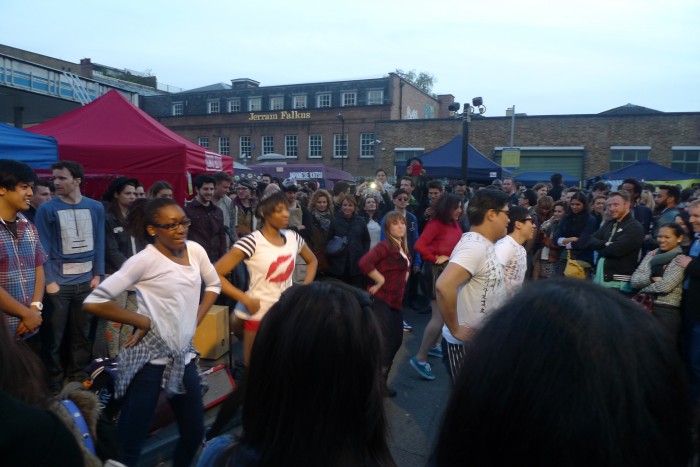 What better way to make the night more special? Moses (co-founder of Galbi. Bros) and his friends provide outgoing entertainment by having a dance performance with the "Korean Food Rocks" theme including the Gangnam Style cover dance.
It was a splendid night with plenty of food, fun, and company. The Korean street food traders and restaurants should come together again to invite more people to try their food and spread the word about Korean food. Even though Korean food has a mix of fusion flavours but the key ingredients are the ones that make these food so unique and creative. It is a balance between traditional and modern. It is a balance between East and West. A Korean food event like this should be held continuously.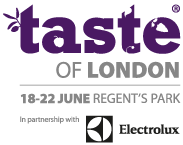 (Source: Taste of London 2014)
If you happened to miss out this event, don't worry there is another one coming up. The Korean food scene, 'The Taste of Korea', will be held at the Taste of London 2014 on 18 – 22 June. Details can be found through here. So, mark this on your calendar and have fun in the Korean food scene at this event during the summer. Please spread the word about this event and Korean food.  
Tags : Busan BBQ,Choi Boys,Food,Galbi Bros,Korea Food,Korea Foods,Korrito,Street Food,Urban Food Fest,Yijo,Yogiyo