Lago Design: Scratching Prints into Iconic Night Scenaries
Posted on December 20, 2015
Source: Lago Design
When I was around in Hongdae during my previous trip in Seoul, I visited the KT&G 상상마당 where it is known for art and music. At the ground floor, there are plenty of art and interior decorations that spark my interests which make me check out every single one of them, section by section. As I browse through, Lago Design cards got my attention that I tried out in scratching the cards that shows beautiful night views. I decided to buy one pack of cards and try it out.
Lago Design is known for presenting the themes of travels through scratch-off prints that allow people to evoke their own creativity and emotion via scratching them into beautiful night views. It is not only known in Korea but it also has been distributed to China, Taiwan, Japan, Phillipines, US and Germany.
The pack, worth 12,000 won, comes together with four different designs. It comes together with the wooden stylus. There are different types of themes that you can choose, from Seoul to a compilation of different iconic international night views, from Paris to London. The pack that I bought is Seoul version as a start for me to try it out. In the Seoul version, the four designs including the Namsan Tower.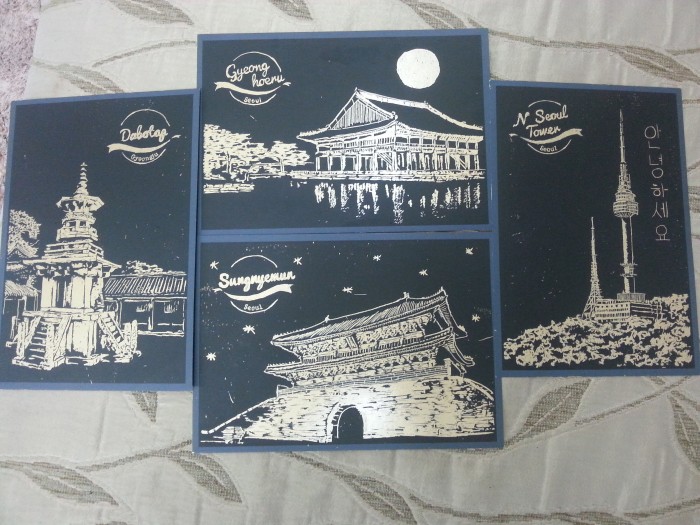 I took some time to scratch all four designs during my free time. You scratch the cards based on the prints. After scratching the whole design, you can add additional design details to the card and write messages. You can either keep them as your own souvenirs or give them as gifts to your friends and families. I had fun designing these cards as well as creating my own stories into the cards. Even though my hands were a bit messy from the bits from the scratch-off, patience and creativity allow me to present my own emotional creativity. It is also a good de-stress art therapy.
As Lago Design's objective is to allow people to make their own stories, these scratch-off cards are the perfect ones to share your own creative stories and memories of your travels. Not only they have postcards, there are also 410 x 287 mm scratch prints that allow you to scratch them and  you can frame them as your own home decoration. There is also scratch night views with frame and scratch postcards fireworks. If you are really into scratching beautiful night views, you can purchase the expert edition of scratch pen. Currently, they have the C
You can purchase them via online including Etsy and Amazon. Lago Design cards are only available at KT&G 상상마당 (Hongdae), YP Books and HOTTRACKS in Korea. Check out the website for more information on where to purchase these lovely scratch-off prints. Follow them on Facebook and Instagram for updates.
Tags : Art,Lago Design,Night View,Scratch-off