Local Foreigners' Story About Souvenirs from Seoul
Posted on December 13, 2013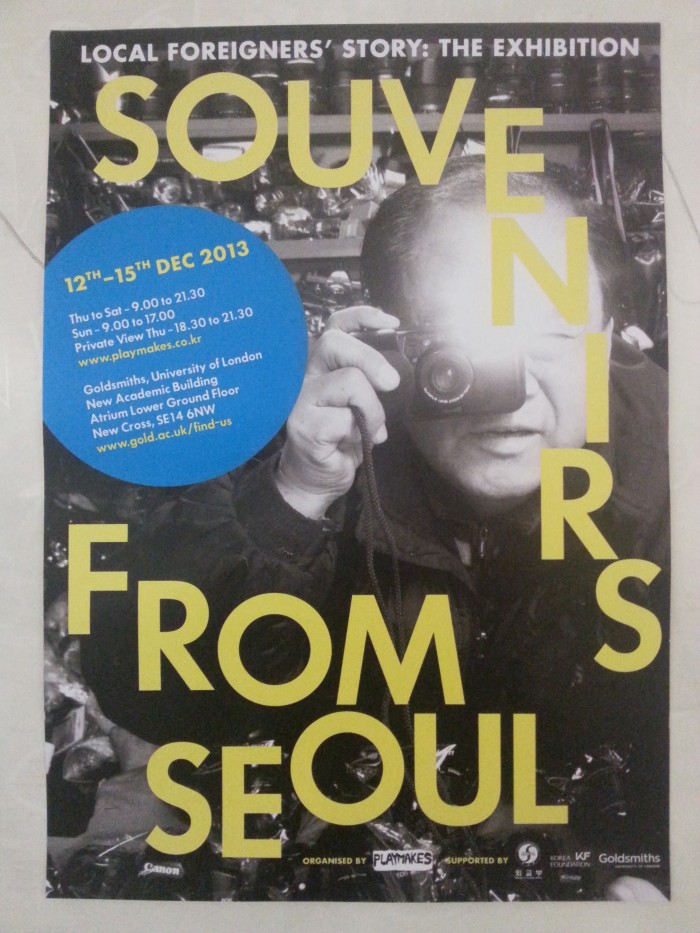 When it comes to getting or planning to get souvenirs from any country, you asked yourself the 5W1H questions:
What: What kind of souvenir you want to get/got?

Who: Who gave you that particular souvenir?

When: When did you get the souvenir?

Where: Where did you have that souvenir?

Why: Why did you choose to get that souvenir?

How: How did you or going to get that souvenir?
After thinking about those questions, you want to share a story/ experience about your souvenirs from different countries to your friends and family.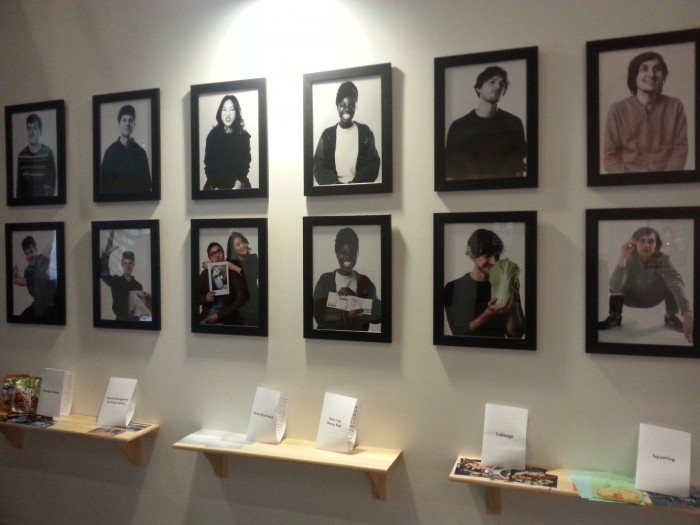 Londoners' stories about their souvenirs from Seoul
The Local Foreigners' Story: Souvenirs from Seoul focuses on presenting each foreigner's, from Seoul and London, perspective about certain souvenirs that they got or plan to get. These individual perspectives, including their unique connections with Seoul, the capital city of South Korea, are formed into stories that are shared to the visitors.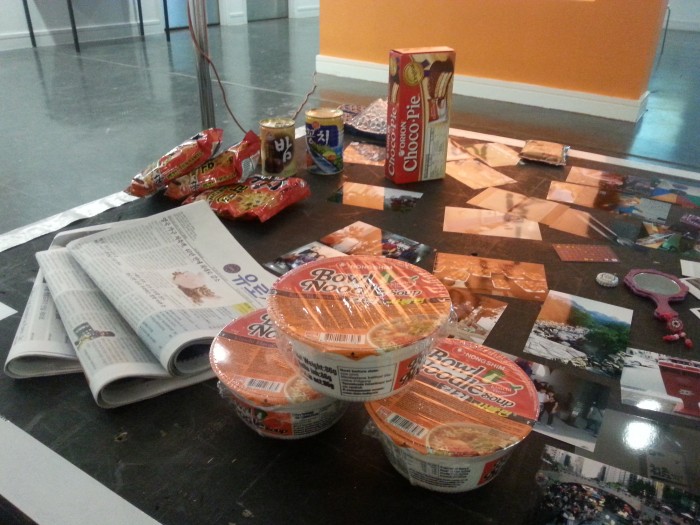 Souvenirs from Seoul
At the exhibition, over 100 individuals share their stories through written words on paper together with their choice of souvenirs. Some of the souvenirs are featured in the middle exhibition. It was interesting to see all sorts of souvenirs and photos that are taken from Seoul. Let it be food, socks, book, keychains, and many more. Also, the video features a group of participants who volunteered to talk about their stories and souvenirs from Seoul. Some of their stories are comical. Some of their stories are touching. All stories are meaningful and memorable to them as they are the ones who explore different aspects of Korean culture in the Seoul city. This is followed by bringing souvenirs from Seoul which are treasures with memories and stories.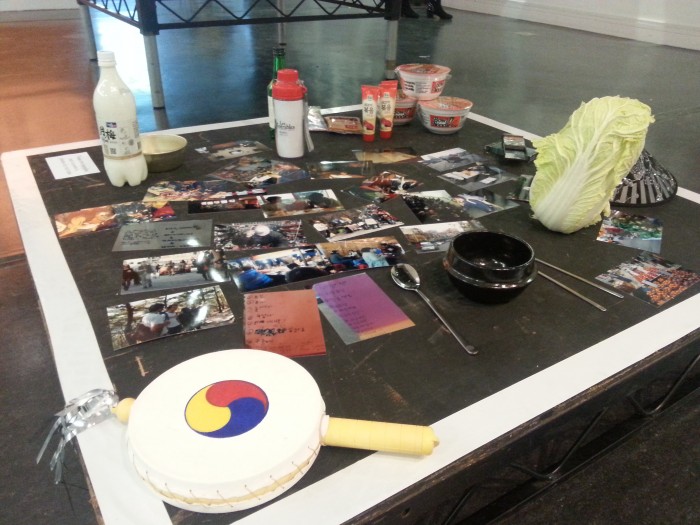 Souvenirs from Seoul
A few artists participated in this exhibition by featuring a few works which are associated with their experience and perception in Seoul. Chuck Bae, a London-based freelance photographer, presents a photograph series, Reflection, that is how foreigners see and learn when they are in South Korea followed by how they feel about these experiences when they are back to their home countries. This is the case through two versions: (1) through the foreigners' eyes and (2) the fusion of two iconic buildings/statue, from different countries, within a single space. Hoagy Houghton shares his experience about having a hard time in using Korean chopsticks by presenting Did You Eat Rice that has a huge chopsticks while the spoon and bowl are in the actual size. Lastly, both Matt House and Luda Rhee presents a short video, Korean Squat. This is based on his experience when he encountered different social norms and culture when he was a resident in Seoul.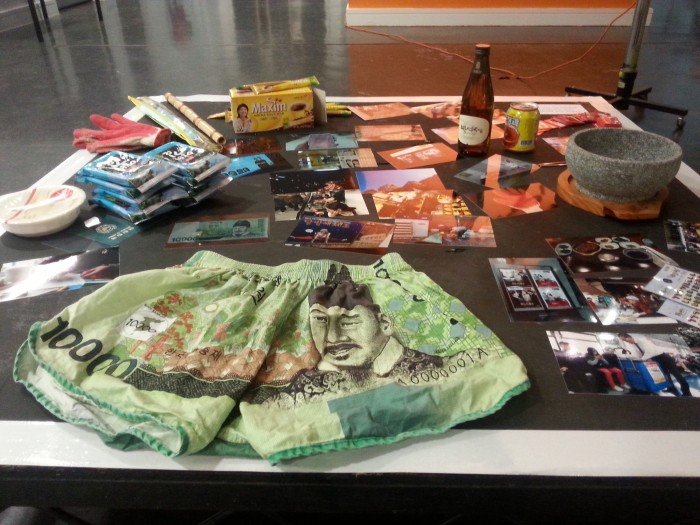 Souvenirs from Seoul
After reading some of their stories and seeing interesting souvenirs, I can see that each individual has their personal connection with these treasures from Seoul. I see the various treasures from the huge chest. Each treasure has special meaning and connection with each individual. Furthermore, with different experiences and perceptions, people want to share their stories about the connection with these treasures and exploration in Seoul. It was a great experience in knowing about their stories in Seoul. The exhibition is definitely an eye-opener, a trip down the memory lance, and a space for storytellers with their treasures.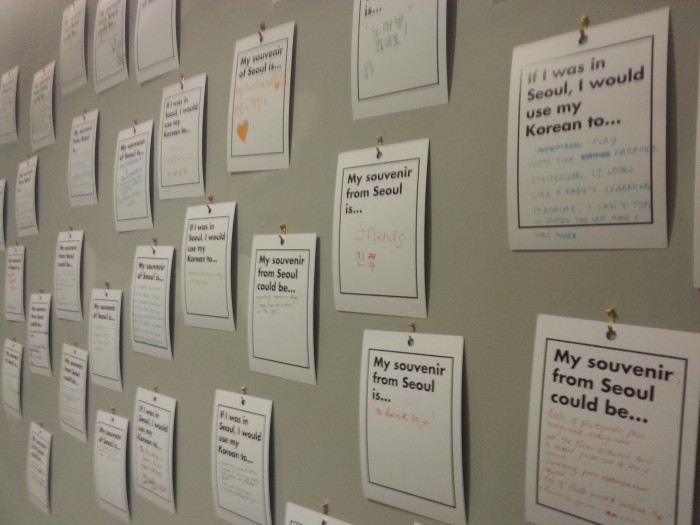 Message board about what souvenirs you want to get/got from Seoul, South Korea
If you are free this weekend, make sure you head over to the exhibition which is held at the Goldsmith College, London. The nearest tube station is the New Gate Cross which means you need to change and take the Overground line to get there. During the exhibition, you can also participate by sharing your stories through writing on paper or putting them into badges. It was a great fun activity to write about what I want to get and bring them back when I plan to go to South Korea. I left a message of what kind of souvenirs that I want to get from Seoul. Don't missed out in looking into the stories behind these "treasures" from Seoul.
So, with 5W1H questions in mind, any stories behind the souvenirs you got or want to get from Seoul, South Korea?
Tags : Exhibition,Souvenirs