London Fashion Week Fall/Winter 2014 Collection
Posted on March 11, 2014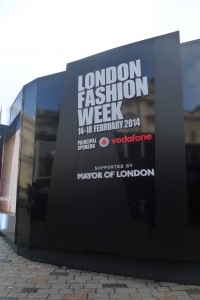 The weather may be gloomy and lots of rain during the London Fashion Week during 14 – 18 February but the Fall/Winter 2014 Collection does fit well with the following seasons this year. Korean fashion designers have featured their latest collections at catwalks and showrooms. With that, guests, buyers, and other attendees are able to see these collections that are trendy with their own Korean elements that are put in their works. Most of them will keep you warm during the cold falls and winters while others have the perfect ready-to-wear and evening wears that suit your taste. The following Korean fashion designers have their own trademark and design while being simple and unique.
Eudon Choi (Website)
(Source: Style.com)
Eudon Choi sets his latest collection in the Beatles and 1960s rock style. His well-known men's tailoring into womenswear, from jackets to dresses, which are chic, classy, and modern. There is a good balance of earthy and autumn colours on each piece of clothing. He focuses every single detail from asymmetrical cut dresses to long jackets and sweaters including collar style, smooth fabric, and fur details. 
(Source: Fashion Channel YouTube)
 J. JS Lee (Website)
(Source: Georgette Magazine)
J. JS Lee's concept on her latest collection is thick texture of clothings, including long jackets and dresses. Some of the clothings are knitwear while others are laser-cut patterns of tyre tracks on the fabric. These consists of earthy colours that are dark blue, green, and brown which relates to nature. While these clothes are warm and cosy, J. JS Lee keeps the style simple and chic. 
(Source: Fashion Channel YouTube)
 Rejina Pyo (Website)
(Source: Rejina Pyo Website)
Rejina Pyo sets abstract design on her latest collection with the use of bold colours and geometrical shapes. She has done well in complementing both contemporary art and fashion together on dresses and blouses. Each design is simple but it strikes my attention towards the colours and cutting. On the other hand, you can check out the 'Structural Mode' collection at the K-Fashion Odyssey Exhibition in the Korean Cultural Centre UK. This exhibition will end on the 14th March so you still have few more days to go to visit.
On the last day of the K-fashion Odyssey Exhibition, there will be an Artist Talk Party (7pm) where you will be listening to discussions, about fashion, by Edeline Lee, Hyein Seo, Rejina Pyo, and Connie Nam. After that, there will be a pop-up show of Hyein Seo and Gigi Jeehyun Jung's fashion collections together with the music performed by DJ Markos Spanoudakis. The admission is free. You need to RSVP to [email protected] or call +44 20 7004 2600.
Tags : Eudon Choi,Fashion,J. JS Lee,London Fashion Week,Rejina Pyo