London Korean Festival at Trafalgar Square
Posted on June 27, 2015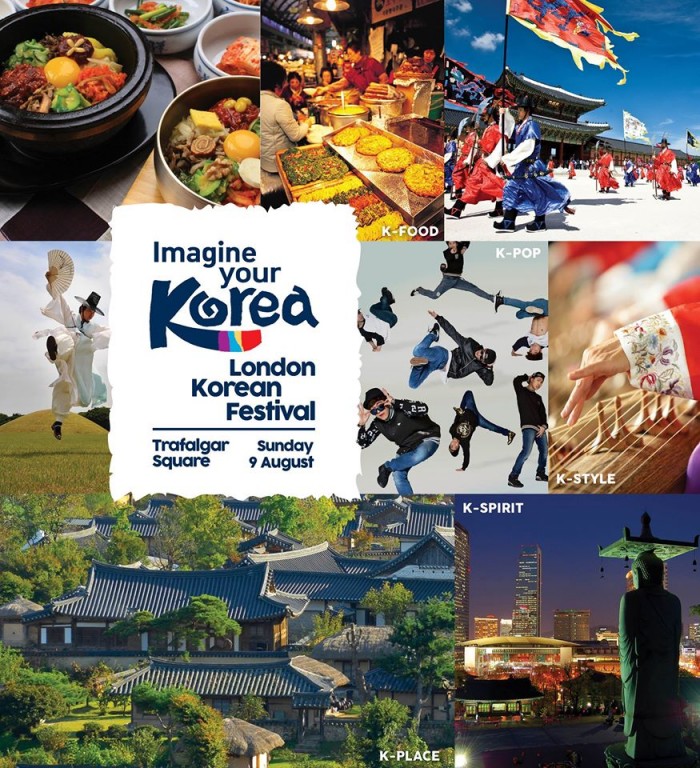 Imagine Your Korea invites visitors to come to the London Korean Festival will be held at Trafalgar Square on 9 August (Sunday, 12 pm – 8.30 pm). It is a free one day event where everyone can join in to experience the Korean culture. The event is organized by he Korean Cultural Centre UK, Korea Tourism Organisation, Korea Creative Content Agency and supported by the Mayor of London. It has a mix of traditional and modern elements in food, music, dance, fashion and many more. Check out the main performances and visit the interactive zones at the event.
Main Performance
K-pop group, f(x) and Korean psychedelic rock band, Guckkasten will be showcasing live performances of K-pop and rock music
Korea's world champion b-boy group, Jinjo Crew will be battling against the UK group, Soul Mavericks

There will be a hanbok fashion show where visitors can watch the traditional and vibrant colourful designs of hanbok including the latest collections designed by UK-based fashion designers. Drop by at the K-Fashion Pavilion that features various clothing line and accessories which featured in London Fashion Week

Listen to the traditional music performed by National Gugak Centre, who will perform creative dances or peace and folk music based on thousand years of history and traditions including a 5,000 year old Korean dance that was first used to bring about a bountiful harvest
Interactive Zones
K-Food Zone: Watch the live cooking demonstration by celebrity chef, Judy Joo. Various food stalls from London's Korean restaurants will be there so you could savour various foods and drinks

K-Contents Zone: Play a selection of online games including E-sports where you can compete with your friends and families in various games. At the K-Character Pavilion younger children and families can enjoy reading webtoons and watch Korean animations. Enjoy playing traditional games, such as ut-nori (a stick-throwing board game), Tuho (arrow throwing), Jegi-chagi (tassel kicking) and watch Korean calligraphy demonstrations

K-Cultural Tourism Experience Zone: Learn to make traditional crafts and wear traditional hanbok and learn to play traditional music instruments such as Gayageum, Janggu (the most widely used drum) and Buk

K-Brand Zone: Check out Hyundai Motors and LG Electronics latest new products, innovations and great offers
During and before the event, keep an eye out for the flashmob where they will encourage to join in the fun and dance. They will also be hitting the streets of London on the special themed bus. So, set that date on your schedule and experience Korean culture for one day only at Trafalgar Square, London. Follow up for more updates at their Facebook event page.
Source: Official Site of Korea Tourism London
Tags : Events,London Korean Festival